Welcome to the first interview filmed on location at the @anarchaforko! Today was a beautiful experience, with dozens of beautiful humans coming together for some spontaneous order! Cypher circles, eye gazing, crypto talks, and lots of interviews happening!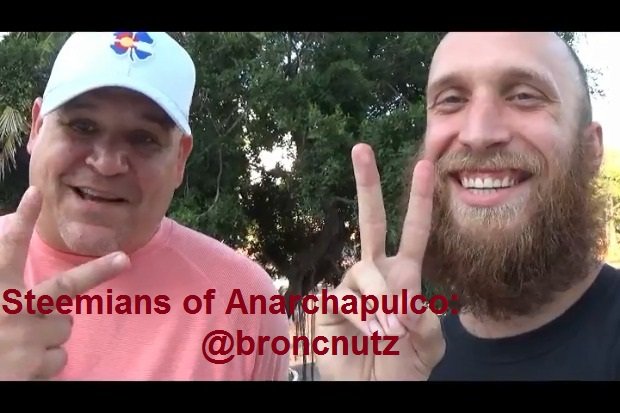 | ▶️ DTube | ▶️ IPFS |
This time around, I bring you @broncnutz, self-proclaimed "#1 Bronco's Fan", and a huge promoter of cryptocurrencies. This guy is absolutely hilarious, and I'm so glad I got a chance to sit down and interview him! We had a great chat about the amazing opportunities that Steemit grants so many, some tips for being successful on the platform, and how awesome SmartCash is!
He's currently at 5210 followers, and as a Denver guy, I bet he would be quite grateful if you helped him get to 5280 :-P
Steemians of Anarchapulco
| #1 - @flauwy | #2 - @adamkokesh | #3 - @sovereignalien |
| #4 - @catherinebleish | #5 - @dannyshine | #6 - @sashadaygame |
| #7 - @lesliestarrohara | #8 - @erikaharris | #9 - @encryptdcouple |
| #10 - @lukestokes | #11 - @jamesc | #12 - @dbroze |
| #13 - @careywedler | #14 - @juxley | #15 - @maceytomlin |
| #16 - @truniversal | #17 - @terrybrock | #18 - @sarahkl |
| #19 - @sterlinluxan | #20 - @johnnyhurley | #21 - @broncnutz |
| #22 - @bruceb | #23 - @juansgalt | #24 - @nitego |
| #25 - @colinhoward | #26 - @dannyquest | #27 - @lily-da-vine |
| #28 - @uoslavery | #29 - @elamental | #30 - @emancipatedhuman |
| #31 - @mwolfe13 | #32 - @scottiemac | #33 - @tylerdav |
---
---