39 episodes in! Wowzers! This was the only interview to be recorded on location inside Verde Vegan, the local vegan restaurant and organic grocery, where they accept crypto and there's almost always someone from the #Anarchapulco community to sit down with and have a chat!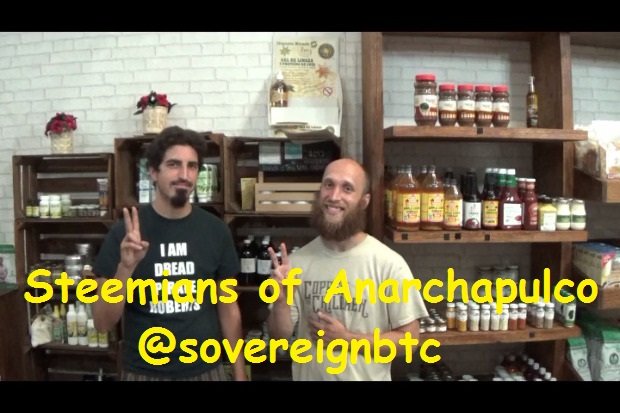 | ▶️ DTube | ▶️ IPFS |
This time around I'm chatting with John Bush, @sovereignbtc, about peaceful parenting & unschooling, wholistic medicine, Non-Violent Communication, and how we can all make the movement move!
John made the trip down to Acapulco for his first time this year, and offered some amazing talks at @anarchaforko on cryptos, kratom, and activism. We've run into each other at Jackalope Fest and at For the Community Fest, and now in #Anarchapulco!
Find his Kratom at: https://mybravebotanicals.com/
Because @sovereignbtc (like @sovereignalien, @careywedler, @juxley, @sarahkl, @truniversal, @johnnyhurley, @bruceb, @nitego, @dannyquest, @uoslavery, @elamental, @mwolfe13, @thepatrick, and @geliquasjourney) has not reached 1 MVest yet, I will be converting all of the SBD rewards from this post to STEEM, and powering it up in his account :-)
Steemians of Anarchapulco
| #1 - @flauwy | #2 - @adamkokesh | #3 - @sovereignalien |
| #4 - @catherinebleish | #5 - @dannyshine | #6 - @sashadaygame |
| #7 - @lesliestarrohara | #8 - @erikaharris | #9 - @encryptdcouple |
| #10 - @lukestokes | #11 - @jamesc | #12 - @dbroze |
| #13 - @careywedler | #14 - @juxley | #15 - @maceytomlin |
| #16 - @truniversal | #17 - @terrybrock | #18 - @sarahkl |
| #19 - @sterlinluxan | #20 - @johnnyhurley | #21 - @broncnutz |
| #22 - @bruceb | #23 - @juansgalt | #24 - @nitego |
| #25 - @colinhoward | #26 - @dannyquest | #27 - @lily-da-vine |
| #28 - @uoslavery | #29 - @elamental | #30 - @emancipatedhuman |
| #31 - @mwolfe13 | #32 - @scottiemac | #33 - @tylerdav |
|#34 - @dollarvigilante | #35 - @tecav | #36 - @mikeonfire |
| #37 - @thepatrick | #38 - @geliquasjourney | #39 - @sovereignbtc |
---
---