"That's the idea, is to build a giant sandbox and let all the anarchists play" - @lily-da-vine
---
Earlier today, I had a chance to sit down with John & Lily and discuss @anarchaforko: what it is, how it's coming together, who's sponsoring it, how you can earn crypto by promoting it, and much more! There was a TON of background noise, which I filtered out, but the audio still isn't great, sorry about that.
Watch the video:
| ▶️ DTube | ▶️ IPFS | ▶️ YouTube |
---
Keep up to date with everything Anarchaforko
Anarchaforko.com
@anarchaforko
Facebook Page: https://www.facebook.com/Anarchaforko/
Facebook Group: https://www.facebook.com/groups/339014549835558
---
Because I really prefer to include a some text with my videos, but I've also just written two posts about the fork in the last week, I'm going to just cut & paste some parts of them here :-)
What is Anarchaforko
Anarchaforko is a conference, but a more decentralized, DIY version of a conference than anything you've likely seen before. Instead of having a set list of speakers, their are a variety of meeting spaces, and a collaborative calendar, which anyone (who bought a ticket) can use to schedule events.
The event is being focalized by @lily-da-vine, and will definitely feature some folks you know like @larkenrose, @dragonanarchist, and @erikaharris. Other than that, it will be exactly what you decide to make it! Come give a talk, create a discussion circle, lead a yoga class, organize a poker tournament, or whatever else your heart desires. As soon as you buy your ticket, you not only get the ability to add events to the calendar, but you receive your own affiliate link (and receive 50% of the ticket sales that go through it). *Think about that alone, everyone who buys a ticket automatically is automatically an affiliate, and can get their ticket paid for (and maybe even earn something extra), just for promoting the event!
From the website:
Criticisms falling on the right ears become opportunities and the criticisms of Anarchapulco have helped us to shape our vision for this project. The idea is to try and provide fertile ground for these ideas to grow and blossom into something awesome.

This is not just our idea but the ideas of many people which we have attempted to bring together in a constructive way. The only way to see change in this world is to make it happen and Anarchaforko is our attempt to change our world. There will be no speakers or attendees, only participants. What happens at this thing is up to you, from parties to workshops.
Get your ticket via my affiliate link: https://anarchaforko.com/tickets/ref/34/
Join the fork discussion at: https://discord.gg/tmmtTES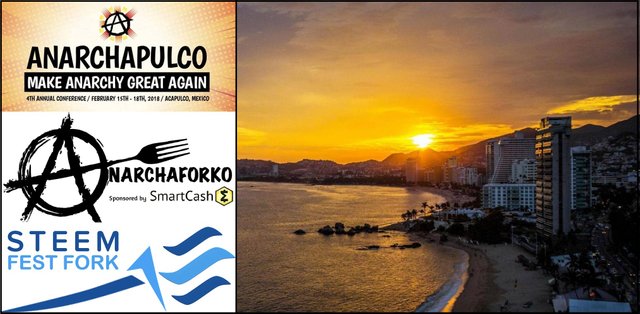 For LOTS more info on Anarchaforko, check out:
AfterGlow :: When Anarchists Fork by @erikaharris
New Anarchaforko Announcement! Steemit Open Mic Recording Session at #SteemFestFork, February 25th! by @kennyskitchen (that's me!)
Anarchaforko Anarchapulco Fork Update: steemfestfork.com is LIVE! by @lily-da-vine
Anarchaforko here I come! ...with a little help from my friends... by @misslasvegas
Anarchapulco, Anarchaforko, and SteemfestFork - Where You Can Expect to Find Me & What I'm Offering! by @kennyskitchen (that's me!)
Anarchaforko Anarchapulco Fork Update: What Are You Forking Interested In? by @lily-da-vine
HempCraft Workshop | A Proposed AnarchaForko Event by @erikaharris
How Anarchapulco Led to AnarchaFORKO : Why You'll Want To Be Part of Both in 2018! by @dragonanarchist
DO YOU WANT TO WIN TICKETS AND ACCOMMODATION TO ANARCHAFORKO? by @smartcash
The Great Forking of ANARCHAPULCO! : A Counter to The Counter-Conference? Or A Best Buddy? by @dragonanarchist
---
---