Review ICO AMLT
WHAT IS AMLT
AMLT provides access to a secure and transparent network of online banking services that protects its customers from potential risks and allows for commercial acceptance and growth.
The platform was created to address issues related to the regulation of transaction methods, as well as the provisions of conventional financial institutions for the commercialization of the crypto-currency market, in order to make it more convenient for participants and potential investors.
The AML / CTF platform from Confirm serves as the basis for the safe implementation and use of the block chain. It uses algorithms and very large data analysis to ensure the effectiveness of these data, reduce costs and simplify the reconciliation with automatization. Distributes the entire chain and the crypto-currency system to the traditional economy and allows the mass market to be used. Serves as a bridge to accommodate new business models and the safe use of Blockchain and virtual currencies.
The goal of AMLT is to create an open global standard for the transparency of crypto-currencies and to bring it to the mainstream in a safe and efficient way.
WHAT PROBLEMS SOLVES AMLT
AMLT offers solutions to key problems for all participants in the ecosystem chain:
The problem with entering the mass market and the market of traditional financial services, the struggle for compliance with regulatory requirements.
Adopting crypto currency is growing and the traditional market, banks, and regulators have no means and information to cope with these risks.
Smart contracts, ICOs, tokens, etc. can be used to launder money or to finance terrorism, until there are effective solutions.
Failure to comply with the rules can lead to business closure, payment of fines or even legal consequences.
Due to the ineffective and centralized nature of regulation, all approaches and decisions of the regions unfairly suffer from financial isolation.
AMLT helps market participants to obtain data on the risk associated with virtual currencies, and also use AMLT to receive reports and make full use of the crypto-currency economy. This ensures the effectiveness of AML / CTF compliance and the democratization of market participants around the world.
ADVANTAGES
AMLT is a key link in the network, helping enterprises to ensure transparency and security to protect themselves and their customers, and to develop, solving one of the biggest problems - effectively meeting the requirements and procedures for combating money laundering.
What AMLT does:
Provides access to AML / CTF compliance reports and data for crypto currency.
Building a transparent financial system.
It brings efficiency and effectiveness in the sphere of / FT
Improves and automates processes within the Coinfirm platform and provides benefits and rewards for its participants.
Gives users an important and active role in building the era of finance and creating a massive acceptance of the block chain.
HOW WORKS AMLT
AMLT creates a secure and democratic network that ensures transparency in the world of crypto currency, helping it to identify and complain about a number of regulatory requirements.
The AML / CTF platform from Coinfirm serves as a basis for the safe implementation and use of Blockchain and crypto currency. It uses proprietary algorithms and large data analysis to provide efficient data that increases efficiency, reduces costs and simplifies alignment with the nearest automation, and also distributes Blockchain and the crypto-currency ecosystem to the traditional economy and mass market. It serves as a bridge for the deployment of new business models and the safe and compatible use of Blockchain and Crypto currency. This platform is built to create a global standard for the entire industry.
TERMS OF ICO
 AMLT is a token for products with a prepayment and the right to access an already active network of the Coinfirm AML / CTF platform. The goal of Coinfirm is to make AML rules a reality and build a global standard for AML / CTF for Blockchain applications.
The essence of the AMLT token is to completely regulate the transactional processes of the crypto currency and ensure its compliance with the standard. AMTL attributes are built on the Ethereum Blockchain block and are treated as standard ERC-20 for security and convenience.
Members of the network receive AMLT to provide ratings and information on specific addresses is "fuel", which makes the system democratic rather than arbitrary. This allows ensuring compliance and transparency of all transactions, helping the ecosystem to be more secure and connected with the global economy.
Sales of tokens: 210,000,000
Rewards pool of data for members of the network: 120,000,000
Total number of tokens: 400,000,000
Starting Date (PRE-SALE): 07 November 2017
Ending Date (PRE-SALE): 10 December 2017
Starting Date (ICO): 12 December 2017
Ending Date (ICO): January 30, 201
COMMAND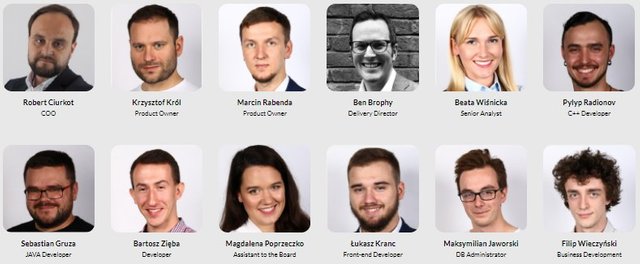 Pavel Kuskowski
General Director / Founder. Entrepreneur recognized under / FT and advisor of compliance; ex-head of global under / FT processes in major financial institutions such as RBS; a specialist in anti-money laundering and combating with extensive experience in carrying out global projects of international financial institutions and cooperation with regulatory authorities; chairman Compliance Association of Poland.
Pavel Alexander
IT Director, co-founder. One of the more recognizable experts on fraud prevention in Central Europe, the former head of the Investigation of Fraud in ArcelorMittal, under / FT Project Manager at the Royal Bank of Scotland, fraud investigator and auditor at Ernst & Young; has the title of certified Fraud by an expert and a certified internal auditor.
Jakub Fijołek
Technical director, co-founder. Innovative and specialist in security, analysis and development for blockchain and crypto currency and their application since 2010; ex-head of the multi-algorithm of virtual currency housekeeping ministries.
And others.
Advisers

More information about the project you can find here:
White Paper: https://amlt.coinfirm.io/#corporate
Website: https://amlt.coinfirm.io/
Twitter: https://twitter.com/AMLT_Token
Telegram: https://t.me/AMLT_Coinfirm
Facebook: https://www.facebook.com/Coinfirm.io/
AUTHOR OF THE ARTICLE
Vkontakte Group: https://vk.com/club137785347s
Bitcointalk: https://bitcointalk.org/index.phpaction=profile;u=1102634
Telegram channel:  https://t.me/tonyfatnews 
YouTube: https://www.youtube.com/channel/UCNAbegYrCzi9X77i63rvMWQ
0x9ca23235728ce9eF5bc879A9Abb68aF3a003551C
I'm not a project manager. This article is written on the basis of information taken from official sources with the purpose of acquainting everyone interested in this project.