Check this out ladies and gentlemen: a strange light anomaly JUST cascaded across North America. What do you think this was??? We know that Babylon (America) is under Lord RayEl's judgement, so how will you try to explain this one away?
Check out the footage:

NO, sorry - This is NOT NORMAL!
Please post your comments in the replies section below.
Have a blessed day!
Bishop Corey DeFrancesco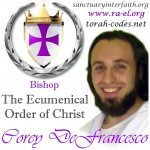 ---
Visit our online Congregations at:
https://www.facebook.com/groups/ICoLR/
https://vk.com/congregation_of_lord_rayel
Also check out:
http://ra-el.org/
https://armageddonbroadcastnetwork.tv/
https://sanctuaryinterfaith.org/
Donate at:
https://sanctuaryinterfaith.org/donations/ or through paypal at: SanctuaryInterfaithIsrael@gmail.com