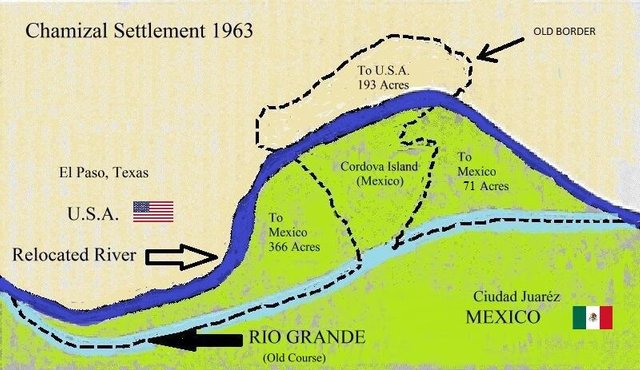 Mike Hayes himself [Public domain], from Wikimedia Commons
The visit to the Chamizal National Memorial breathes life to the long-standing historical event that relates the settlement of dispute issue between the US and Mexico regarding Chamizal. In order to get an all-encompassing knowledge of that whole historical event, the national park also hosts a museum so that the visitors can enlighten their minds with the complex background and details of this international dispute and its subsequent resolution.
As the visitors walk through the park that has been constructed around the border of Chamizal, they will feel like stepping back in time. It is because the park acknowledges and recognizes the sacrifices that more than 5000 United States inhabitants of the region who were made to relocate themselves from their dwellings with respect to the terms of the treaty. At present, this is the same place in the core of El Paso, so that families can gather, recreate and live together as a community.
Furthermore, this national park also pays homage to the spirit of diplomacy of the Mexican and US leaders who were involved in the cooperation and the settlement of the dispute. Also, to highlight the collaboration of the two leaders, the park also presents visual and performing arts as a means of cultural exchange in order to foster the solidarity among different groups and appreciate the importance of harmony and understanding that are the crux of relations between the two countries who share same borders.
The Chamizal National Memorial is renowned among many of the visiting tourist because it houses a performance theatre that has the capacity of accommodating 500 people. Many of the leading and significant events and programs are hosted throughout the year in the indoor and outdoor theatres so that the history of the Chamizal border and the aftermaths can be articulated with depth and understanding.
As far as the visual arts of the national park is concerned, one of the leading attraction that lures people towards its gates is the Nuestra Herencia mural that reflects all the historical and cultural elements of the area and the significant Chamizal Dispute. Furthermore, in the cultural center of the national park, the visitors will get the chance to see a number of artworks and an exhibit by the name of the Traditional Dress of Mexico. Moreover, many of the ongoing exhibitions are also on display in the Franklin G. Smith Gallery.
ambulorbis is a team of writers who want to walk the world and experience everything this amazing blue marble has to offer. If you'd like to support our efforts leave an upvote! Keep calm and steem on.
Today's author is Julianne.
All media are open source.
---