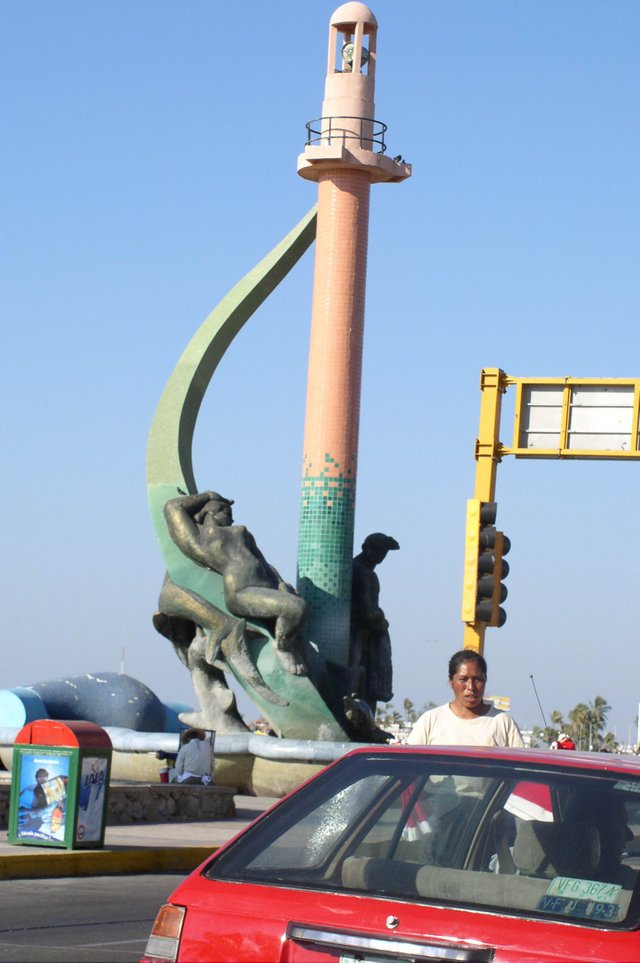 Source: Tom Whitmore [CC BY-SA 3.0 (https://creativecommons.org/licenses/by-sa/3.0)]
The Fishermen Monument is one of the tourist attractions in the city of Mazatlán, Mexico. The monument was sculptured in 1958, and it honors the fisherman of the city. This great monument and fountain are located on the Malecón de Mazatlán on Manuel Gutiérrez Nájera Street. It has a multicolored tower of tall tiles with the representation of a lighthouse at the top. At the base of the column, we see the representations of a naked man with a fishing net and a naked woman resting on a ribbon-shaped column that goes up to the "lighthouse." A fish appears between the two figures. Several jets shoot water about 2 feet high in the large basin, which may be designed to look like a shell.
This place has a lot of restaurants nearby which provide a scenic beach view to its customers along with mouth-watering food. There is also a workout ground next to this monument where there are a lot of different bars for a good physical workout. In just 100 meters from the monument, there is a market where people can shop for groceries and can have roadside food. It is a very good place for morning exercise and to sweat it out while experiencing the cool breeze of the river. The place has been currently redone and renovated, now many concerts are regularly organized right by the monument.
If you visit the monument during the sunset, then it is guaranteed that it is a sight to behold. The fountain is one of the things that most people come to check out, and it looks even more beautiful when in the night time, all the lights lit it up. It is exceptionally beautiful at night when rainbow colored lights play through the water like music. The Freeman Hotel is very near to this place. One should visit the fountain on a weekend when there is a street fair and for the best experience - there will be live theatre, food vendors and a souvenir market among other spectacles. The fountain has a beach attached to it, and it has a long stretch of walking area. The walk is surely going to give you a feeling of freshness, and it provides you with all the amazing views as well. It is recommended to witness this artistic beauty if you are in the city.
ambulorbis is a team of writers who want to walk the world and experience everything this amazing blue marble has to offer. If you'd like to support our efforts leave an upvote! Keep calm and steem on.
Today's author is Apeksha.
All media are open source.
---