Hello again Cryptopians, crypto-traders, and the future financially elite!
10 days ago I posted an article on the microcap I am currently most excited about, OPC. It is one of the only micro caps that is still in development, and has long term potential. Infact, its not just in development, its got a huge amount to release this month.
60-75% expected coin burn
coin swap
wallet and masternode release
exchange listings
official stake pools
For those of you who have been trading a long time, you'll probably realize the 4 biggest events in trading are happening to this Micro cap coin all this month, namely, coin burn, coin swap, exchange listings, and masternode release. Now if you use coinmarketcal, you'll probably realize every other coin and their "events" this month is about as bland as chewing rubber in comparison.
Some quick stats:
Current OPC price:  39 satoshis
Current supply: 1.3 billion (up from 1.1 billion 10 days ago)
Max supply: 2 billion
As you can see we're getting closer to the max supply due to the fact a lot of experienced traders have begun staking OPC. This is exactly as expected. For those of you who did not read my previous article, OPC has a very high ROI, you can double your tokens in 30-60 days via staking. We have gone over why this is not sustainable in the previous article, but the play here is to:
stake your OPC this month
double your tokens
swap it to OPCX come end of the month 
Using this process will result in you doubling your tokens.
This means you will have 2x the tokens to swap to OPCX, or 2x your profit from the coin burn and price rise.
If you are fairly new to staking or not so good setting up wallets on a VPS, I can recommend StakeUnited for a smooth experience. Simply send OPC to your wallet on Stake United, and your done. Within 1 day it will automatically start staking OPC at 2.7% per day! Allow up to 2 days for withdrawls as they process them manually.
From May 14th you can start swapping your OPC to OPCX thereby burning OPC and gaining OPCX.
Heres my play, the way I am going to approach this highly profitable situation.
I'm going to hold 50% OPC and swap the other 50% to OPCX. 
The team has mentioned OPC could be used in the game store in future. For me though, I am also extremely excited about the coin burn. I have traded about 8 coin burns and each of them were insanely profitable. 3x-12x in a very short space of time. (Research ALIS TRIG IOP TRX, hell, even XRP coin lockup). Its simple economics, if you destroy half the supply, to simply maintain marketcap the price must double. OPC is expected to have a 75% coin burn this month, needless to say I will not miss out on this and am expecting OPC to reach between 200 and 300 satoshis by month end. 
Burning such a huge quantity will put OPC at one of the lowest marketcaps on cryptopia (it already is, now imagine OPC with a marketcap up to 3x lower, thats 10x less than some completely abandoned projects). And I'm going to leave that gem to stake long term. If you guys have seen OX, HXX, GPU->NLX, or any of the other micro caps on Cryptopia lately, these coins have spiked massively (up to 1500% in 2 weeks).
Some of you possibly even know NotSoFast or Mocho on twitter with 100k followers. These guys have been in crypto longer than any of us and they still trade low caps (some without even active development), there is a reason. That reason is micro caps can go 10x in a week, 20x in a month, and no one will even be surprised because this is normal on micro caps. Learn from them. 
Now lets talk OPCX. 
OPCX will be the token used in the game store and the chain that will implement masternodes and enhanced supply economics. My expectations for this one are high due to its low marketcap and use case, and the teams ambition to get it listed on bigger exchanges and marketed. Speaking of exchanges, OPCX already has exchanges waiting to list come end of May. These will be announced on the May 16th.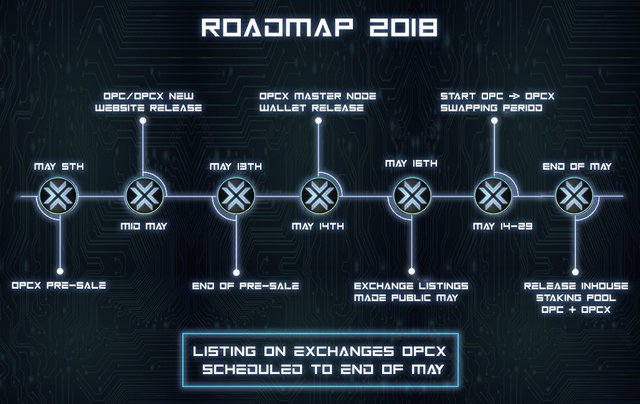 As you can see, the team already has exchanges in the bag waiting to be announced. I would expect CoinExchange first due to the fast listing process they have, then Cryptopia, and then Kucoin.
The last event on the roadmap for this month particularly excites me. OPC is getting its own official staking pool! This means less fee's and shows the commitment of the devs to keep the OPC project running. Imagine this. You own 1 million OPC. thats 0.1% of the total supply. If they burn 60% of the supply, your now holding 0.2% of the total supply. Holding 0.2% of an altcoin with a low marketcap can make you ALOT of money long term, trust me.  If everyone held 0.2%, only 500 people could have shares in OPC. Think about that. To put that in fiat. if you hold 0,2% of an altcoin with a 5 million marketcap, you have $100 000.
 Theres also a new website and the game store for OPCX coming up soon. This is the primary use case of OPCX and its a big one. Last year most of the gaming coins did incredibly well, and this will continue. Gaming is taking off in a huge way, stealing the entertainment crown from hollywood, and esports is eating into the sports market share by the year. This is fringe tech, most people in crypto right now are into tech,  and games. 
To come to a conclusion, 
I have never seen an altcoin with a market cap this low, with so much going on. 
Honestly. The amount of events going on short and medium term is simply incredible, and once this slight uncertainty from the weekend and bitcoin prices blows over and the altcoin markets recover, I know which coin will be king of Cryptopia again. 
So my targets again, is 200-300 sats for OPC come month end. However i will be holding a decent stack of both OPC and OPCX long term.
If you have any questions, join the OPC community on Telegram and Discord 
Thanks for your time guys, happy trading, hodling and staking!