Monthly Update: August 2018 is now available from our Russian Coordinator Igor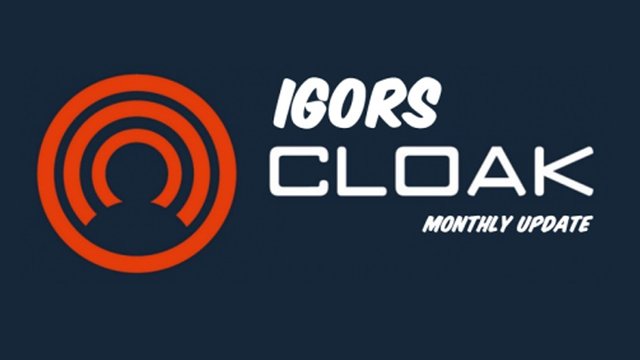 Greetings to the entire Cloak community!
One more month passed, and I with big pleasure want to share with you with the latest updates and of course the plans for September!
In August I managed to complete the following tasks, that were set by me:
The draft of presentation brochure is finished. Now this brochure passes design stage, and as soon as it will be ready, we will publish it immediately. This presentation brochure is necessary to inform newcomers with useful information and particularly to inform all interested in cryptocurrency Cloak.
Was made a small list of companies, potentially interested in accepting cryptocurrency Cloak.
Was drawn up a draft list of ideas for sponsorship attributes, which will play an important marketing role during participation in various conferences and forums.
Were conducted several meetings with various platforms regarding listing CloakCoin. I want to please you, in the nearest couple of months the Coppay.io platform is interested to list CloakCoin! Further negotiations will be conducted regarding this question.
Was created Youtube CloakCoin channel for the Russian-speaking community. There we will publish all necessary information for beginners, as well as other useful information.
Was organized a video call between our Australian Coordinator Joshua and popular expert in the field of crypto and blockchain, Igor Porokh (from the youtube community "ituber"). As soon as this video will be translated, we will publish it in our social medias.
Plans for September:
To finish work with the CloakCoin presentation brochure.
To have several meetings with companies and platforms that are interested in accepting cryptocurrencies and especially CloakCoin.
To release a minimum package of Cloak attributes for upcoming conferences and forums.
To translate video interview between Joshua (CloakCoin) and "ituber" and publish it on social medias as well.
To translate a video explanation regarding Cloak wallet and the process of making Enigma transaction and Cloaker role in it.
To take a part in the Bitcoin Conference "Baltic HoneyBadger 2018", which will be held in Riga, from 22nd to 23rd of September.
That's all for now!
And yes, if you always want to be aware of the latest updates, join our social networks!
Twitter: https://twitter.com/Cloak_Russia
Vkontakte: https://vk.com/cloakcoinrussia
Telegram: https://t.me/CloakCoinRussian
With respect,
Cloak Community
Russian Coordinator Igor (Telegram: @IgorsLAT)
CloakBlog: http://bit.ly/2Nl4Mc0