A truly remarkable ultra feat - and it isn't his first time doing this!!! The remarkable Finn wins this amazing ultramarathon again.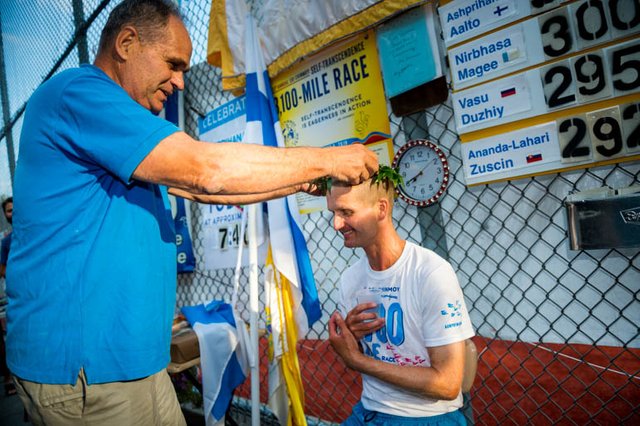 Read and enjoy from https://perfectionjourney.org/2019/08/02/day-48-our-aspiration-heart-august-2/#more-70087
Day 48…Our Aspiration-Heart (August 2)
Sporting events have a unique way of capturing our imagination with defining moments of excellence if not transcendence. Since I was quite small the image of Roger Bannister being the first to break the 4 minute barrier in the mile has always been a feat that continues to inspire me even though that mark has long been surpassed by so many others.
The reason I am impressed by that one in particular is that I have run many miles and though I am far from the caliber of Roger Bannister I can identify with 4 laps of the track at top speed. But how many of us can even come close to fully grasping the magnificent accomplishment of Ashprihanal here today when he finished the race for the 15th time.
https://www.srichinmoyultraphoto.com/3100-mile-race/2019
Once you take even a modest poke at all his statistics and records a veritable avalanche of data can inundate you. I am not a very thorough journalist but I suspect there just may be no one else in the world who has come close to achieving what this 48 year old runner from Vihti Finland has accomplished here this morning on top of everything else he has done.
https://www.srichinmoyultraphoto.com/3100-mile-race/2019
A letter from his counsel general in New York said, "our warmest congratulations. You have shown us the Finnish strong will and determination, to make it to the finish line. We are truly proud of you."
Sahishnu said, "you are extraordinarily talented, kind, and considerate of your fellow runners and your fellow human beings. He completed the race in 47 days, 1 hour, and 39 minutes. An average of 65.864 miles a day. That is the 36th best performance in the history of the race out of 156 performances. You are still on top of the board of the 43 runners."
"This is extraordinary. You grace us with your presence at every race. All these feats of incredible endurance, it is absolutely amazing. I know Sri Chinmoy is beaming with joy, enthusiasm, and gratitude for you and for us being allowed to do this thing. This 3100 is an amazing event. As you well know and you grace it with your divine presence. You are an amazing guy."
I think the term"amazing" doesn't begin to describe these runners who had to cover over 50 miles each and every day, whether it was in the 90's with high humidity, rainstorms, daily pains both of mind and body and do it with a smile and a loving heart. I'm in awe whenever I read of the Sri Chinmoy racers and encourage all to do the same.