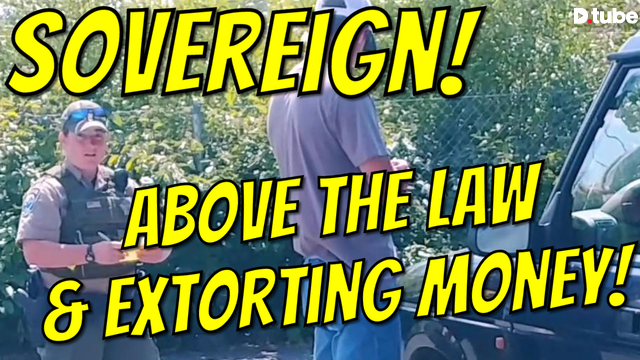 ---
If you are unable to view videos in DTube you can view this video on YouTube by clicking on the link below.
A Sovereign Extorting Money
6/7/19 I spotted a SOVEREIGN that's above the laws she is supposed to enforce. While out enjoying some time on our public waters I noticed this Wash. Dept. of Fish & Wildlife law enforcement officer ticketing people for not having a parking permit for a publicly accessible, public parking area for public access to Liberty Lake. The state of Washington requires people parking at and using facilities to purchase a "Discover Pass". If you are caught not displaying the pass and are not exempt from having one you will more than likely be issued a ticket for $90. Payable to your masters in government. This permit and RCW goes against the Federal Recreation Enhancement Act which prohibits governments from charging to park and access most federal lands that fall within the jurisdiction of the National Forest Service, Bureau of land management, and Bureau of reclamation. Washington state puts signs up requiring discover passes at most federal land parking lots that should be exempt from fees. I caught order follower Jolynn Beauchene in the act of extorting money from free people for breaking statutes when she was breaking one herself. No tickets if you're a sovereign. Please LIKE, SHARE, and SUBSCRIBE!
Contact info for redress of government employees:
Washington Department of Fish and Wildlife
website - https://wdfw.wa.gov
Contact page - https://wdfw.wa.gov/about/regional-offices#region-1
Eastern regional office Region 1 – Spokane
509-892-1001
[email protected]
Facebook - https://www.facebook.com/WDFWPolice/
https://www.facebook.com/WashingtonFishWildlife/
Twitter - https://twitter.com/WDFW or @WDFW
Links to sources used in this video:
QA Aquatic Invasive Species Series:
Part 1 -
Any materials used are done so under the provisions of the Fair Use Act.
FAIR USE ACT
Fair Use
Copyright Disclaimer Under Section 107 of the Copyright Act 1976, allowance is made for "fair use" for purposes such as criticism, comment, news reporting, teaching, scholarship, and research. Fair use is a use permitted by copyright statute that might otherwise be infringing. Non-profit, educational or personal use tips the balance in favor of fair use.
---
▶️ DTube
▶️ IPFS