Testing the Kazi WWII Lego Tank (267 pieces)
Thomas has built a lot of Chinese Lego lately, and now he has just finished the construction of a Kazi WWII Lego Tank consisting of 267 pieces. He is really satisfied, not just because of the quality, but also because of the look of the finished construction.
Thomas has tested a lot of Chinese Lego, and sometimes he is very happy about the product, and sometimes, he is not. But, this WWII Lego Tank is one of his favorites, not only because of the look, but also because it has a solid quality, and it is quite easy to construct.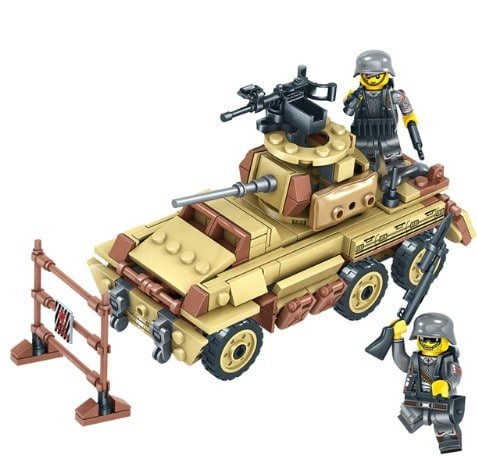 The Kazi Lego Tank
As you can see on the picture above, the package comes with two nice looking soldiers, and a very handsome little tank. It isn't very big, but it is a really nice looking tank.
What about the construction process?
It is quite easy to build this, and the instructions are easy to follow. If you are seven years or older and have some experience constructing Lego, this shouldn't cause to much trouble.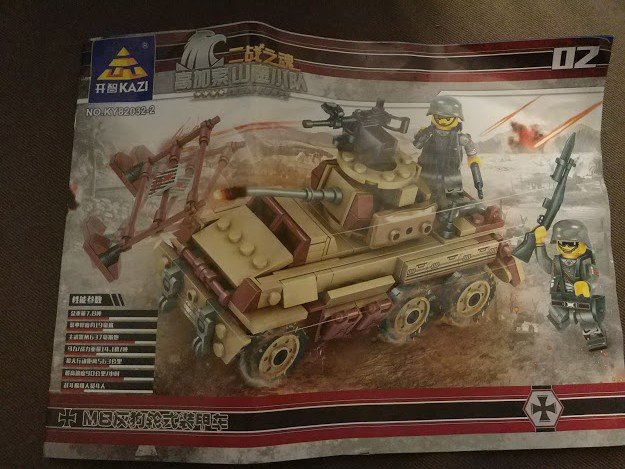 The Kazi lego Tank instructions paper...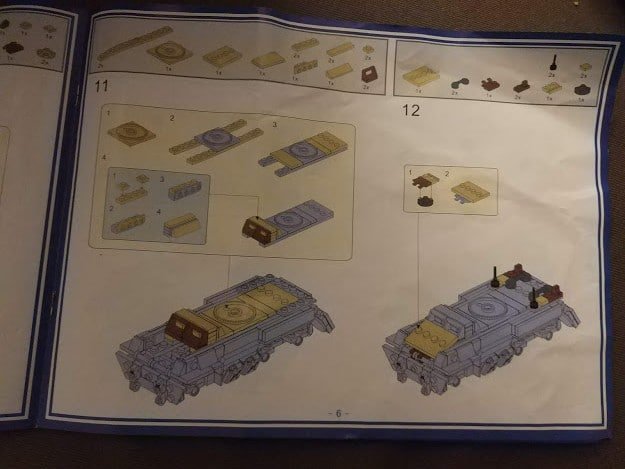 The Kazi lego Tank instructions
Above you can see an example of what a page looks like in the instructions manual for this Lego Tank from Kazi.
Is this really Kazi or maybe HuiQiBao?
At first, Thomas thought this Lego tank was a HuiQiBao product as he bought it from the HuiQiBao store. But, as he received the package, he could clearly see from the instructions that this is a Kazi product, just look at the front page of the manual above. It says Kazi with big letters. Now, Kazi is one of the best Chinese Lego brands, so that should be a good sign. And yes, this Lego is 100% compatible with your current Lego pieces.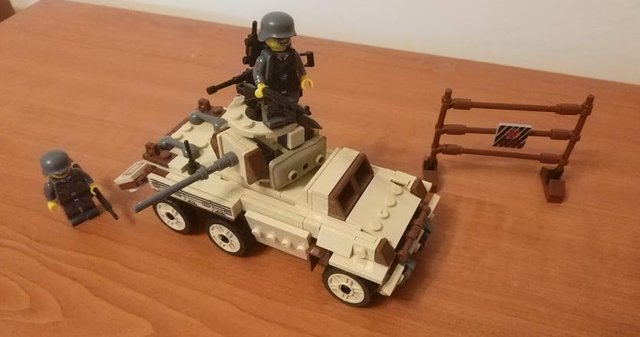 A picture of the finished Lego tank
Since it was constructed, the kids have played a lot with this tank, and they like the fact that the soldiers look so good, and the fact that the gun on the tank can be turned around, and thus it can shoot in all directions.
The price of the Lego was around 10 USD, and it is absoutely worth it. This is a unique Kazi design, and a real winner if you want to enjoy a high-quality Second World War Lego from China.
---
Posted from my blog with SteemPress : https://www.thethomasstories.com/testing-the-kazi-wwii-lego-tank-267-pieces/
---