YouTube Backs Down After Putting InfoWars On Verge Of Deactivation
Content adapted from this Zerohedge.com article : Source
---
InfoWars is on YouTube's target list.
A week after getting a first strike, InfoWars earned a second one for posting a pair of videos related to the Parkland shooting.
This time, the second strike was removed a few hours later.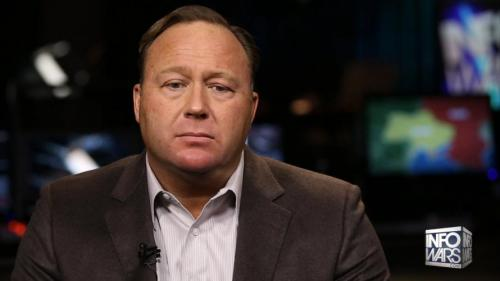 According to YouTube policy, a second strike results in a two week ban from posting while a third strike can have an account permanently terminated.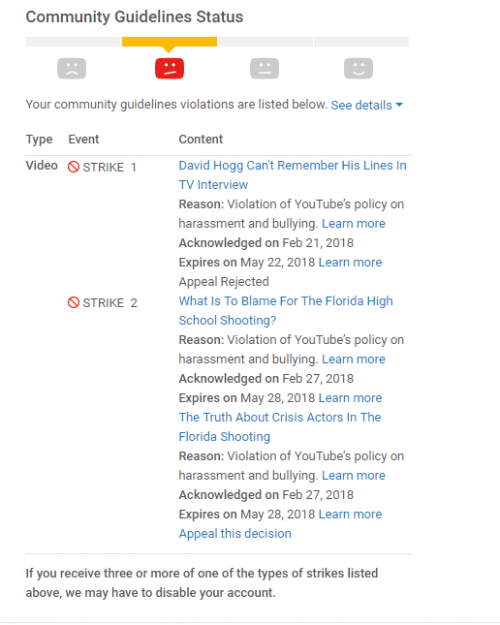 "This is the second strike applied to your account within three months," the notice reads. "As a result, you're unable to post new content to YouTube for two weeks. If there are no further issues, the ability to upload will be automatically restored after this two week period."
Infowars has referred to the YouTube strikes as a "CNN lobbying campaign," after CNN reported that they had "identified three similar YouTube videos from InfoWars" which they flagged to YouTube. A YouTube spokesperson responded at the time that those videos were under review.
Hogg has come under fire for flubbing his lines in a CNN interview causing many, including InfoWars, to speculate that he was coached about what to say.
Hogg denies this accusation and send out a number of Tweets aimed at Alex Jones.
The fact that the witnesses and victims of this have been called actors is a perfect example of the lack of maturity and basic human empathy in this country and in many adults like [@DonaldJTrumpJr][8]
— David Hogg (@davidhogg111) February 27, 2018 > Wait 🤔didn't you get sued for pedaling lies about the survivors and victims of another school shooting? Clearly someone didn't learn from their mistakes
— David Hogg (@davidhogg111) February 27, 2018 > I might not be great with spelling or punctuation but unlike Jones do my research and don't sell snake oil to the masses. #Jonesbrandsnakeoil
— David Hogg (@davidhogg111) February 27, 2018 > When your snake oil only makes you THICC 45 days later #jonesbrandsnakeoil pic.twitter.com/UoM9Gi2zUT
— David Hogg (@davidhogg111) February 27, 2018
Jones invited Hogg onto his show:
David, you are welcome to come on the show.
Are you aware that CNN is using you as part of a lobbying campaign to shut down Infowars?
You are now a public figure & activist. You are not immune to criticism.
We know your views on the 2nd amendment. Do you support the 1st?
— Alex Jones (@RealAlexJones) February 27, 2018
Hogg turned the offer down.
Non-adapted content found at zerohedge.com: Source
---
Disclaimer : Account @zer0hedge is not affiliated with ZeroHedge.com.
I read ZeroHedge multiple times a day to find the best articles and reformat them for Steemit. I appreciate the upvotes but consider following the account and resteeming the articles that you think deserve attention instead. Thank you!
Head over to ZeroHedge.com for a more complete news coverage about what affect the economy, geopolitics & cryptocurrencies.