Already from my childhood, electronic magician Jean-Michel Jarre accompanies me with his music. Selecting one of his records is very difficult. I have about seven in my collection. With the introduction of Spotify into our family, the selection of songs is much larger. I found many of his songs that I did not know.
When I was seven years old, loud sounds aroused me. It seemed to shoot somewhere. I was scared.I ran to my parents in the living room. I shuddered and cried. My father calmed me. He was just listening to Oxygen. I listened too.
About twenty years ago, I was my favorite novel, Duna (Frank Herbert, science fiction). When reading this book, Oxygene was playing. While listening now I recall the stories in this book.
Již od malička mě svou hudbou provází elektronický kouzelník Jean-Michel Jarre. Vybrat jednu jeho desku je velice těžké. Ve své sbírce jich mám asi sedm. Se zavedením Spotify do naší rodiny je výběr skladeb podstatně větší. Přišel jsem na mnoho jeho kousků, které mi dřívě utíkaly.
Jako asi sedmileté dítě mě večer vzbudily hlasité zvuky. Zdálo se mi, že se někde střílí. Vyplašený jsem utíkal za našima do obýváku. Třásl jsem se a brečel. Otec mě uklidňoval. Zrovna poslouchal Oxygene. Poslouchal jsem s ním.
Asi před dvaceti lety byl mým oblíbeným románem Duna (Frank Herbert, sci-fi). Během čtení mi často hrálo album Oxygene. Nyní se mi při jeho poslechu vybavují příběhy z této knihy.
---
OXYGENE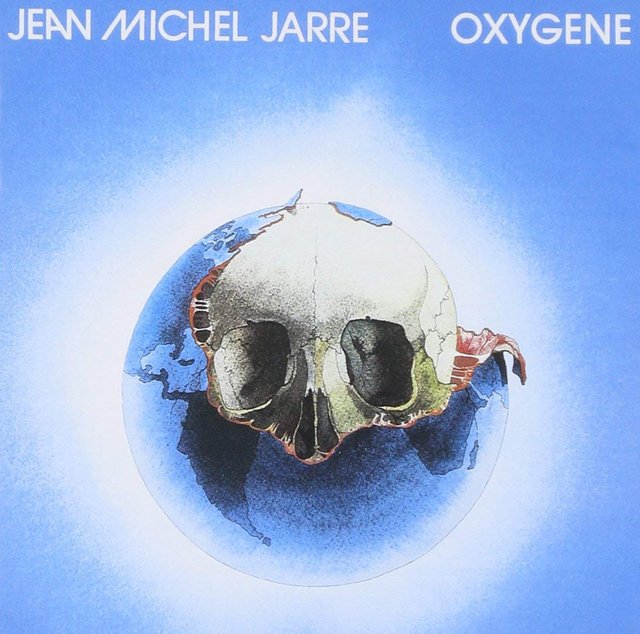 ---
It's hard to write anything about the songs. Just two samples.
Těžko se dá o skladbách něco napsat. Tak jen dvě ukázky.
---
---
This song is not on album. Memories remembered this as a soundtrack from school broadcasts. It's also a remake from Jarre.
Tato skladba nepatří na desku. Pamětníci si ji budou pamatovat jako znělku z Televizního vysílání pro školy - matematika. Od Jarreho to je předělávka.
---
---
The last show is also not from the LP described. But her submission at a concert in Egypt got me.
Poslední ukázka také není z popisované desky. Ale její podání na koncertě v Egyptě mě dostalo.
---
---
THE RULES
You need to pick your 7 all time favourite albums. Post one every day for seven days in a row.

One song (AT LEAST) from each album has to be in your playlist currently. Oh yeah, you also have to share this song with us through YouTube.

The Cover of the Album has to be the main theme of your post each day.

No need to explain why the specific album is a favourite of yours, but if you feel like it, PLEASE do!

Use #albumchallenge as a tag.

Last but not least, nominate a different steemian each day!
Because I like to read the article in Polish, maybe even listen to Polish music, I nominate @mespanta.
The author of this challenge is @tkappa.
PRAVIDLA
Vyberte svých 7 nejoblíbenějších alb. Během sedmi dní napište každý den o jednom z nich článek.

Alespoň jednu písničku z alba musíte aktuálně poslouchat a musíte se o ni podělit s námi prostřednictvím YouTube.

Každý den musí být prvním obrázkem vašeho článku obálka daného alba.

Nemusíte vysvětlovat, proč dané album patří mezi vaše oblíbené, ale pokud chcete, tak jen do toho!

Použijte #albumchallenge jako tag.

V neposlední řadě nominujte dalšího Steemiťáka každý den!
Protože si rád počtu v polštině, možná i poslechnu polskou tvorbu, nominuji @mespanta.
Autorem této výzvy je @tkappa.
---
7-Day Music Challenge: Your Top Albums