I like to share my musical tastes. I therefore thank @pipiczech for the nomination.
My main genre is classical music. I will not present here. Many readers do not enjoy it. I also listen to electronic music, folklore, but also metal or rock.
In the early nineties, the radio began to release more and more foreign songs. At that time most of the Czechs also met Sinéad O'Connor. One of her songs played from all stations several times a day. It was Nothing Compares 2 U from LP I Do not Want What I Have not Got.
Czechs could buy the foreign repertoire only in the street stand. Vendors were selling Polish illegally cloned cassettes. With great joy I have and I bought in Brno aforementioned LP.
Rád se podělím o své hudební chutě. Proto děkuji @pipiczech za nominaci.
Mým hlavním žánrem je klasická hudba. Tu zde představovat nebudu. To by asi většinu příliš nezajímalo. Ale poslouchám i jiné styly. Nebráním se elektronické hudbě, folklóru, ale ani metalu či rocku.
Počátkem devadesátých let začala rádia pouštět stále více zahraničních písniček. V této době většina Čechů poznala i Sinéad O'Connor. Jedna její píseň hrála ze všech stanic několikrát denně. Byla to Nothing Compares 2 U z desky I Do Not Want What I Haven't Got.
Našinec si mohl zahraniční repertoár zakoupit většinou jen na tržnicích. Prodejci zde prodávali polské načerno klonované audiokazety. S velkou radostí jsem si i já v Brně zakoupil výše zmiňovanou.
---
I Do Not Want What I Haven't Got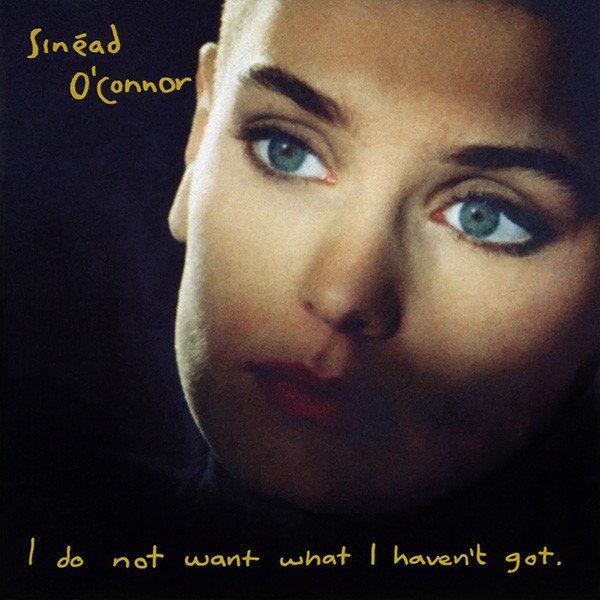 ---
The album contains ten, mostly slow, tracks. My favorite is the introductory Feel So Different.
Deska obsahuje celkem deset, převážně pomalých, skladeb. Mou nejoblíbenější je hned úvodní Feel So Different.
---
---
The second song is already mentioned in the introduction by Nothing Compares 2 U. Even after so many years and so many listens, my goose hurts.
Druhou skladbou je již v úvodu zmiňovaná Nothing Compares 2 U, u které i po tolika letech a tolika posleších mi naskočí husí kůže.
---
---
I certainly can not forget the song The Last Day Of Our Acquaintance.
Určitě nesmím zapomenout na skladbu The Last Day Of Our Acquaintance.
---
---
Worth mentioning Three Babies and Black Boys On Mopeds.
I mostly relaxed on this board. And I was sad when the girl left me.
Za zmíňku ještě stojí Three Babies a Black Boys On Mopeds.
U této desky jsem převážně relaxoval. A nebo smutnil, když jsem dostal košem.
---
THE RULES
You need to pick your 7 all time favourite albums. Post one every day for seven days in a row.

One song (AT LEAST) from each album has to be in your playlist currently. Oh yeah, you also have to share this song with us through YouTube.

The Cover of the Album has to be the main theme of your post each day.

No need to explain why the specific album is a favourite of yours, but if you feel like it, PLEASE do!

Use #albumchallenge as a tag.

Last but not least, nominate a different steemian each day!
To stay in the Czech pond, I nominate @petecko.
The author of this challenge is @tkappa.
PRAVIDLA
Vyberte svých 7 nejoblíbenějších alb. Během sedmi dní napište každý den o jednom z nich článek.

Alespoň jednu písničku z alba musíte aktuálně poslouchat a musíte se o ni podělit s námi prostřednictvím YouTube.

Každý den musí být prvním obrázkem vašeho článku obálka daného alba.

Nemusíte vysvětlovat, proč dané album patří mezi vaše oblíbené, ale pokud chcete, tak jen do toho!

Použijte #albumchallenge jako tag.

V neposlední řadě nominujte dalšího Steemiťáka každý den!
Abychom zůstali v českém rybníčku, nominuji @petecko.
Autorem této výzvy je @tkappa.