On @dlike yesterday, I posted a link to an article in the Yorkshire Evening Post, a regional newspaper from Yorkshire, UK that was reporting the plan by Leeds Civic Society to erect a 'blue plaque' to commemerate one of Leeds' adopted sons; Albert Louis Johanneson.
Now because Albert was a famous footballer, there is a lot of information and history, records of his appearences and details of his playing career online but in a nutshell, for those who might not have heard of him, Albert was a South African who was brought over to play for Leeds by Don Revie in the 1960s. He was one of the first high profile black players from any nation to play in the first division and the first to appear in an FA Cup final at Wembley in 1965 when Leeds lost to Liverpool, but we're not going to dwell on that fact too long!
Back in the late 80s, my office was in Headingley, North Leeds and home to the third biggest student population in Europe, and more precisely, next door to The Original Oak and just across the road from The Skyrack pub. Legendary watering holes in Leeds student folklore. Due to it being the excessive 80s, most lunches were liquid and the The Skyrack was pub of choice due to the better menu and there being less cigarette burns on the pool tables! Two pints, a steak and ale pie and chips and three games of pool could be squeezed into an hours lunchbreak. Except on one Friday, for there, at a table in the corner, alone, sat Albert Johanneson.
I vividly remember him sat looking at nothing and no-one in particular. He was wearing a slightly grubby three-quarter length camel coat but he looked elegent. His glass was almost empty and so making a guess from the shape of the glass, we ordered an extra pint of Stella and took it over to his table. Upon placing it in front of him, my friend asked;
"Mind if we join you Albert?" And he gestured to the two empty stools at the table.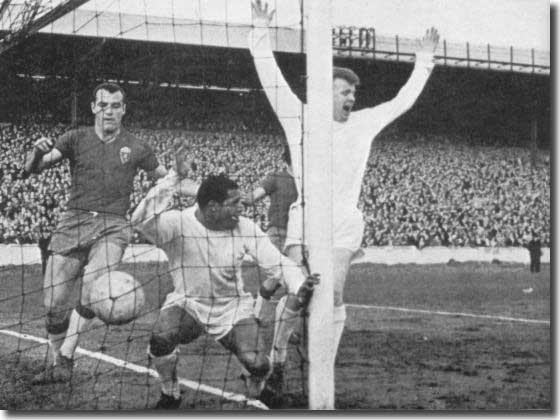 Albert and King Billy
Being honest, I was a little in awe. This guy had an FA cup runners up medal and he was one of heroes I never got to see play and although he wasn't tall, he was well built and still looked in good shape. He was very softly spoken, with a soft and smoothly flowing South African accent. My friend who was the talker between us and who could generally be relied upon to talk the hind legs off the proverbial donkey was soon into his stride and Albert responded, regaling us with tales of life at Leeds, of King Billy's strop when someone hid his favourite boots and of his regret at not performing well at that FA Cup final. He wished, he said, he could go back and play it again.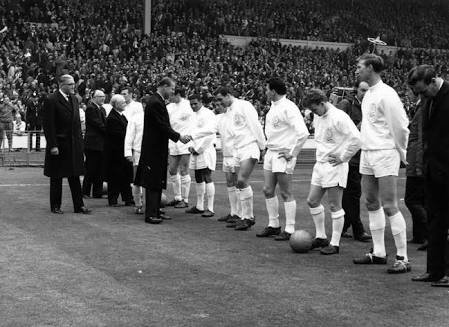 Meeting the Duke of Edinburgh prior to the 1965 FA Cup final
An hour plus flew by and we thanked him and left.
George Best was once quoted as saying that Albert was 'a really nice man' and I can totally agree with that. We saw him a few more times over the next few months and the stories kept coming. Rarely did he mention anything personal and never did we ask. It was just the football. He was class and a gentleman.
I can't imagine his bravery in simply stepping out onto a football pitch against a background of racism and abuse which he regularly endured in 60s Britain. Britain may have been swinging, but not with tolerance and humanity.
Albert was a silky and skillful winger but I find it sad that his football achievements seem to be surpassed by plaudits he has mainly posthumously recieved as having paved the way for increasing the ranks of black players, particularly of African heritage in the football league.
Albert never seemed to regain his form after that 1965 defeat, only starting 10 further games due to the emergence of Eddie Gray and he left for York City in 1970 before retiring from the game a couple of years later.
After retirement, Albert was beset by problems with his health and with alcohol abuse and he died in September 1995, aged just 55 from meningitis and heart failure, alone in his flat in Leeds. The coroner reported his body had laid there undiscovered for a week.
A very sad end for 'a really nice man' and great footballer, and with whom I was honoured to share a few hours with.
Albert Louis Johanneson (13th March 1940 - 28th September 1995)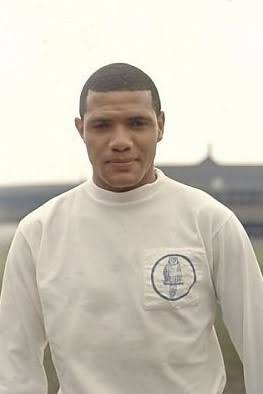 Images were all 'borrowed' by me. I did not take them nor do I own the copyright, nor do I have a face that gives a fuck.