Introducing AirSwap: One Of The Best Feeless Cryptocurrency Exchange Part 2
Being born in this generation comes with a lot of benefits. There is a famous saying that says 'to whom much is given, much is expected.' As much as there are a lot of benefits to our generation, there are also lots of expectations from us. We are expected to catch up with the fast technological advancements, and Cryptocurrency happens to be one of those notable advancements. Those in the cryptocurrency world are always faced with a lot of decisions to make. Some of these decisions can either make or mar the individual. One thing that makes it less stressful is the fact that the user has a safe, feeless, and secure place to carry out transactions. Being able to trade cryptocurrency on a platform with the features as mentioned above is hard to come by, and the right information is all that is needed.
Sharing this information was the reason I introduced an excellent platform that can help take away some of your worries. With Airswap, you have fewer problems to worry about because they have taken care of your trading fees and given you a secure platform to transact business.
I did a brief overview of the AirSwap platform in my previous post, and this post is a continuation of that post.
Click here to visit the first part of this post.
Tools Available in AirSwap
AirSwap has graciously integrated and made a lot of useful tools to be available and open for everyone to use. Users can use these tools for the advantage in many ways. Some of these tools include:
DexIndex
What makes me enjoy this platform the most is the fact that it is linked to DexIndex. DexIndex is an opensource tool that helps users search decentralized Ethereum based exchanges for the best token prices. This means that users don't need to manually visit each exchange to search for token prices but rather use this automated tool.
I needed some DAI token but wasn't sure of the best offer to use. What I did was to head over to DexIndex, select the buy button, input my require amount, and hit the search button. In a few seconds, I saw a list of exchanges with the total amount of ETH that the transaction will cost. It was well arranged in a way that the cheapest exchange was top of the list. That alone saved me a lot of time and energy.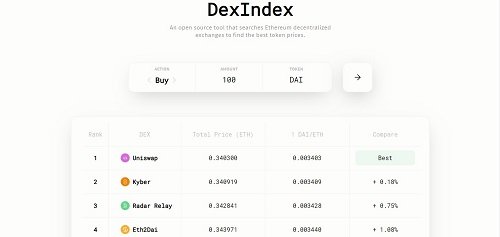 AirSwap OTC
AirSwap gives you the privilege to carry out an over the counter trade. The fact that they have the compare feature which enables you to compare prices with so many other exchanges gives the OTC traders an insight into the prices that is obtainable.
You will be required to connect your wallet in other to participate in this trade.
Instant Exchange
This tool is used for instant trading or instant token exchange. Users can set their rate, gas fee, and all other needed information for the trade to go through. Users can also monitor and see the recent transactions by other users. Using the compare tool is an excellent guide in other to avoid running into loses.
You will need to connect your wallet for the transaction to go through.
Conclusion
It is rare to come across an exchange with this type of tools and features. AirSwap is genuinely a very rare platform, and It would be nice if you made use of this unique trading opportunity.
Don't forget that it has no trading fees, It is safe and secured, It has wonderful tools that help you trade well, it does not require any sign-up, it provides tools for dApp development and also offers a lot of tokens for users to trade.
Disclaimer: The views expressed in this article are entirely my view and do not reflect the mind or opinion of anyone else.
Resources
I wrote this post and all its contents based on my experience, research, knowledge, and personal use of the AirSwap platform.
Most images are from my usage screenshots, and I provided links to all external images where applicable.
Links and References
Link to AirSwap website: https://www.airswap.io/
Link to AirSwap Twitter handler: https://twitter.com/airswap
Link to Airswap Reddit handler: https://www.reddit.com/r/AirSwap/
Link to Airswap Bitcointalk: https://bitcointalk.org/index.php?topic=2208855.0
Link to AirSwap Facebook page: https://web.facebook.com/airswapio/?_rdc=1&_rdr
Link to Medium: https://medium.com/fluidity
Link to GitHub: https://github.com/airswap/developers
Link to YouTube: https://www.youtube.com/channel/UCb2tLdHXs72fdtKXGD1uPAg