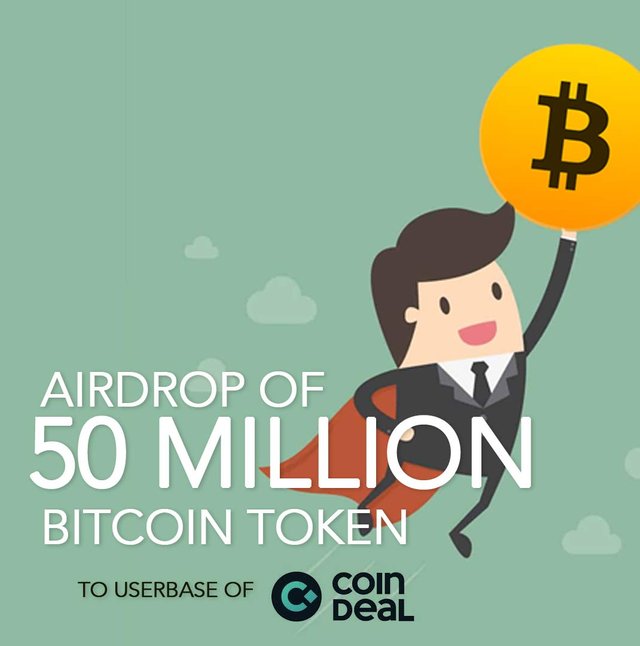 Join in this Airdrop that is directly to the exchange account, NO ETH ADDRESS is needed to be shared.
Learn more about Bitcoin Token (BTK) the decentralized currency at: https://btk.community
We are in the midst of our Airdrop season, take advantage of this Airdrop of 2000 BTK with 50 Million HARDCAP. We check accounts please ensure you follow all the rules, duplicate entries or spam accounts are deleted.
Accounts on CoinDeal.com will be awarded 2000 BTK on June 16th.
[RULES for the AIRDROP]
Follow on 2 accounts on Telegram:
https://t.me/btkcommunity
https://t.me/coindeal_com

Follow 2 accounts on Twitter:
https://twitter.com/bitcoin_token
https://twitter.com/coin_deal

Register an account at: http://www.coindeal.com

Tweet this message (download and attach the image below to your tweet): (Also TAG 5 friends )
50 Million BTK #Airdrop to Coin Deal Exchange 📈👏👏 Join in this Airdrop by filling out this form and following steps: https://docs.google.com/forms/u/1/d/e/1FAIpQLSfJOjHPFobuN6fH92nPx4mNCZW7olGZ1d7ieSDZj63oEThD5A/viewform
#Airdrop #BTK #BitcoinToken #CryptoExchange #Coindeal
Fill the form below: