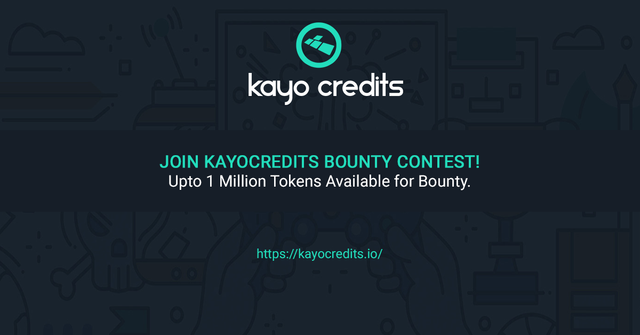 Join KayoCredits Bounty Contest!
Upto 1 Million Tokens Available for Bounty.
Website: https://kayocredits.io/
Bounty: https://bounty.kayocredits.io/
KayoCredits provides an all-new experience for the gamers, game developers, content creators and the gaming communities. KayoCredits works as all-in-one platform for the gamers to monetize their skills by renting out their services, Users to use the platform for wagering on esports matches outcome and trade in-game assets safely, Game Developers to hire Gamers and Niche Community members to Market their games and Advertisers to promote their products to Nice Market and sponsor teams and high level Gamers. The complete Monetization of the Platform will be done through KayoCredits tokens.
KayoCredits aims to be -
Platform for pro gamers to earn money through skills
Escrow Service for peer to peer transaction
SDK for seamless integration with any games.
In-Game assets Transaction validator
wagering Platform between users
Marketing platform for esports events
Place for sponsors/Game Developers to market their products