Mid-Autumn Festival Special Reward —— GGC Giveaway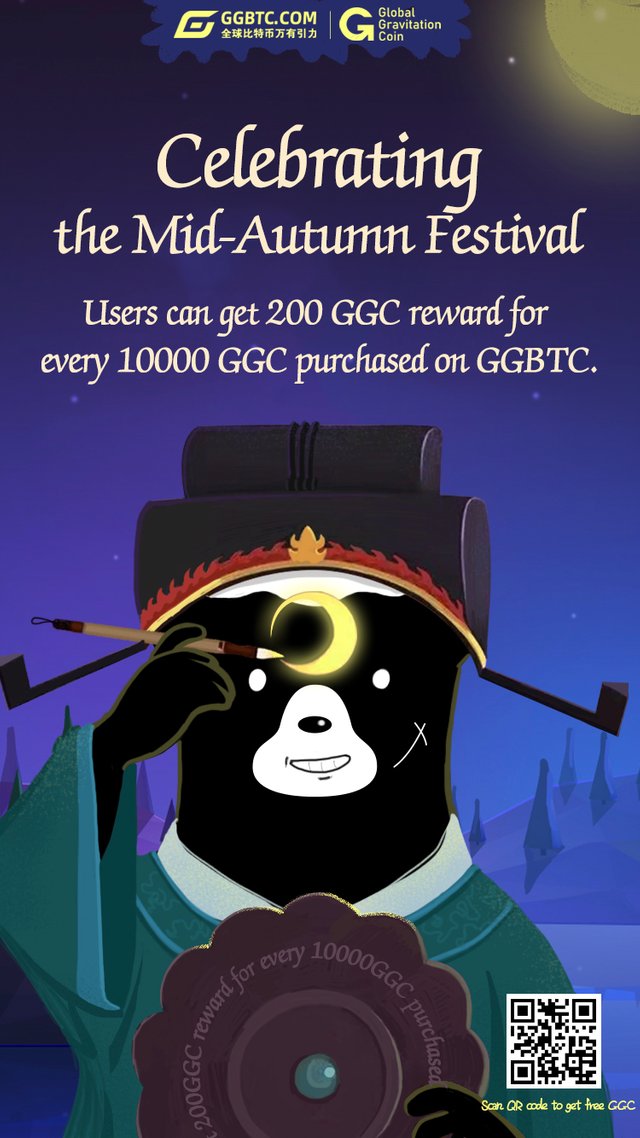 The Mid-Autumn Festival is coming. On the occasion of the full moon festival, please accept the sincere wishes of GGBTC exchange and all staff!
Since its establishment, GGBTC has launched the world's first platform coin GGC based on Tron, obtained the exchange license of Singapore, participated in professional forums held in the United States, Asia, and Europe and joined the ranks of global cutting-edge digital currency exchanges. Every achievement of GGBTC comes from every step of the efforts of users, colleagues and team members.
To celebrate the upcoming Mid-Autumn Festival, GGBTC will host the "Mid-Autumn Festival Special Reward——Buy GGC and get GGC for Free" event with the most sincere wishes.
Since its listing, GGC has seen exponential growth in trading volume for many times, and the currency price has been rising, which makes GGC stand out in the digital currency market. GGC is worth holding, whether in the platform coin field or the whole digital currency market.
In the years to come, we will continue to adhere to the concept of contributing to the sustained, healthy and rapid development of the global blockchain industry, accurately mining user demand, research and development of emerging exchange functions, strict screening of premium PoW coins.
The specific rules are as follows:
The Activity time: September 13th - September 15th
The activity rules: Users can get 200GGC reward for every 10000GGC purchased on GGBTC.
The withdrawal rules: All the reward GGC will be locked for 3 months. GGC can be unlocked by depositing 2000USDT.
Note: Each person can receive up to 400GGC reward.
If the activity is adjusted, the official GGBTC update shall prevail. GGBTC reserves the right to make adjustments to the rules of the activity at any time due to changes caused by market environment, policy guidance or force majeure, or the existence of fraud risk.
Risk Warnings:
Trading digital assets involve significant risk and can result in the loss of your invested capital. Please make a rational judgment on your ability to invest and take cautious investment decisions.
GGBTC attempts to screen all tokens before they come to the market. However, even with the best due diligence, there are still risks when investing. GGBTC is not liable for investment gains or losses. We sincerely appreciate your support and understanding. GGBTC will continue to provide you with better products and service!
Find us on
Telegram English Group: https://t.me/GGBTCOfficial_EN
Twitter: https://twitter.com/GGBTC_Official
Facebook: https://www.facebook.com/ggbtcofficial/