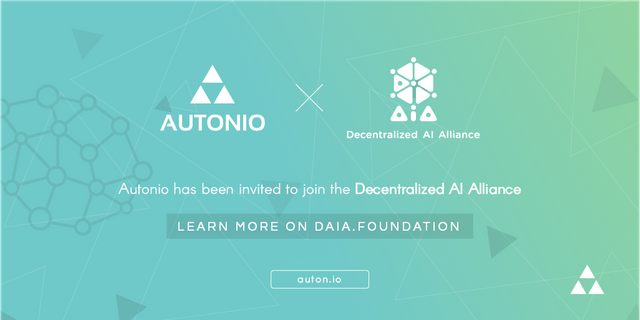 Autonio has been invited to join the Decentralized Artificial Intelligence Alliance (DAIA) and SingularityNET as partners in a new venture that focuses on the intersection of artificial intelligence, blockchain and decentralized technologies. DAIA is a new AI industry organization that joins together companies, nonprofits, and labs working on artificial intelligence systems and tools from a perspective of decentralization, participatory control, and guidance.
By joining DAIA, Autonio will be able to engage in the sharing of resources, information, and joint advocacy for the positive applications of artificial intelligence technology together with other alliance partners such as SingularityNET, Nexus, and Ocean. Autonio believes that this new partnership will undoubtably aid in the development of our NIOnet AI platform and other AI tools. However, the reasons for joining DAIA extend beyond the benefit of sharing technology or resources. It allows Autonio access to a shared platform that aligns with its mission and values.
DAIA was created with the purpose of providing a common forum for organizations, building tools, and systems oriented towards ensuring that the development of this powerful new technology remains decentralized and participatory — so that all of humanity can engage in the next stages of development of AI in a transparent and collaborative way. Autonio believes that this mission closely aligns with our own values of Prosperism: spreading access to important technology and allowing the world to benefit from it in a fair and transparent manner.
DAIA was founded on the premise that making AI more decentralized, democratic, and participatory is crucial for combating current issues such as wealth inequality and data privacy, in addition to accelerating the development of AI technologies towards a broad scope of applications. By assembling a talented and diverse set of organizations that share a common vision for the beneficial applications of AI, DAIA will be working to spread the benefits of this technology as much possible and establish a common framework for its ecosystem partners.
Autonio is proud to join this distinguished and talented group that DAIA has assembled and looks forward to further developing these new relationships and seeing the progress that our organizations can accomplish together.
To learn more about DAIA and its members, please visit https://daia.foundation/ .
SingularityNET is a full-stack AI solution powered by a decentralization protocol designed to let anyone create, share, and monetize AI services at scale. The SingularityNET platform is the core infrastructure that allows the network to function.
For more information please visit https://singularitynet.io/ .