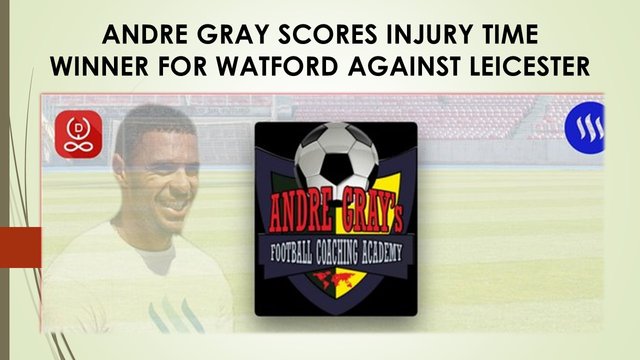 I've just been watching Andre Gray score the injury time winner against Leicester. What a feeling that must be!
This poacher's goal will be a blow to Leicester - especially as it is Brendon Rodger's first game in charge.
Gray was played in with a chipped ball over the top which just left Gray to sprint onto to it and to confidently slip it past the advancing Schmeichel with an in-step pass under the keeper and into the net.
I guess the match will be on BBC Match of the Day 2 tonight but there will be a few snippets released on you tube no doubt if you search for "Gray's last minute goal against Leicester".
Here is a link to a similar news story.
Andre Gray's goal helps Watford up to 8th in the Premier League.
If you came across the link on google - you will be interested to know that Andre Gray is the only known Premier League Star known to be behind a blockchain enabled football academy.
Andre Gray Football Academy
The Andre Gray Football Academy is a charity initiative to support young footballers and coaches with underprivileged backgrounds third-world countries and ultimately, all lovers of football.
The initiative is built on the Steem blockchain and has seen 200 participants receive a total of $7,000 in rewards for following coaching drills prescribed by videos from Andre.
It is certainly the best blockchain enabled football initiative that I know of:
Follow this link to see the recent highlights video of the new initiative and to find out more about the academy:
https://steemit.com/agfacademy/@agfacademy/agfacademy-highlights-2019-or-or-the-journey-so-far
Website: https://www.agfacademy.com/