My 200 km Bike Ride Experience
---
Hi Steemians! It's been a while since I make my last blog. I've been so busy this past few week so I don't have time to make my next blog. But even I'm busy, every day I try to add content to this blog little by little just to be able to finish it. And now it's ready, take time to read it and enjoy the story.
---
Bicycling is a common hobby for everyone around the globe. Anyone can ride a bicycle, they just need how to operate it and the most important thing to learn before riding it is to find your balance. Bicycling can be a hobby, mode of transportation, and exercise so it has different purpose depends on how you want to use it.
When I was at the young age, I always want to have my own bicycle. I don't know why but bicycling is always close to my heart. And now that I have my own source of income. I decided to buy my very first bicycle.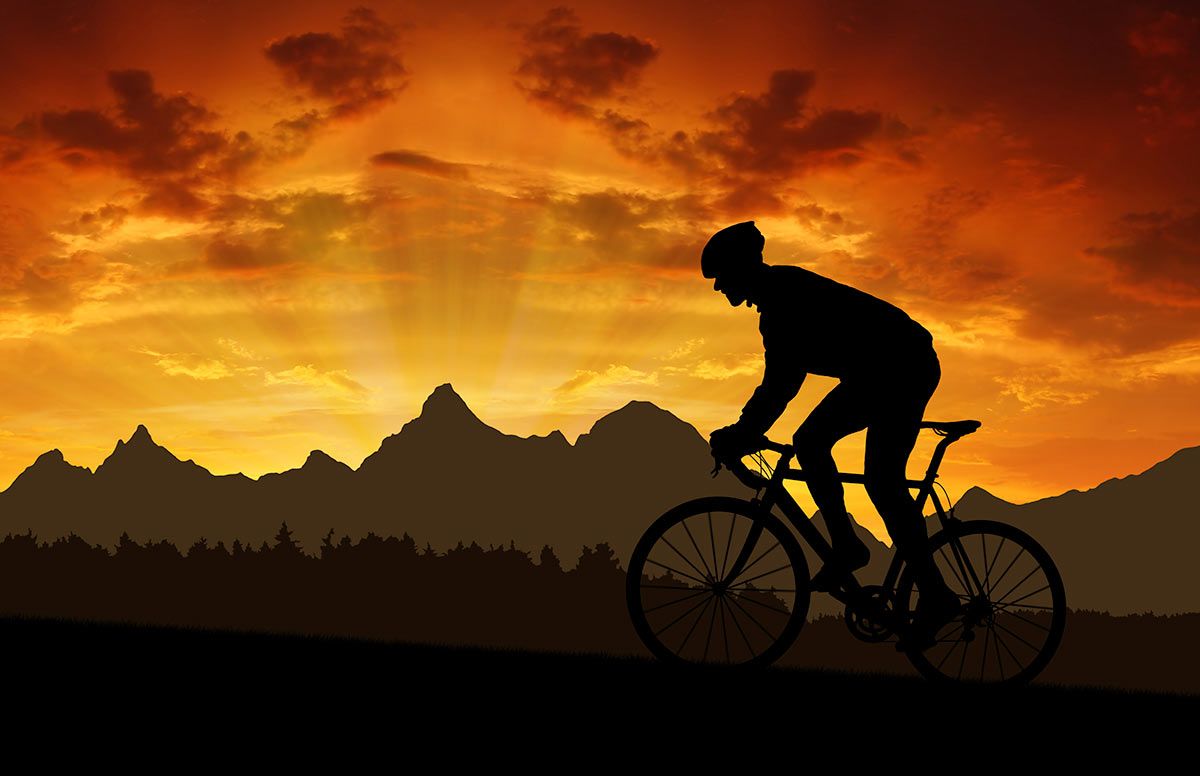 Source

---
Are you a cyclist? If yes, I'm sure you will enjoy this blog.
I want to share with you guys my one of the most unforgettable experience of riding on a bicycle so far, and that was my Laguna Loop 200km ride. Yep! 200km, no typo error. Ps. it will be very tiresome to read this blog, but you will enjoy this story, I swear.
---
Let's Start!
On the 3rd of September, the last year 2017 (Sunday) Our cycling group in Cavite named, Tropang Trinx Cavite (TTC) is going for a long ride to Pililia Windmill Farm at Rizal, Philippines. All of the members are notified about this ride for only about 4 days before the ride.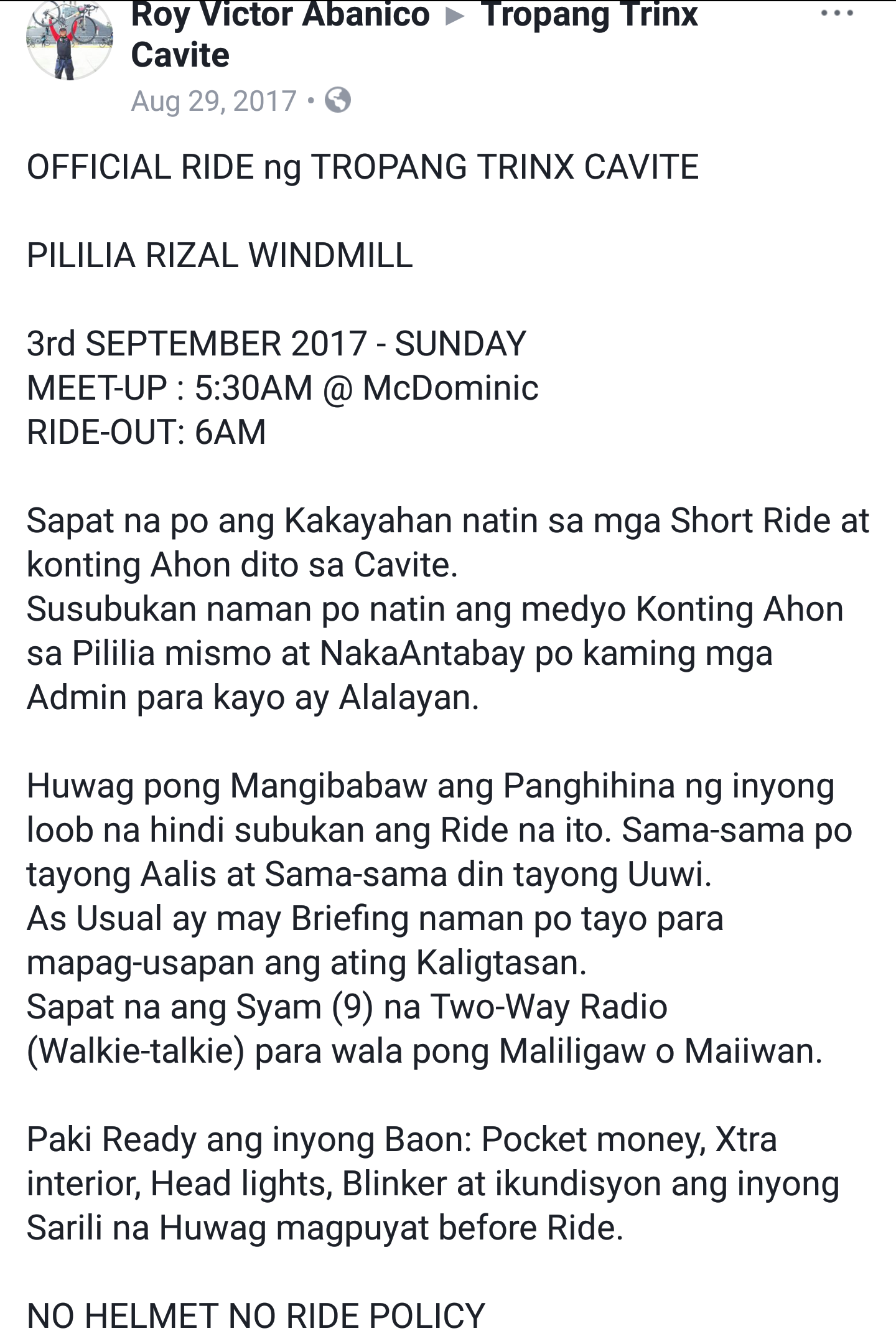 This was the Facebook post of our Head Admin to our facebook group for our upcoming ride. I know it was composed in Tagalog but it's only about the information of our ride and some guidelines to know. But I will translate it into English for my foreigner readers.
I know our capability on our Short Ride and some uphills of Cavite is enough for us to try the uphill roads of Pililia and we have our admins that are ready to assist all of you guys.
Don't get discouraged to try this ride. We will go out together and we will also come back together as well. As usual, we will have our briefing before we ride out together so we will ensure everyone's safety. We have here Nine(9) Two-Way Radio (Walkie-talkie) to be used for our communication on the road in case of someone might get lost or forgotten.
Please bring the following: Pocket Money, Extra Interior, Head Lights, and Blinker. Also, make sure that your bike is in the good running condition and also have enough sleep before the ride.
NO HELMET NO RIDE POLICY
---
I know the preparation for the ride is a bit short, but we used to this type of ride that we only have a few days of preparation. The distance of the Pililia Windmill Farm is about 150km+ back and forth from our meetup place somewhere in Bacoor, Philippines. We are consist of 50+ bikers so everyone's safety is the main concern of this ride. Our group has a Tranko, Marshall, and Sweeper that will do their job responsibility in the group to keep all the members safe. Unfortunately, our Head Admin of our group is not present, it's very rare that he is absent on our weekly ride because he is the one whose picking our target destination. It has a big effect on the newbie members because they are expecting our head admin to lead them and guide them on that ride.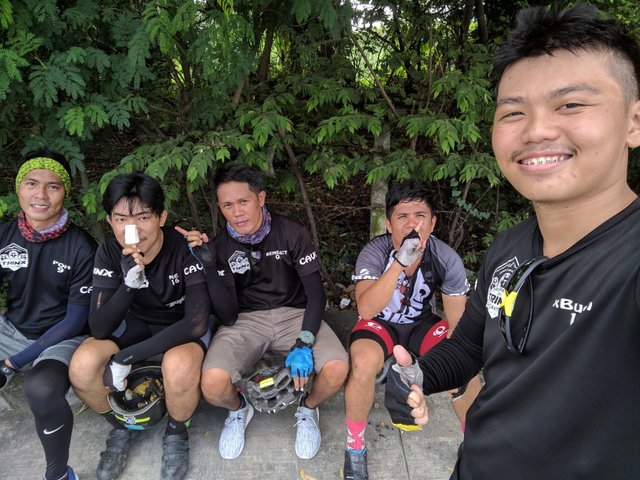 Some of my best buddies in our group
But nonetheless, we still continue the ride despite what happens. As we regularly do before we start our adventure, we first have a group briefing. We discuss every important things to know when we are pedaling on the side of the road, the main purpose of that is to give reminders to everyone, especially the newbies to be more careful, because sometimes there are so many newbie teenagers that joining our ride and if there is something that will happen to them, then we will be liable to that. So we making sure that every newbie in our group knows our rules and regulations on every ride, doesn't matter if our destination is near or far.
---
We start to pedal at around 7 in the morning. Then after an hour and a half, we reached our first stop-over, the c-6 road (circumferential road-6) a road along the shore of the Laguna de Bay.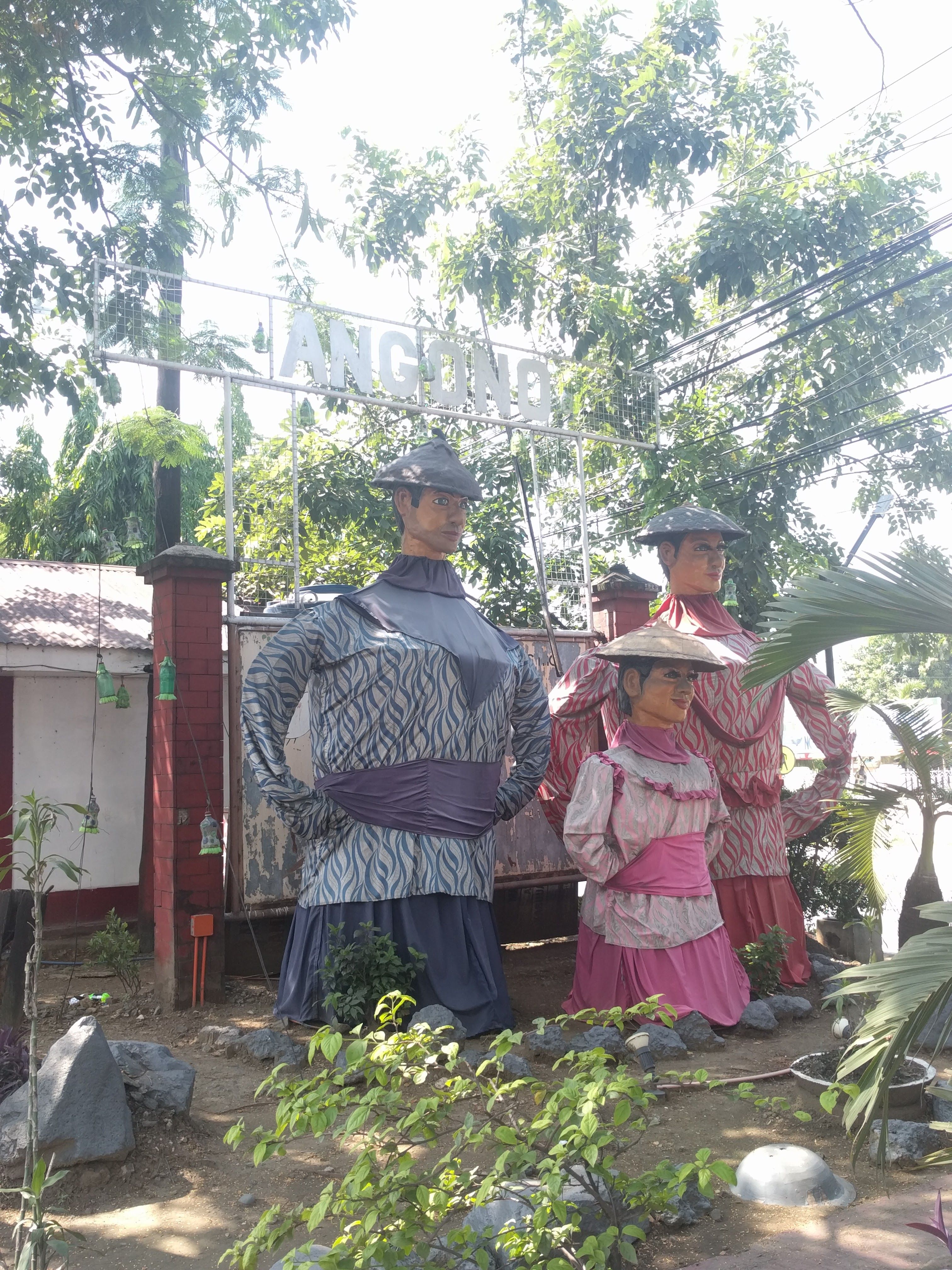 It is a four-lane road which runs for approximately 7 kilometres (4.3 mi) from M.L. Quezon Street in Bicutan to the Napindan Bridge over the Pasig River near the city's border with the Rizal municipality of Taytay. At 8:30 am, we take a short breakfast on the entrance of c-6 before we pedal again. At around 9:30 am, we reached the Napindan bridge with an intersection after you passed it, at that time I was on the very last and I'm the co-sweeper at that time. That intersection made us very confused because we where not informed that we need to turn right on that bridge, so my co-sweeper thought that some of the group members went straight so we decided to stop for a while and he will go after them and I will wait on that intersection to guide other group members to turn right when they reached the end of the bridge. After 20 minutes, he came back and didn't catch even one. After that, we chase the group that was 5 km away from us, we pedal like 35 kph just to reach them asap and fortunately, they are waiting for us and they also thought that we go in a wrong direction. After we regroup, we continue to pedal again and somewhere in Morong, Rizal we're getting confused again because there are so many intersections (for real) and we don't know where we should turn left or right or go straight. Fortunately and Unfortunately, one of the admin who was with us at that time had a two-way radio but i can't reach the other admins that was ahead of us.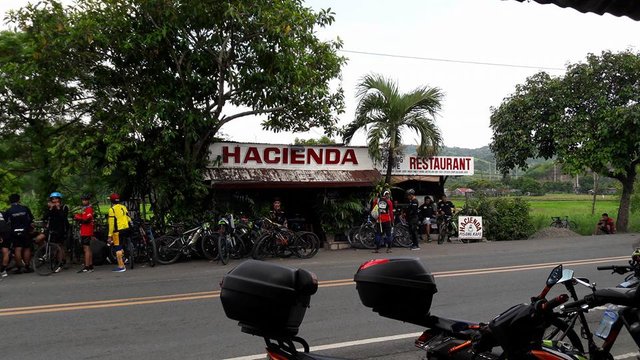 This is the pisong kape
On that time we trust only our road instincts and some local citizens on that place that we asked about directions. And after 2 hours of pedaling under the heat. We finally reached the
pisong kape
, an eatery where we will take our lunch. It was 2 pm when we reached the eatery. So if you noticed we almost spend 7+ hours but we still not in the Windmill. The location of that eatery is just near the Windmill. It's just before you will take the uphill roads towards the windmill farm. And after taking our lunch, we continue again to pedal, on that eatery up to the windmill, it's an almost 12.7 km away, but the dilemma of reaching the farm was the steep road. As we know, steep roads are not easily passable even for normal cars, (not if the car has powerful engines though). But think of it, if the cars can sometimes have problems on the steep roads, imagine us cyclist going also on the same steep roads. One of my friend that is also a cyclist told me that a steep road is converted to x4 on a flat road. So if you ride a steep road let's say 5km long. It's like you ride a 20 km on flat roads(on using a bicycle).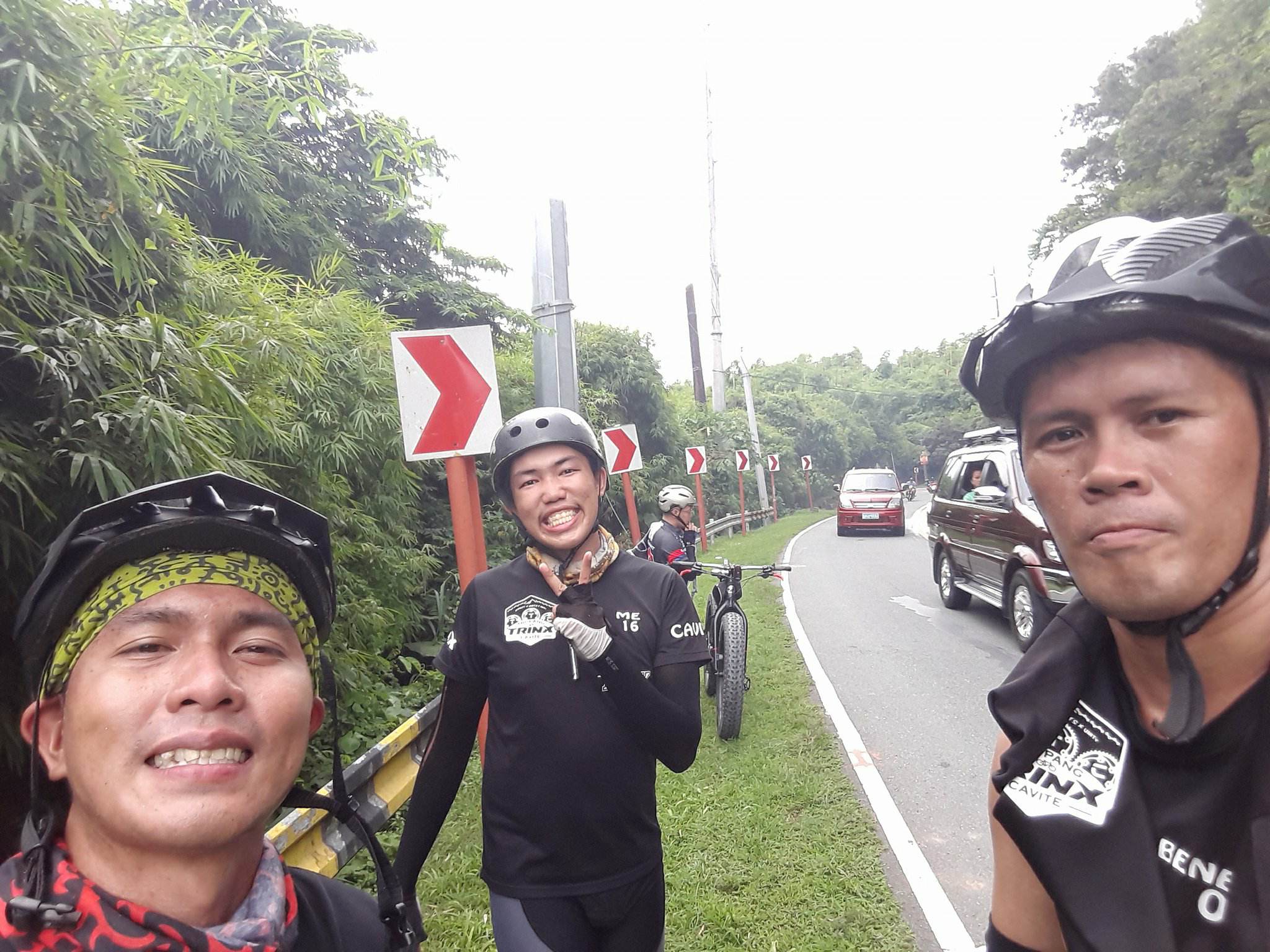 One of the steep parts of the road going to Windmill Farm
Some of my co-admins are taking care the members that having a difficult time to pedal on the steep road. You can see it in this picture that one of our members are using a
Fat Bike
, Obviously, it is a bike with a much wider tire compare to a normal bike. Fatbike is meant for off-road so if you use it on steep roads, you will be having a hard time to pedal that massive bicycle (but if you are a long-time cyclist, I'm sure you can handle it where ever you want to go).

Taaaadaaaahhhhhhh!
---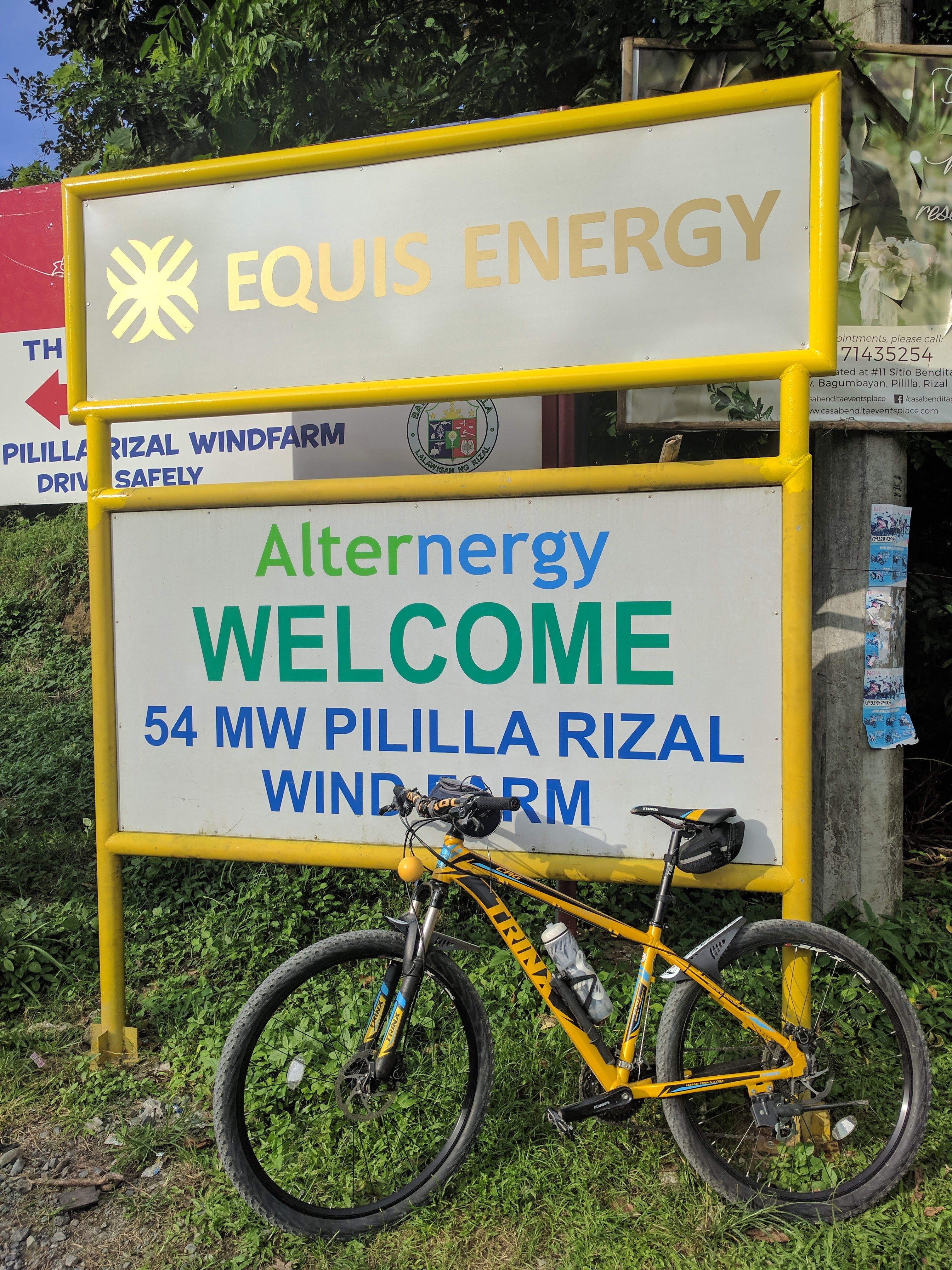 ---
And after an hour of climbing the steep road towards the wind farm, we finally reached it! You will be welcomed by a stunning overview of the entire provinces and some part of the Laguna de Bay that surrounds the Pililia, Rizal.
---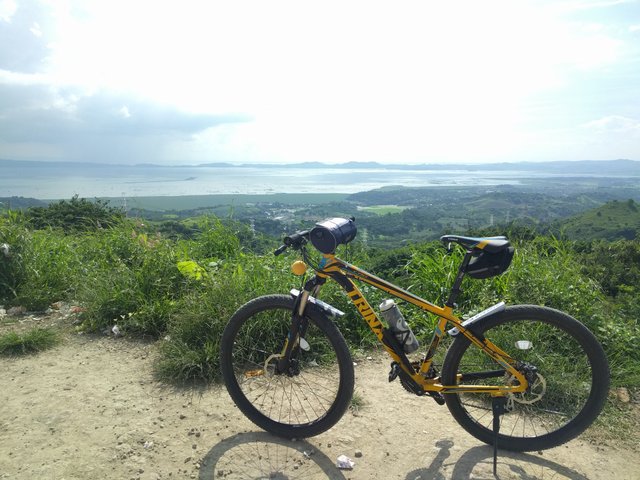 ---
Breathtaking view on the top
---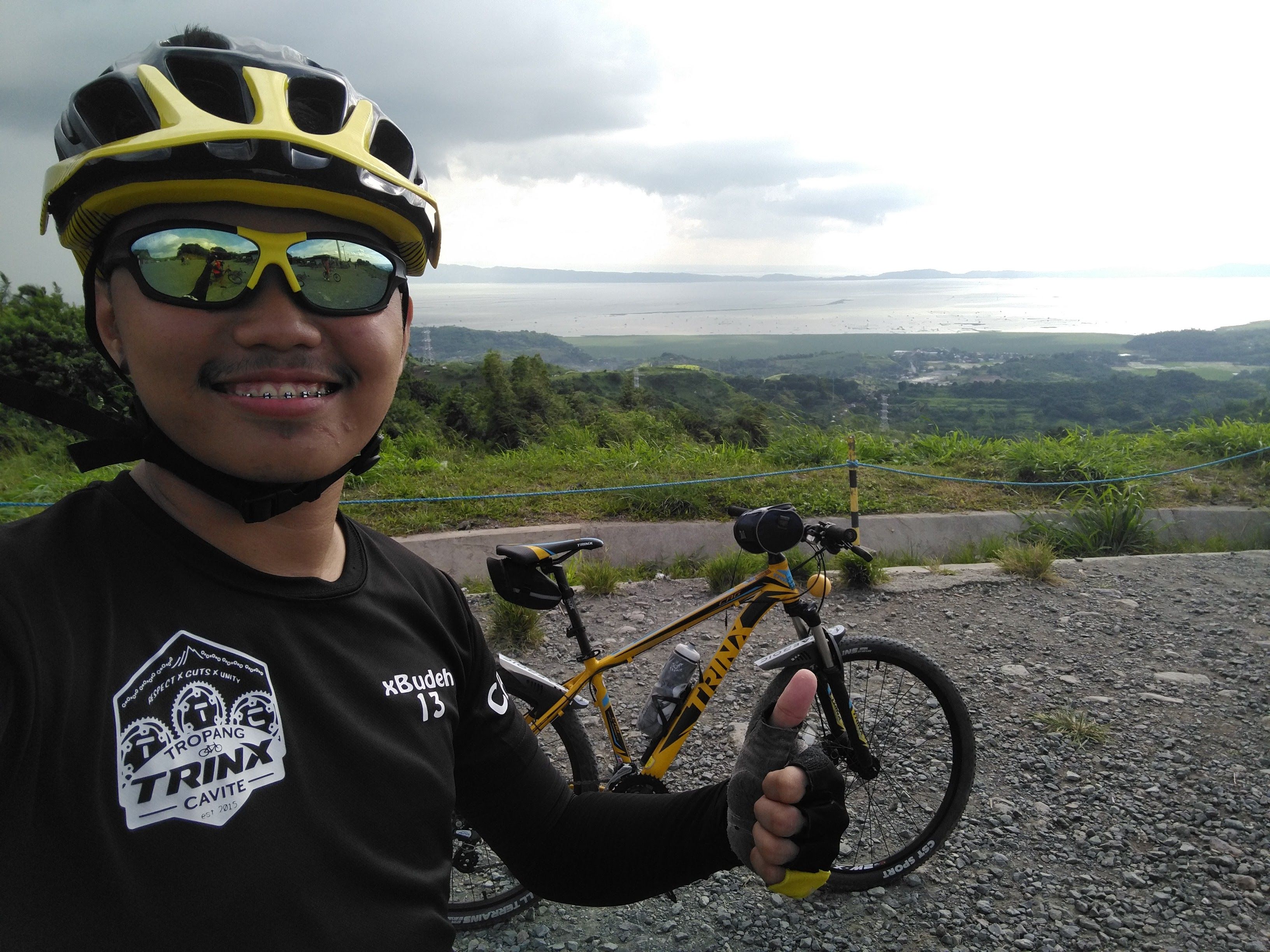 ---
A truly great achievement for all of us, especially for those who visit the wind farm for the first time like me. On that time, I feel the satisfaction reaching the wind farm using only a bicycle, and I know not everyone can do that. We reached the windmill farm at 3:30 pm, we 're so late but it doesn't matter anymore. What matter most is we successfully reached our destination.
---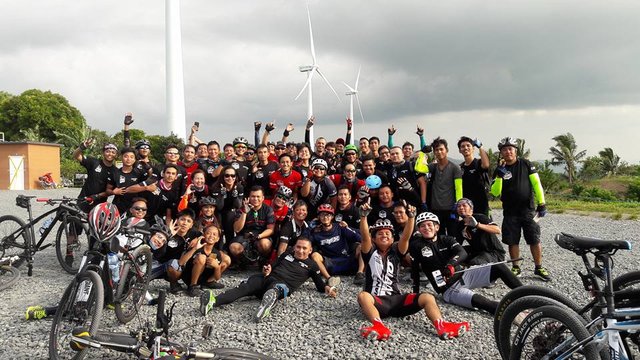 This is our mandatory group picture. I'm so proud and thrilled at this moment and you can tell it on our facial expressions. Even though we faced different hardships just to reach this place. Everyone is so glad that we made it safely on the wind farm. Ps. find me lol
---
And after resting and enjoying on the Windmill farm, we immediately ride out because it's past 4:30 pm and we will need to pedal back home. But instead of taking the same route, some of us suggest that it would be better if we take the other route, which is the route going to Laguna. I also suggest that route because I thought it will be just the same as the first route that we take. I also insist that we should take that route because it was only a long flat road all the way, compare to the up/down roads on the last route. Then after deciding, all of us agreed to change our route. The difference of the distance between the two is, the first route it was approx. 90 km but there are some uphills, but on the new route, it's approx. 121 km long but 80% of the roads ahead is only flat roads.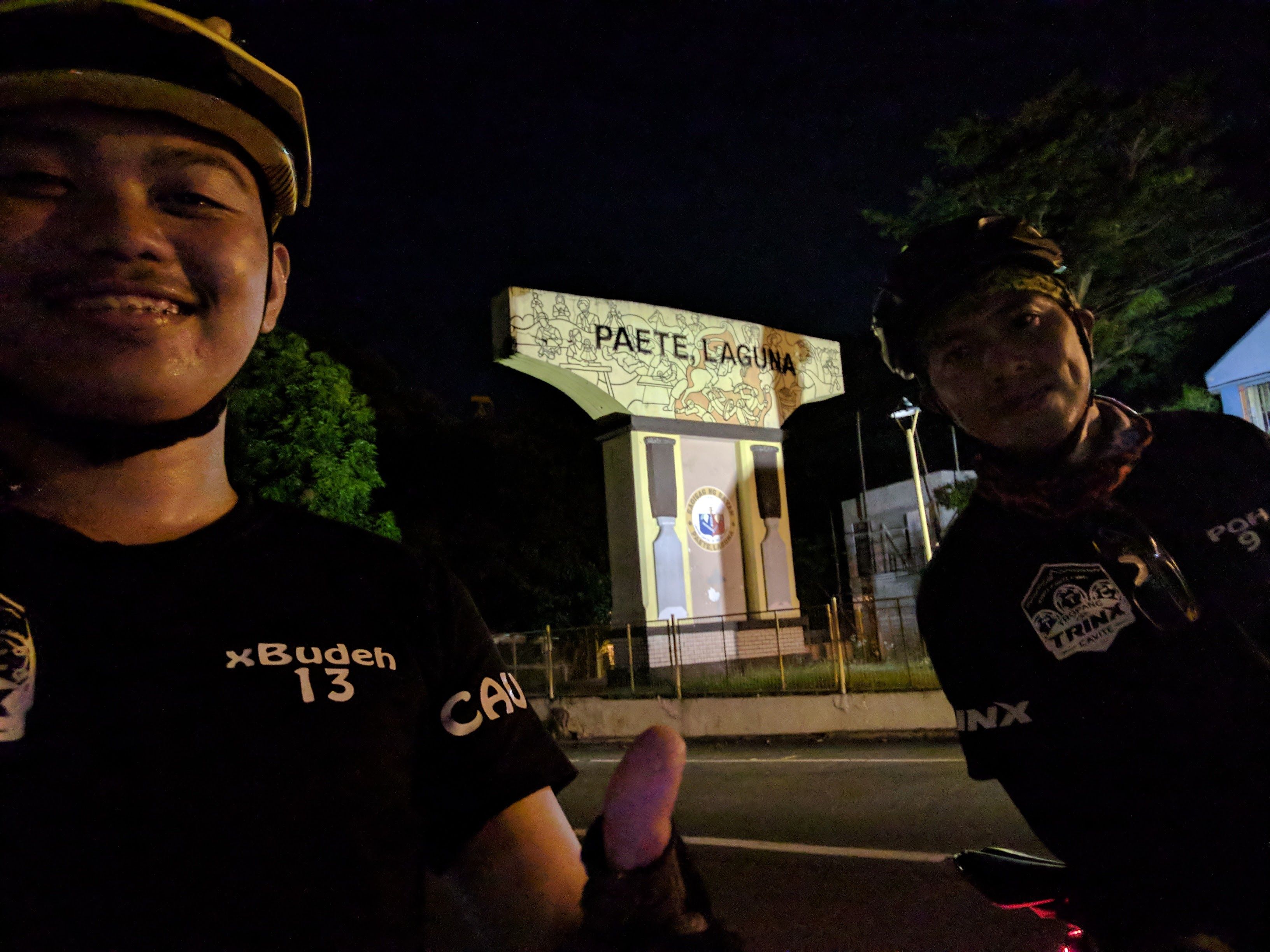 Then we continue to pedal to get back home, it was 5:00 pm when we left the wind farm, and after 2 hours of pedaling, we reached Paete, Laguna, We stopped for a while because one of the members got a flat tire. I use that opportunity to capture this photo. With me is one of my best buddy in our group and that time we were the sweepers (the one who will ensure that no one will be left behind) and you will not notice it but we are so tired on that time. Also, you will notice in that picture, it's already dark when we reached that place. It concern's me a lot because biking at night, especially on dingy roads, it's dangerous because you might not get seen by the cars passing by, also if you don't have proper head lights and blinkers it will be too cautious to pedaling in the dark places. We reached Lumban at 7:30 pm, that time some of us are getting hungry, tired, and sleepy so we decided to stop for a while to let them rest and take a quick nap. Then after that, we continue again to pedal, it's almost 10 pm and we're still far away, I know all of them are so tired and me personally I want to sleep on the side of the road because I was so sleepy that my eyes constantly closing when I'm pedaling but I realize that instead of taking long break, we can just pedal all the way rather than taking a break every 5 km because the momentum will be elapsed everytime we stop.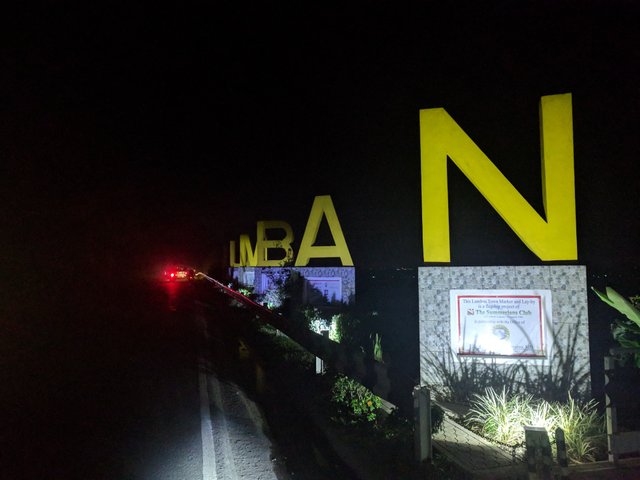 11:30 pm we are here in Lumban, Laguna. The one you will see in that picture was each letter of "Lumban" and after you passed it, it's a long and super dark descend road, I didn't expect that it's so dark on that road because it is a national highway so I thought there will be so many vehicles that using that road.
And something unexpected happens
. It's the one that I'm so afraid of, one of the members got crashed on the side of the road. He didn't notice that there is a big gap on the side of the road so he loses control of his bike and he fell off. Good thing nothing serious happened to him but unfortunately, he cannot pedal anymore due to some wounds on his knee so we decided to bring him to the nearest van terminal and just take commute for him to be able to go home. Then after that, we continue again and unfortunately, I don't have any pictures left to be share after that incident so I think I will end the story here haha. But last things last. I will just want to tell you guys that we all got home safely! Because of our perseverance, we finished the ride at last. Most of us got home at 5 in the morning, imagine we're on our bike for almost 24 hours! But luckily, all of us got home safely and I promised myself that some other time I will do it again but surely for much shorter time...

Are you planning to be a cyclist after you read my experience? I hope it didn't discourage you to try cycling. But I strongly advise if you are already a cyclist and going for a long ride like we did, you'll need an extra determination and you'll need to train yourself harder for this kind of rides because if you don't have enough strength and endurance, I'm very sure will feel the fatigue from the very start. So if you're planning to go on a long ride, make sure your body is prepared on every aspect, and if you do, I wish you do well and always ride safely!
---
What's special on this ride is, the only planned destination of this ride is only in the Pililia Windmill Farm, all of us didn't expect that our ride will turn out to loop the entire Laguna Lake. Believe me or not, this ride last for almost 24 hours! Sounds insane right? But the main reason why it lasts for almost a day is that some of the members got caught in different problems like flat tires, broken chain, brake failure, and even small accident just like a mention a while ago. Also, some of the members are easily exhausted so we must take a quick break in every time so they can recover their energy. We always encounter this problem in every ride, although we are prepared for this kind of scenarios, it's just cannot be avoided especially the flat tires. Sometimes the tire got flat but if you check why it becomes flat, you will not see any puncture, instead, you will see the tire got cut inside, maybe because of the hot road that causes the tire to blown on itself. But then again, the only matters on our every ride is the safety of everyone and the fulfillment that we felt when we reached our destination. When you try to make cycling as your regular hobby, you will feel the thrill that it brings to you. You will start to appreciate what bicycling can do not only for yourself but also for the environment. Me as a cyclist, I want to encourage all of us to try to use a bicycle as your daily transportation going to your work, school or anywhere you will go. While you are exercised, you also help the mother earth to reduce the pollution caused by a motorized vehicle.
---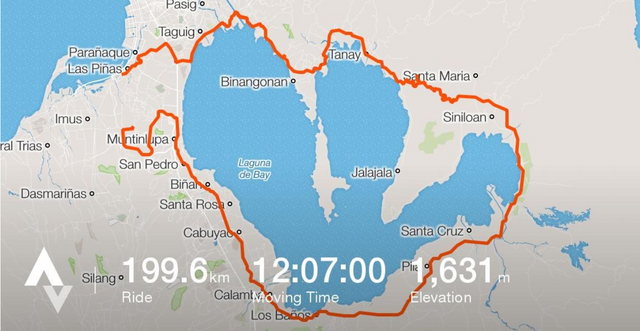 In this photo, you will see the route and the real-time stats of our ride. You will also see that we're really explored the entire Laguna de Bay. This app records the time, distance, and elevation of your ride. This app is called Strava, you can check it here if you want to try it. It can be downloaded on Android and App Store.
---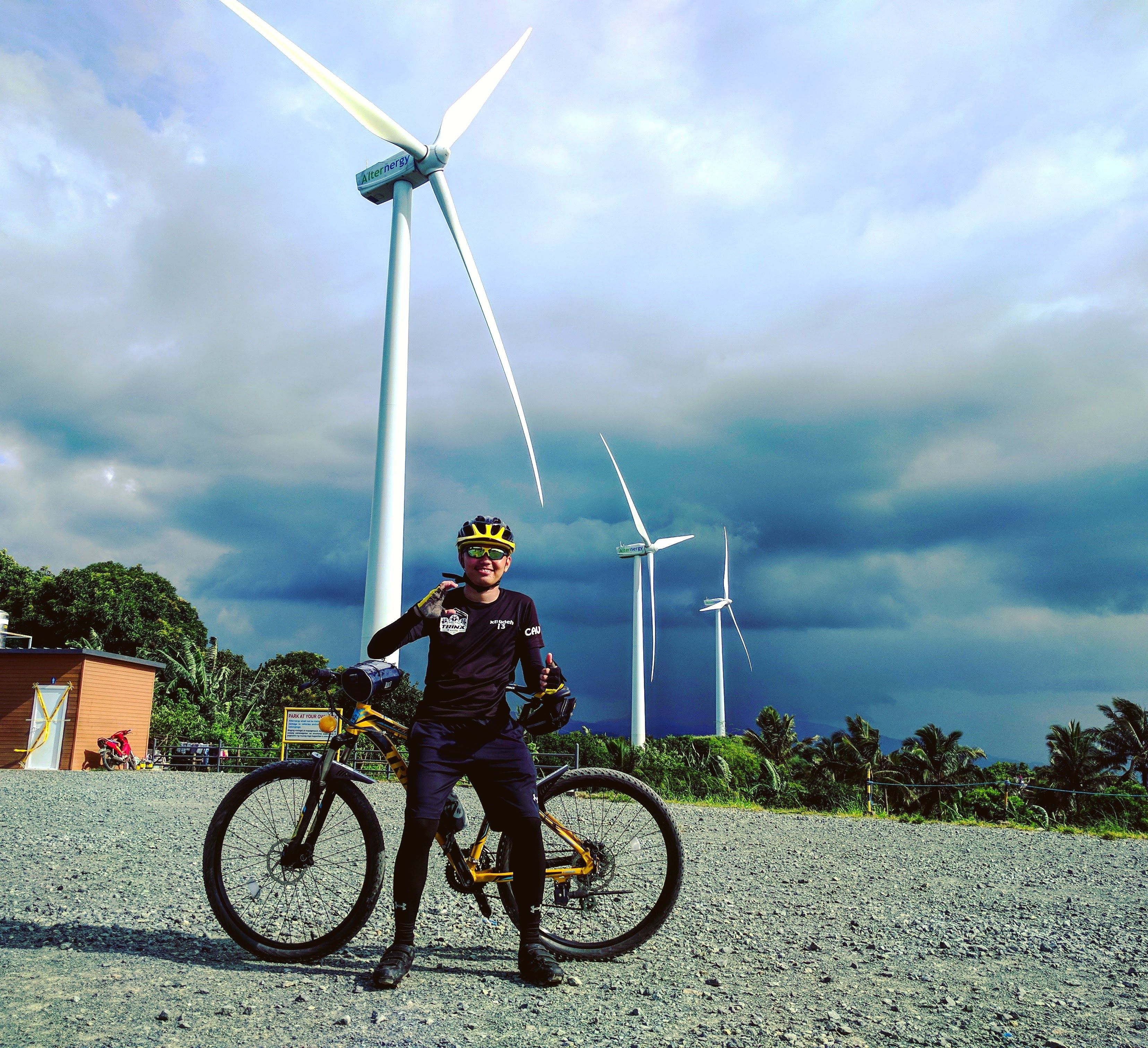 This is my most favorite photo of our ride. Behind me are the stunning Windmills of Pililia. There are so many best spots to have your best shot, but I chose this spot because it's simply beautiful. Behind me is the 3 out of total 27 windmills that can be found here. I hope you can also visit this place someday and admired the alluring view of Pililia.
---
When you read this message, I just want to say thank you very much for reading my blog until this very end! Hope to see you again on my future blogs.
Steem On!
© @xbudeh


I am a part of @steemitfamilyph. Join us! Follow - Upvote - Resteem - Comment
Be a member on our Facebook page -- Click this Link