Never climb a mountain in a storm…………
Lila opened the website of the 'Wil, Lil and Vi survivors' club' and was delighted to receive an invitation from an avid reader of all the survivor stories that were featured on it.
She met Wil and Vi for coffee at their favourite place.
Once they had their favourite brews she began. 'Elizabeth, Liz we are asked to call her, lives on a smallholding just out of town and she has invited us to a braai out there on Saturday for lunch. Her husband and sister will be there too. She is so excited about an experience she had and would love to tell us her story for a change.
What do you think? Shall we go?'
Vi laughed, 'two years ago I would never have gone, mind you I was such a grump I never got such invitations! All different now thanks to you two,' she said holding Wil's hand and patting Lila's arm.
'Oh absolutely we are going,' announced Wil, 'a little adventure will do us good.'
They met Elizabeth, 'please call me Liz,' her husband Nicko and sister Philippa who came out to greet them, in a swirl of dogs. They felt at home immediately and admired the view of the rolling hills dotted with thorn trees.
The braai was a lavish South African affair of platters of juicy steaks, small succulent lamb chops and of course the boerewors in a coil of farm sausage, to choose from.
After a long meal they had become friends and once they were all settled with cups of coffee and melktert, Elizabeth cleared her throat and began her story…………..a story of survival.
'I joined the eight other would be hikers for the final meeting before we left for Silver Streams, a lovely spot with chalets for hire, up in the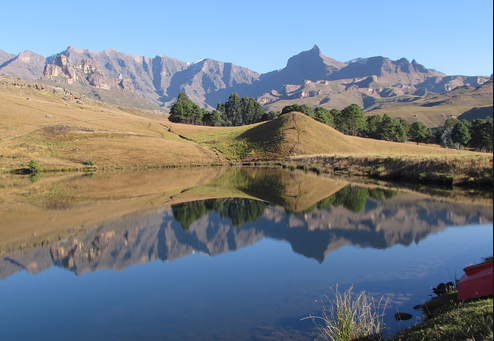 Drakensberg in the Bushman's Nek area.
Our dream of climbing the mighty Ukuhlamba, the Dragon's teeth was about to come true. At last all our training was going to be worth the blood sweat and tears.
Nicko is unable to accompany us. He, sadly, has to stay at home to manage the farm.
After a lengthy discussion, I brought the meeting to a close. 'So we are all agreed that although we are all keen as mustard to climb the route up into Lesotho through the Bushman's Nek border post, there ARE two provisos.
They are 1,' and she held up her first finger and looked serious, 'if the weather looks threatening, no go.Disaster! And 2,' she held up a second finger, 'if the guides from the Parks Board do not turn up, no go. None of us has climbed the route before and we are agreed that it would be FOOLISH to go without them.' All heads nodded in agreement and they went back to discussing the merits of various back backs.
She warmed to her story…..
'The morning in the mountains dawned bright and clear and the nine of us eagerly packed our clothes into back packs.
We all wanted to carry as little as possible. Mainly it was food for the hike and clothing as we were spending two nights at our destination. It was a lodge that once had been Chief Johnathon's (former Prime Minister) luxurious home in Lesotho and we were promised comfortable beds and good food.
Of absolute importance in my back pack was my waterproof raincoat that I had designed and made myself and new waterproof trousers. A warm light jacket with a hood was important as well. I repeated my check list to myself as I packed high energy, easy to consume food including my favourite dried peaches, Brazil and almond nuts and raisins.
I drove up to the border post with Philippa, who was our base camp organiser. She had damaged her knee and with another couple was going to 'hold the fort' and cook us a huge welcome home dinner in 3 days' time.
She frowned as we drove the 2 kilometres to meet the others. "Looks horribly like a thunderstorm brewing," she muttered. Sadly I agreed with her.
"But where are the guides?" our leader Brian asked impatiently. "We said 8am and it is now half an hour later!"
He was fully equipped to hike and regained his good humour .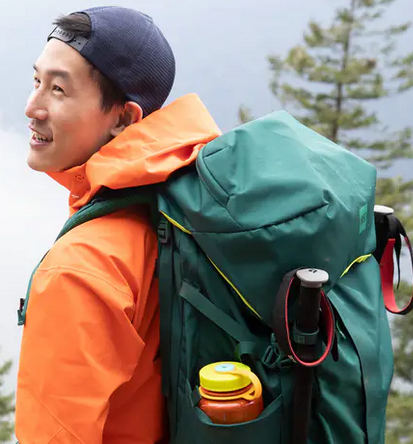 Pixabay
With white popcorn clouds looking magnificent above the dark basalt mountain tops and no guides I fully expected everyone to agree to return to base camp at the beautiful Silver Streams.
To my amazement everyone seemed to be high on excitement and agreed to walk up the valley and start the climb!
I grumbled to Philippa and changed my hiking boots for my cooler hiking sandals and said, 'well I'm done! Two rules and we are ignoring both of them! I've read too many stories of horror and grief of climbers in the 'Berg lost and dying in these mountains.
I'm not going.
We agreed that we would accompany the others up the valley and then wave them goodbye and return to camp.
If you're a hiker you know the lure of the siren call of open spaces. It enables one to tackle a 20 kilometre walk along a stretch of beach and a 4 kilometre kayak up a river in a day and sing Kumbaya around a camp fire that evening.
We all smiled and she ate a bite of the creamy melktert and continued with her story.
As we walked in that especially fresh, invigorating air, I began to fall under the mountain's spell and invitation. Millions of spring flowers of lilac and pale yellow enticed me to ignore my inner doubts and good sense.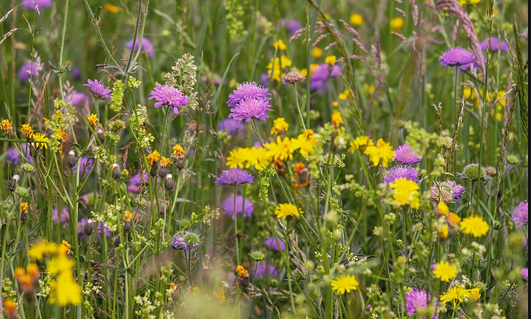 When the climb really began and I was supposed to turn back I took a deep breath, stared up at the clouds beginning to tumble over the craggy teeth and said to Phil, 'Come what may……..I'm going! I just cannot turn back now.' I looked down at my sandals, wished with all my heart that I had my trusty boots on, shrugged and said, 'see you for dinner on Thursday. I hope!'
This drama will be continued in my next post.