Hello? Is anyone out here on Steemit?
A nepalese porter carries goods for sale up to Namche Bazzar. Often trekking in husband and wife teams, carrying 93 percent and 66 percent of their body weights respectively, for weeks at a time over steep inclines at high altitude. Studies have shown them to be the most efficient in the world consuming less energy per kilogram than a standard backpacker would need to shoulder about half the same weight. They carry their load in a Doko, which is an oversized basket that rests against the back. Most of the weight is taken on the crown of the head via a strap that runs from the head underneath the Doko. The T-shaped walking stick is called a Tokma to take some of the strain off the back and assist rest. Namche Bazaar is located in the Solukhumbu District in the Sagarmatha Zone of north-eastern Nepal. The village is 3,440 metres (11,286 ft) at its lowest point. Shot on Fuji Velvia slide film.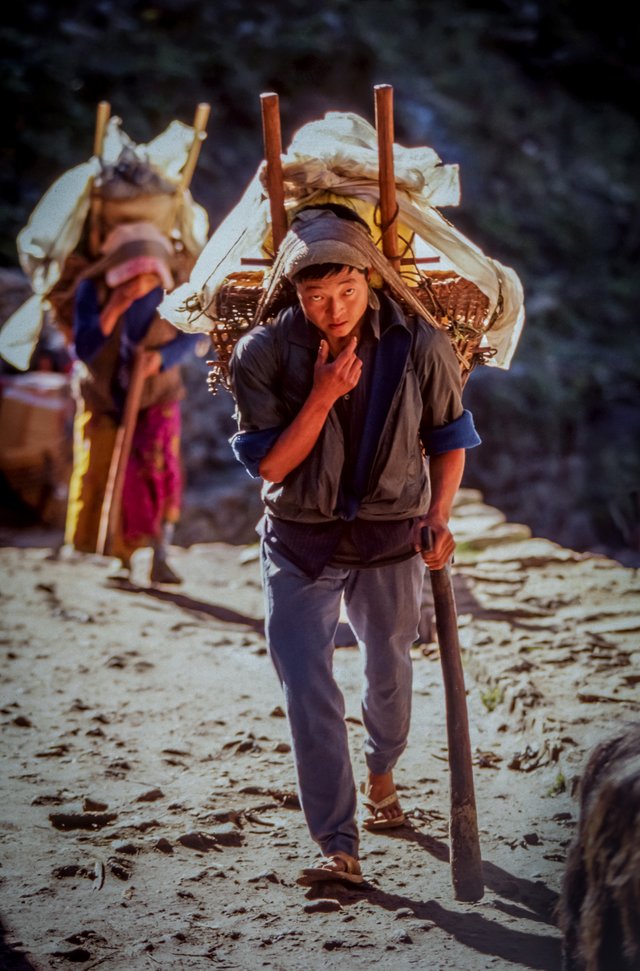 If you would like to learn a little bit more about my background in photography you can read the interview @photofeed did with me here.
Robert Downie
Love Life, Love Photography
All images in this post were taken by and remain the Copyright of Robert Downie - http://www.robertdowniephotography.com