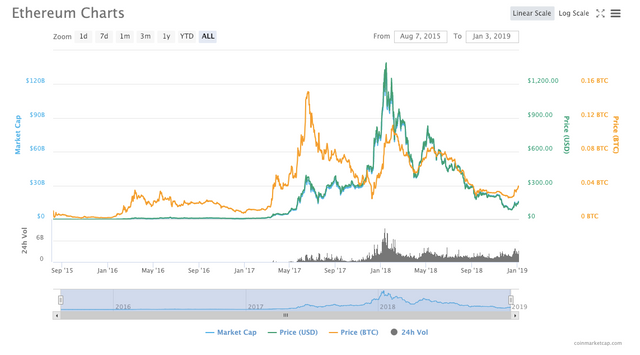 Events in the cryptocurrency market in 2018 began to evolve according to a different scenario that was supposed. The decline in trading activity and the general decline of the market led to the fact that the market capitalization amounts to $132 billion. The decline was gradual, with short recovery periods.
Naturally, when Bitcoin falls and takes off, other altcoins also follow it. But for the past several years, Bitcoin has its major competitor in the market - Ethereum. Cryptocurrency market meets the New Year of 2019 in high spirits. The first cryptocurrency is recovering and all main cryptocurrencies behind it too. Bitcoin growth was 2%, and Ethereum was the most successful. According to the CoinMarketCap, 2019 Ethereum rose in price by almost 8%, rising above the level of $150, thanks to which ETH was able to return to the second position in the list of the largest cryptocurrencies, simultaneously shifting the XRP to the third.
Ethereum is not just a means of payment, but also a high-tech platform for new projects that will strengthen its position, as well as ensure its growth. For example, on its basis, ERC-20 projects are being successfully developed.
Fall in the rate of cryptocurrency affected the mood of the holders and all investors began to panic about this. Stay calm, with the transition from the PoW protocol to PoS or Proof-of-Stake, the speed of operations will increase, the complexity of the network will rise - this will undoubtedly lead to an increase in the ETH price.
Crypto market capitalization:
https://coinmarketcap.com/