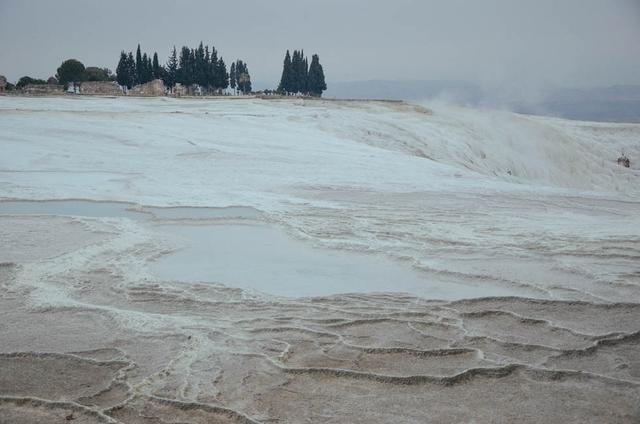 几乎所有人对于棉花堡都保持有一份浪漫的向往,而这样的向往几乎都源于那一抹蓝与白。而阴天下的世界,寒风之中吹走了所有人期待,而我面对着悬崖下粗旷的平原,也感受了别样的惊奇。
Almost all people have a romantic yearning for cotton castle, and this yearning almost all comes from that touch of blue and white. In the cloudy world, the cold wind blows away everyone's expectations, and I feel a different surprise facing the broad plain under the cliff.


位于土耳其登尼资里市的北部,是远近闻名的温泉度假胜地,此地不仅有上千年的天然温泉,更有这种古怪的好似棉花一样的山丘。土耳其文Pamuk表示棉花,Kale表示城堡,所以Pamukkale就叫棉花堡。
Located in the north of Deniziri, Turkey, it is a well-known hot spring resort. It not only has thousands of natural hot springs, but also has such strange cotton-like hills. Pamuk in Turkish means cotton, Kale means castle, so Pamukkale is called cotton castle.