Well That's Wierd...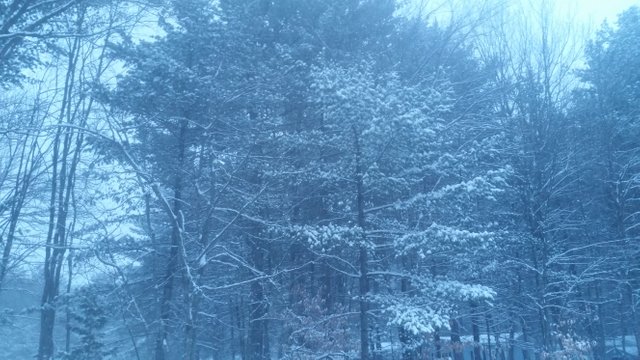 For a few minutes yesterday I thought I had broken my Actifit...ahhhhhhh lol
While I was trying to post last night I kept getting an error. Can you say mini-heart attack? You have no idea. Every time I hit the post button I kept seeing this: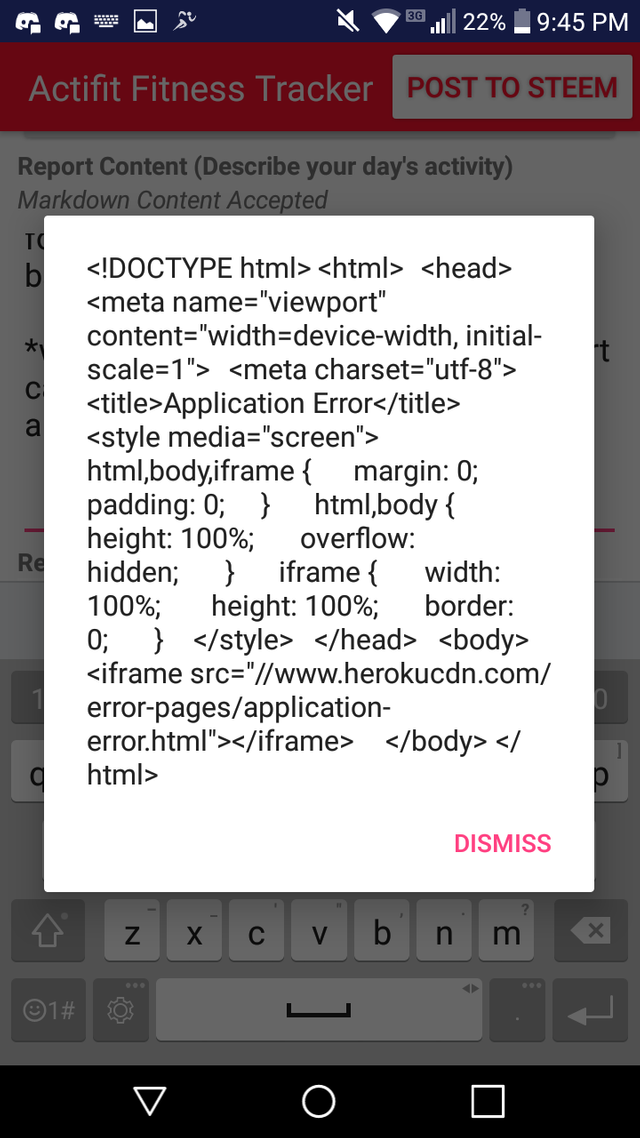 I shit you not when I say I was starting to panic! I was like WTF is going on? Did I break my Actifit!! I was like good thing this isn't being posted at right before midnight like the previous two days or I'd be fucked. It was like 9:30pm when this was all going down, so I had a little time to hopefully get it sorted out. I tried rebooting the Dapp a few times. That didn't help. So then I figured try it without the images. I was still denied the first go, but then it let me post. Great! Such sweet relief...
Imagine my surprise this morning when I took a break from working out to have some coffee & came to edit this & add my screenshot and such where upon this is what I see. I almost spit out my coffee!!! No report card summary image...just this: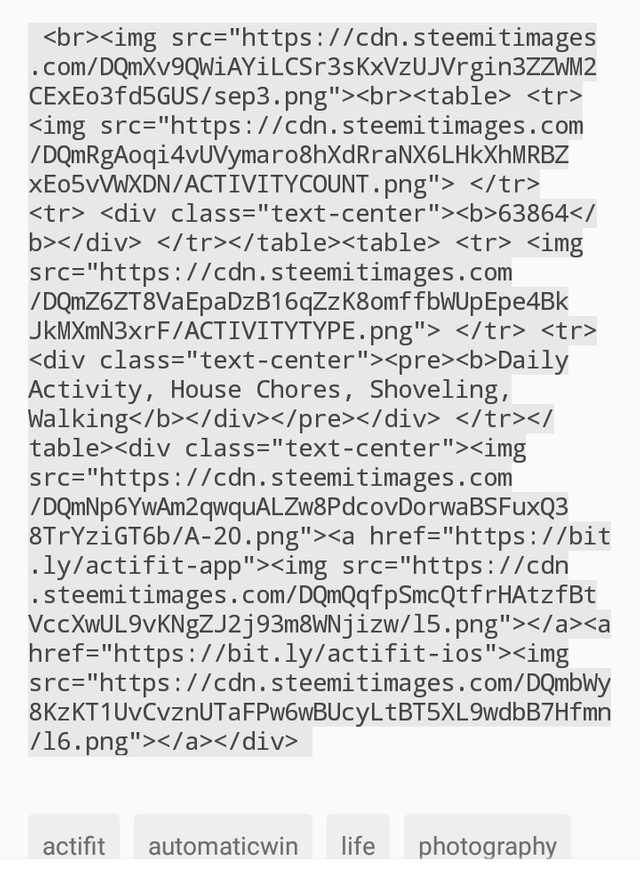 Grrrrr. LOL
Good thing I thought to take some screenshots with all the strangeness that had been afoot. Hopefully the bot doesn't overlook me...if so, you know what that means...then the dreaded drop of my ranking would befall me LOL Honestly it's feeling like a real possibility right now eeeeeeeek and that's a shitty one!
Anyways, here's where I was at after the post eventually went through last night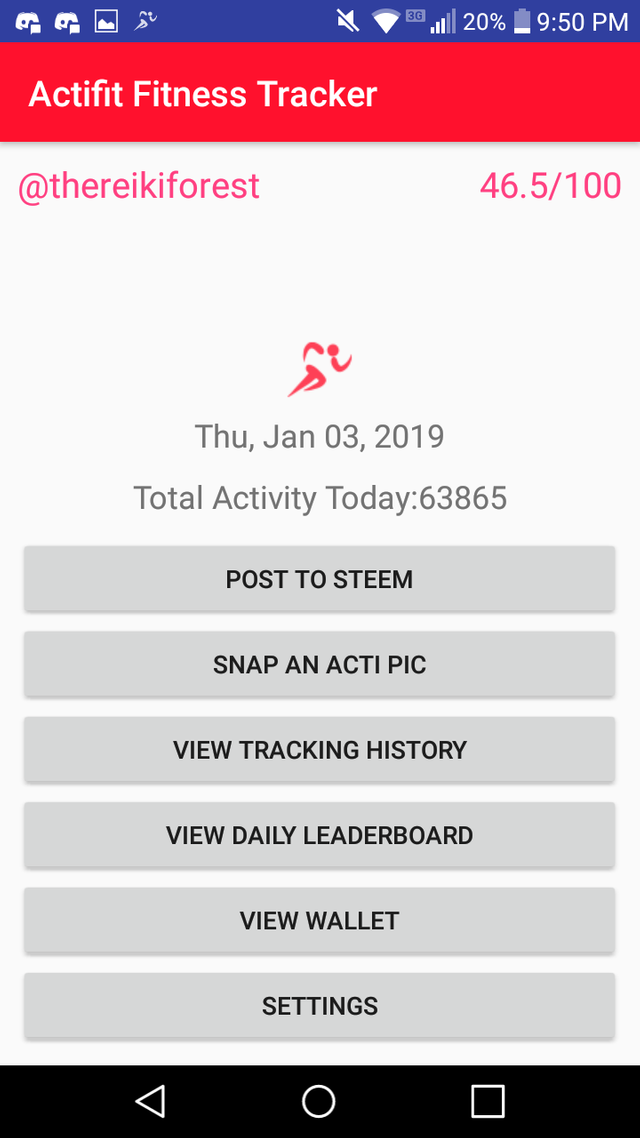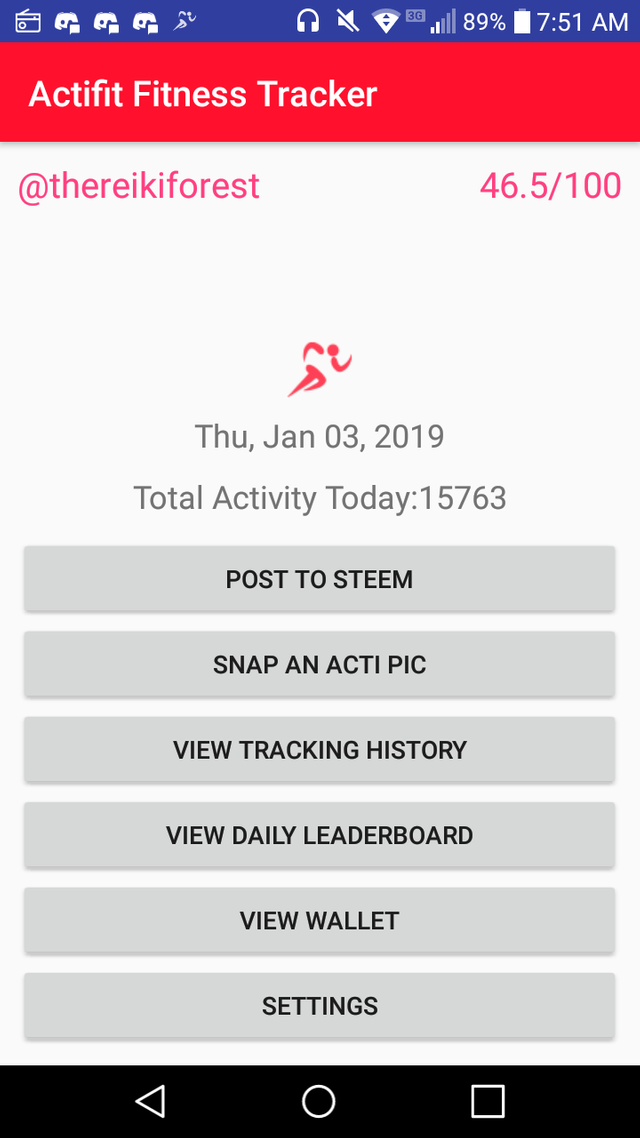 on that note...time to get back to working out! Make it a great #HighFiveFriday and see ya later <333
Much Reiki Love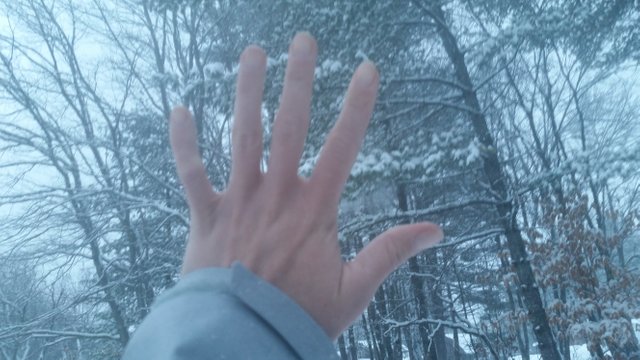 It is my hope that each of you keep your love lit & make the most of this ever unfolding Now Moment.
Thank you for passing through...
As All-Ways, Thank You for Being YOU!!!
Namaste🙏
💖🙌💖
~April
@Actifit Moderator
Vote for Actifit as a Witness
Delegate to Actifit 10SP| 20SP| 50SP| 100SP| 250SP| 500SP|
1000SP| 5000SP| 10000SP| 20000SP| Custom Amount
Chat with us on discord | Visit our website
Download on playstore | Download on app store
FAQs | Text Tutorial | Video Tutorial


Join us @steemitbloggers
Animation By @zord189
I Am a Proud Ulogger & Supporter of @Surpassinggoogle
🔥join me in showing Our Boy Terry some love ; vote @steemgigs for Witness🔥
<br><img src="https://cdn.steemitimages.com/DQmXv9QWiAYiLCSr3sKxVzUJVrgin3ZZWM2CExEo3fd5GUS/sep3.png"><br><table>   <tr>        <img src="https://cdn.steemitimages.com/DQmRgAoqi4vUVymaro8hXdRraNX6LHkXhMRBZxEo5vVWXDN/ACTIVITYCOUNT.png"> </tr>   <tr>        <div class="text-center"><b>63864</b></div> </tr></table><table>    <tr>        <img src="https://cdn.steemitimages.com/DQmZ6ZT8VaEpaDzB16qZzK8omffbWUpEpe4BkJkMXmN3xrF/ACTIVITYTYPE.png">  </tr>   <tr>        <div class="text-center"><pre><b>Daily Activity, House Chores, Shoveling, Walking</b></div></pre></div> </tr></table><div class="text-center"><img src="https://cdn.steemitimages.com/DQmNp6YwAm2qwquALZw8PdcovDorwaBSFuxQ38TrYziGT6b/A-20.png"><a href="https://bit.ly/actifit-app"><img src="https://cdn.steemitimages.com/DQmQqfpSmcQtfrHAtzfBtVccXwUL9vKNgZJ2j93m8WNjizw/l5.png"></a><a href="https://bit.ly/actifit-ios"><img src="https://cdn.steemitimages.com/DQmbWy8KzKT1UvCvznUTaFPw6wBUcyLtBT5XL9wdbB7Hfmn/l6.png"></a></div>