Today's theme: happy accidents
I accidentally left my water hose running all day. I had Sophie turn off the water after I was done with it, and didn't check that she turned it off. Nope, wide open all day long. Overflowed the swale and ran into the chook run. Good test and happy accident, cause now I know I need a spillways to drain away from the chooks.
It's perfectly on contour though, so that's an awesome beneficial mistake. It'll be expensive when we get the bill though for sure. Oh well, nothing to do but learn from it. Hope the trees and comfrey love it :)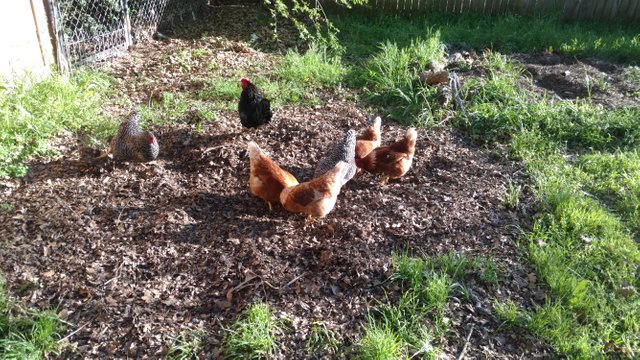 Chooks had a decent day out. We've got two broody hens, Mama and Turkey, each being allowed to keep their one egg. They better not throw me a pair of roosters. This rooster is going away soon. Way too aggressive to have a place on our property. The other girls (in the picture doing God's work of soil improvement) are 100%ROL for three days running! What rockstars!
It looks like we'll be getting more chicks this week, as we've found it'll be convenient to have more. Another half dozen hens would put us well over what we need daily, while we're just under daily needs now with two broody hens. That'll put us into the realm of being able to sell a few dozen eggs to offset feed costs probably by the winter. This leg of the project is funded by the sale of a graphics card that I no longer use.
Sam and I are learning as much as we can about farming now. Both listening to podcasts and reading books while we look for an acre of pasture to lease and experiment with some chickens or pork. We're developing a market, and both hoping to be farming within five years.
Today's steps were about 6k at work, the rest at home.
I planted lupines with the tree guilds today, so those guilds are now largely complete. Lupines, comfrey, and a nitrogen fixing forage layer. We'll see how it works :) I'm optimistic, of course.
Tomorrow is stock making day and Wednesday is milk day! We got another family drinking raw milk too! It's actually cheaper (at $4 a gallon) than the pasteurized organic pastured milk from the store, which is $6.50+! That's so SO encouraging to me that were able to conveniently increase that availability to others.
My salad bed has something growing in it (besides dandelions and violets). What it is is anybody's guess, cause I didn't really use consistent regular rows. Or mark what I planted where. So it's a surprise! My kind of style. Plant it and get surprised later :) I know this bed has two types of lettuce, spinach, arugula, broccoli, cauliflower, and cabbage. Maybe something else, but idk lol. Recording that kind of stuff isn't my style, I just know I planted mostly greens here because I wanted them to be easy to get to.
I'm starting to gather materials in anticipation of expanding and making the chicken area better looking. It's somewhat of an eyesore to everyone but me (I'm a haphazard type of guy). So I'm going to make it shorter (down below the fence line), and take it all the way back to the fence. I'll probably make the coop itself taller as well, and I'll make the top straighter. It'll be a fun project with the intent of giving the birds a larger run and easier access to the food forest area where I really want them to work. I may incorporate some kind of water catchment for them as well so I can limit or simplify my daily chores. Woot! Progress! Onward!
Be blessed
Nate :)



9398

Daily Activity, Gardening, House Chores, Moving Around Office, Shoveling, Walking