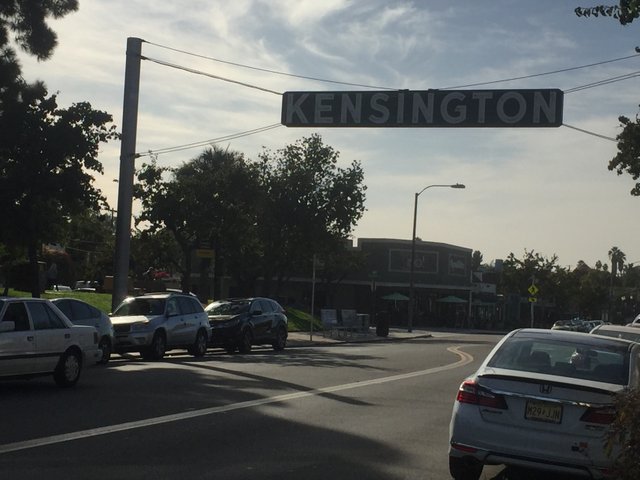 My husband is heading back to Arizona tomorrow morning. Today, we did laundry, cleaned, did some chores I can't do on my own, and we packed his car.
He is taking a wool rug with him that used to be in our living room. But in my opinion, dogs and rugs don't go together. And it is much, much colder where he is going - it will be 8 degrees Fahrenheit there tomorrow night 😳
To celebrate our last evening, we went to our favorite burger place in San Diego. Burger Lounge.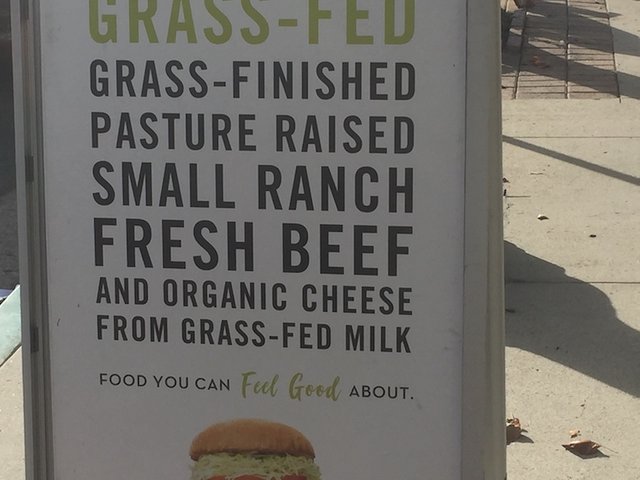 This chain either started in San Diego or LA - I don't remember. But I do know that they take sustainability and good food seriously. Much of the ingredients are organic, they serve the food on real plates that are washed and used over and over again.
It costs more than your run of the Mill fast food joint, but in my opinion, food is way too cheap anyway. Don't get me wrong. We are not swimming in money and I want to throw my money away, but we are not paying the real cost of food production - at least not when we purchase our food.
We do pay for it with our taxes. Many large farms get tons of subsidies. Usually, they are not the farmers that grow food using regenerative methods. I could go on and on because that is a bit of my soapbox. But I think I will save this for NaNoWriMo. I have a plan
Back to the Burgers.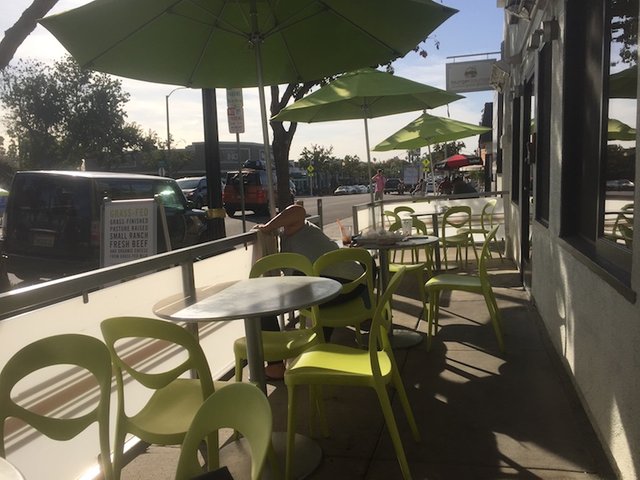 We like to go to their location in Kensington on Adams Avenue. Kensington is a neighborhood in San Diego that is pretty posh now. Many of the houses are a million or more. That is why we don't live there.
But it is the closest Burger Lounge to our house, there is parking and some outdoor seating. Today, it was warm and we went early. When we have gone in the colder month or in the evening, this is what is making it possible for me to sit outside.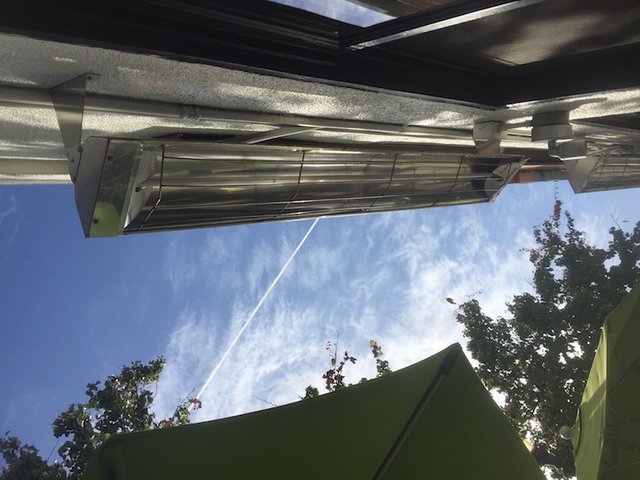 Yup. A big old heat lamp. My husband seems to be a heater in himself. He very seldom gets cold. I, on the other hand, get cold very, very easily... Yay for the heat lamp!!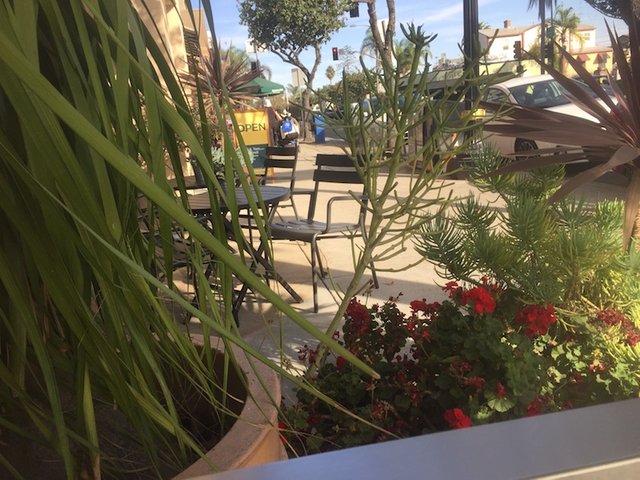 The outdoor seating is rather simple, but some plants around the edges make it pleasant. People, cars, and dogs are part of the entertainment. Today, a Jaguar SUV was parked right in front of us. I find cars so boring now. They all look alike. In the olden days, a Jaguar was a very distinctive car. Now, it just costs a lot and looks pretty much like any other car. At least to me.
Back to the meal!!! I am getting so distracted with my soapboxes today!!
This is how we usually start out. I score a seat while my husband goes in to order. He brings me a glass of water without ice and he likes a local beer from the tab.
Afte a bit, the food arrives, cooked to order.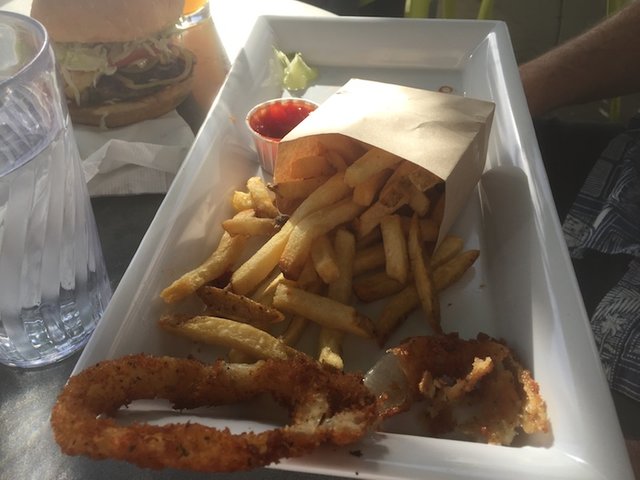 When we first used to come, we had burgers and shared a salad. Somehow, the salad morphed into onion rings and fries. I probably should be doing the ordering .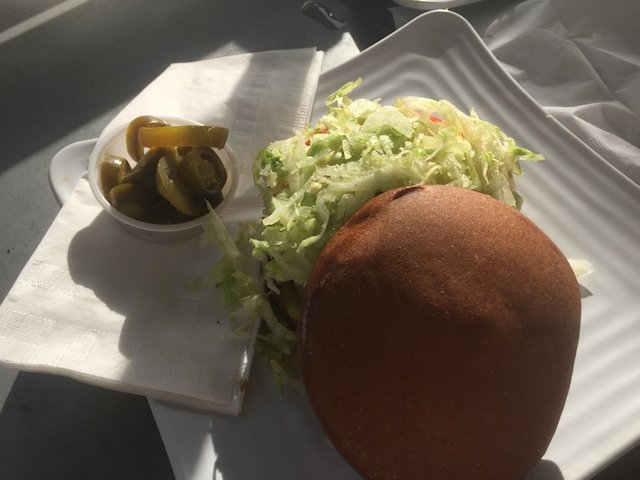 This is how I like my burger. With lots of Jalapenjos and a glutenfree bun. Not that I live glutenfree, but surprise, surprise, I like their glutenfree bun better than their regular one. Who would have thought!
Well, I didn't walk a lot today (I actually did but my phone was on strike again - I am actually going to buy a new one on Black Friday :) - but we sure ate a lot to make up for the low activity count. If we only could count the chewing action!!

Join us for the daily 5 - Minute Freewrite. Check my profile for a new prompt every day.
I am adding the CC tag to all prompt posts and to most of my other posts as well. You can earn Comment Coins simply by leaving a good comment. No spam, please!!!

All images are my own unless otherwise cited.
Graphics made on Canva.



Animation By @zord189

#SoCalSteemit is building and supporting the Steemit community of Southern California. If you are from SoCal and are into creating quality content here on Steemit, we'd love for you to follow us @SoCalSteemit and join our group on Discord!

Join @Actifit, become healthier by being active and earn as you walk. My referral link
Join us at the Freewrite House for fun and games!!! Weekly drawing for SBI memberships and so much more!!

And get your Freewrite House Swag here

5244