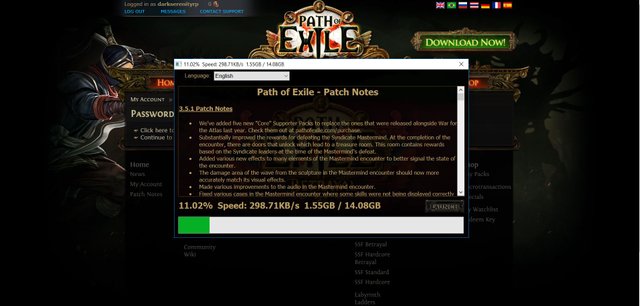 I wasn't going to go for a run today, but due to the above download taking forever, I went for a 10 km jog to wait it out. I've been struggling to run more than 5 km the last few days, so thanks Path of Exile (PoE) for making me run! I am sorry I mentally cursed the game as a PoS for making me download 15 GB while I was actually on my jog.
Anyway, I told @mattclarke I was going to trial this game on his recommendation, since playing an action RPG was on my list of things to do for 2018. With 2 days left in the year, I figured I should try to meet this goal. I'd actually wanted to play 'Zoo Tycoon', a happy game I played years ago... I was in the mood to build and run a zoo, but I googled and it was expensive and too hard to figure out how to get a copy and install the game. It was simply easier and cost me nothing to navigate to https://www.pathofexile.com to create a new account, and from there, download the game.
Previously, almost 2 years ago, I'd played a Dungeons and Dragons campaign online with some guys as part of my novel research, and playing an action RPG was the last list item on my checklist in my research in game mechanics and gamer geekdom. I'd been putting it off since I'm not a gamer, and like watching a movie, I would get restless sitting on my backside for so long. But I'd loosely based my novel on Diablo of some version I struggle to remember, because I played it almost 2 decades ago. And to be honest, I could not remember much about it. I have a younger ex-game addict brother I could consult. He once admitted to me he was so addicted, he didn't leave the house for so long, he developed a strange skin condition...But I felt for authenticity's sake, I should at least play a game.
After much anticipation, not, I was surprised the game loaded. I just had it in the back of my mind that this was going to be one technical glitch after another, and that after downloading 15 Gb, my machine wouldn't be up to spec and nothing would work. But surprisingly, it was went smoothly from then onwards.
The only obstacle in starting the game was coming up with a Character name! After much frustration when all the names I wanted for my Witch-wannabe-Necromancer were taken, I finally settled on a name I knew would not be taken. I settled for my new and very appealing discord name:
CrankyOldWoman
Great character name huh? Guess no one else thought so...
I have to admit, the game was much better than I expected. I was quite absorbed in my 'short test run', which extended longer than it should. I had to keep the study door closed, so the kiddies could not see what mum was doing. Dad was settling them in for bedtime. Although, when I died for like the third time and jumped off to give my daughters a kiss goodnight, Violet said:
"I could hear you playing a gross game, mum. I could hear uuuuuggghhhhh, urrrrrrghhhhh!"
She was imitating all the undead moaning as they were brutally mutilated, decapitated and bodies chopped in halves...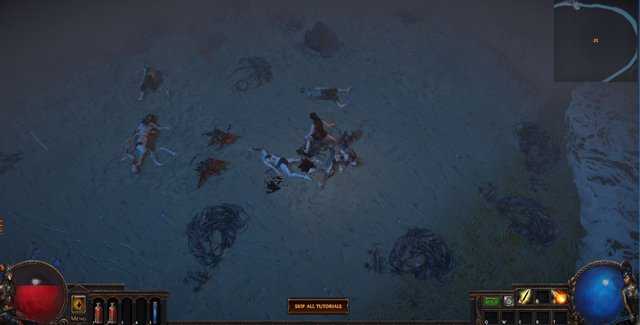 Jade said, "Maybe you need to find another game to play..."
Hmmmm....
ANYWAY, I have no idea what I'm doing. I don't understand the currency/trading system or the skills gems, support gems or gems in general. Like why am I only picking up blue gems when there are other coloured gem slots? I'd like to use another weapon other than my shabby wand. I certainly do not understand that massive skill tree. As far as I am concerned, I just need a path to Necromancer. So more googling later.
I complained on discord that all I wanted to do was raise a skeleton minion to help me bash the zombies and crabs monsters. When I started the game there were quite a few corpse lying about, but when I really needed one, there was none about! Or maybe I wasn't paying attention. It's a shadowy world after all. I'm also not sure how I would raise a dead minion, only that I have a gem that apparently allows me to do so.
So, I'm going to spend a little more time playing this game. No doubt, I'd be tense and sweating, and clicking like mad trying to butcher everything that moves. The key is to remember to drink my life potions in time when it's stacks on!
This game is quite stressful. I don't remember the old versions of Diablo being this complicated. I thought the learning curve of steem was steep for a noob, but it's nothing compared to PoE...




13244