11K on a gaming and trading day! 👍
In this post tonight I would like to tell you about SMTs and #steem-engine in addition to my daily activity. I think this is something you should know about and be active in!
First, I'll tell you about my activity today. It wasn't that much because I'm resting up from yesterday's day of Water Volleyball which is quite a lot of exercise. I did go on a nice long walk and that's how I got my 11000+ activity number. The Moon is almost full and when I went walking tonight it was good to see it almost above me, lighting my way.
So we're on the #Steem blockchain using #Steemit or possibly some other application to blog about whatever is on our minds. the Steem blockchain and Steemit were created by Steemit Incorporated over 3 years ago. People can use tags so that others can find the topics that they are writing about, but it was always in the plans of Steemit Incorporated to come out with Smart Media Tokens (SMTs).
SMTs allow a person or small group of people to start a community and issue their own Steem-like tokens which the people who write in that community will receive in addition to receiving Steem. It's been a long hard road during this long bear market for Steemit Incorporated and they had to use a lot of their resources to create a more streamlined system for running the Steem blockchain, so they never got around to creating SMTs. However, they did put out a white paper and the people who created #steemmonsters along with a few others got together and implemented the ideas in that white paper, and now we have steem-engine.com. See the original post about steem-engine here: https://steemit.com/steemengine/@aggroed/introducing-steem-engine-com
You can go there and sign in just like you sign into Steemit with your private posting key and you will see a list of the tokens that you currently own, on your WALLET page. Like Steem and Steem Power, you can turn the tokens into staked tokens which then will give you more of those tokens if you post or vote on a post that uses the tag related to that token. So if you see a community that you like and you want to support them, first buy their token on steem-engine, then power it up/ stake it, then vote posts you see with that tag.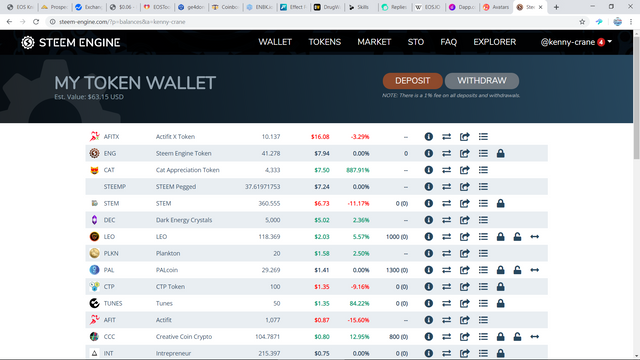 Above you can see my token wallet on steem-engine. I have a lot more tokens but this is the first screen full of them. The STEEMP (Steem Peg) token is a token that is worth exactly one Steem and when you deposit Steem into the steem-engine you will get the same amount of STEEMP tokens. At any time you can withdraw STEEMP tokens and turn them back into Steem. When you trade on steem-engine you will be trading STEEMP for one of the other tokens that you want to buy or sell.
When you look at the chart on your token wallet you will see the i symbol for information about that token. To the right of that you will see right and left arrows which takes you to the trading page for that token. If you see a lock for that token then you can stake/power up that token and then you will be getting more of that token when you vote or write about that token's subject and include that token's tag.
Today I withdrew some DWD from the @drugwars game and brought it to steem-engine, and from there I can sell it for Steem if I want to. So it's like in the early days of the drug wars game where you can actually make Steem for playing the game again. You can also make Steem on @steammonsters because for every battle you win, you will receive the DEC (Dark Energy Crystals) token which you can then move to steem-engine and sell for Steem. I play steem monsters almost everyday and it's fun to play the game and it's nice to actually accumulate money for playing a game.
Well this is getting long but that's an overview of steem-engine which I think you should know about, and maybe you should be buying and selling some of the tokens there. In closing I'll mention a fun New token called CAT which stands for Cat Appreciation Token. I like cats and I'm supporting this token by buying and selling it on steem-engine. So if you're like many people and you like cats than you might want to buy some of that token to show your support for that project which you can find out about at the @catnet profile.
I hope you had a nice day! Any questions about SMTs or steem-engine, please ask! ❤👍❤
😻br>


11462