8K on a Red Day! 😮
Right now the #crypto market is correcting. There is a sell-off and most of the things I follow are having double-digit percentage losses compared to their price 24 hours ago. #bitcoin #litecoin #EOS #Bitshares #STEEM are ALL Down. Nothing goes straight up so it's not surprising to see some profits being taken and prices falling.
Today I got my exercise by taking a nice long walk on the walking trail. I stopped at that manhole casing that I showed a picture of one time, and did a bunch of steps up onto it to simulate stair climbing. That's pretty good exercise for the legs and glutes.
Well this is what my watchlist looks like right now on coinmarketcap. It's not a pretty picture.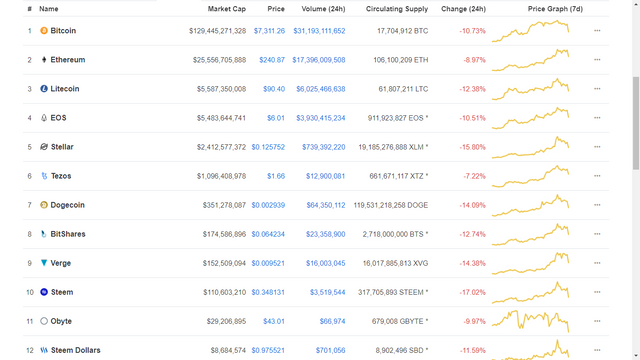 Aside from this sell-off, which could turn around at any minute, I hope you all had a great day! ❤👍❤


8054