11K today; @steemmonsters I did play! 😃
Welcome back to my daily active fit report. I've been fairly consistent about doing this everyday. My music always motivates me to move. Even when I am in a sitting position doing something on my computer, I can still do some exercises. I created the #chairdancing tag which basically is having the phone in the hand you're not working with and doing curls and Military presses with that arm. Of course the phone doesn't weigh much so you're not getting a weight lifting affect but if you do it at a good rate you could get some benefit by keeping your blood and lymph moving.
Another thing I've been doing everyday is playing @steemmonsters. I bought the cards a while back when it first came out and I didn't do any Trading. But then battling started a few weeks ago and I've been enjoying that almost every day. At first I found that I was losing a lot of battles so I took 4 or 5 days off. Then I did a little research and figured out how to play this game and I've been playing every day and enjoying it ever since.
As you can see, I have achieved a fairly High League last night. I'll put a screen shot here of what it looks like when you reach Diamond level!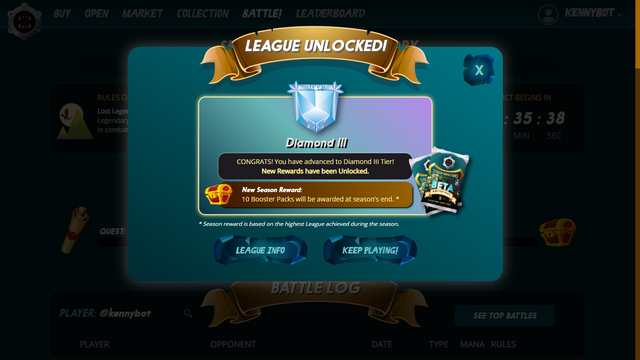 It's almost midnight and before I was posting this I was doing some crazy dancing. Here's a song that some of you might remember from your youth. It's called Ultimate by Lindsay Lohan from the movie Freaky Friday. In this movie Lindsay Lohan (the daughter) and Jamie Lee Curtis (the mother) exchange bodies and live a few days as each other. It's a pretty cute Disney movie and you might want to check it out. It's from about 15 years ago. Here's the song from YouTube, with lyrics in the description. This song rocks and the guitar break is pretty cool!