Miałem wczoraj wolną sobotę, nie tylko od pracy, ale również moja żona z córką ruszyły na babskie zakupy zostawiając mnie samego sobie, co mnie tak zaskoczyło, że nie wiedziałem co zrobić z wolnym czasem. Myślałem, żeby pojechać gdzieś na spacer po lesie, tylko nie miałem pomysłu gdzie, aż tu nagle znalazłem informację, że z położonego około niedaleko La Louviere startuje o 13 wyścig kolarski Tour de l'Eurométropole.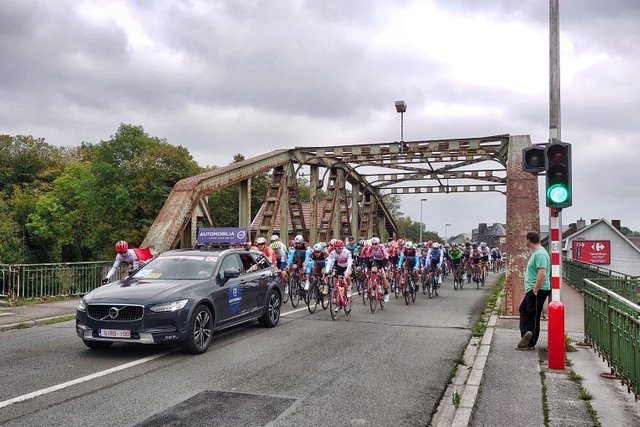 Główną atrakcją wyścigu na trasie z La Louviere do Tournai – pierwszej stolicy państwa Franków, był "mistrz świata w kolarstwie Mads Pedersen, który tym wyścigiem debiutował w tęczowej koszulce mistrza świata. Pedersena wymieniano w gronie faworytów ze względu, że rok temu wygrał ten wyścig. Niestety zbyt późno zorientowałem się, że ten wyścig jedzie niedaleko mnie, niedałbym rady zdążyć na prezentację ekip kich w La Louviere czego żałuje, bo mogła być okazja na fotkę z mistrzem lub autograf Duńczyka. W wyścigu też starowała polska ekipa kolarska CCC Team z Kamilem Gradkiem i Jakubem Mareczko, natomiast w ekipie Leopard Pro Cycling jechali Szymon Rekita i Filip Maciejuk.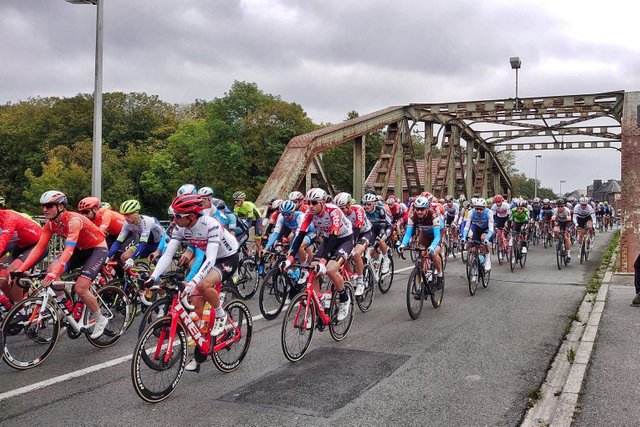 Ustawiłem się około 100 metrów przed ostrym startem, gdzie kolarze jechali jeszcze w zwartej grupie, jednakże wśród nich wypatrzyłem tęczową koszulkę Pedersena, nie było to szczególnie trudne, gdyż przejechał tuż pod moim nosem (ten oznaczony strzałką).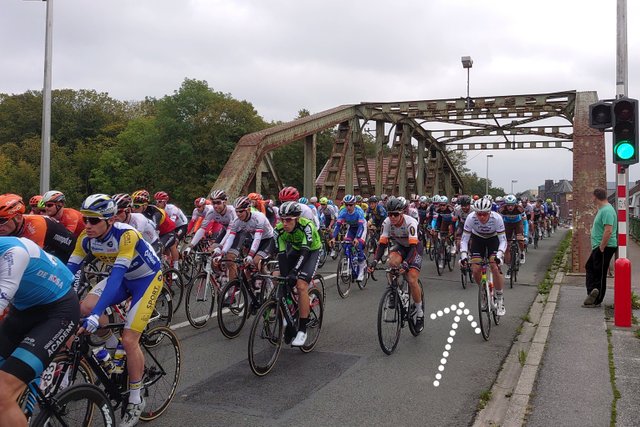 Kiedy już nacieszyłem oczy peletonem kolarskim to ruszyłem w drogę powrotną do samochodu okrężną drogą wzdłuż kanału, a przy okazji, że już byłem w La Louviere to nie mogłem odpuścić okazji, żeby zajrzeć do specjalistycznego sklepu piwnego w centrum. Ale o tym co tam kupiłem to może innym razem.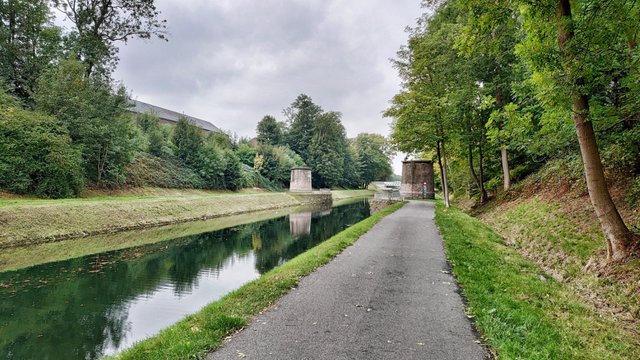 My 2019 stats: total distance 5020,39 km (+ 8,98 km)
Sport
Distance
Difference
Walking
2049,27 km
(+ 8,98 km)
Cycling
2243,90 km
Running
675,54 km
Rowing
30,72 km
Elliptical
20,96 km
***
| Current Actifit User Rank: | 55.00 (+1.01) |
| --- | --- |
| | |
| Current AFIT Balance: | 68286,943 |
| Current AFITX Balance: | 10,1 |
| | |
Porady:
Link do postu "Actifit dla Bystrzaków" w którym opisuję krok po kroku jak zacząć aktywne życie z aplikacją @actifit, polecam lekturę zainteresowanym.

Polecam korzystanie z Discorda społeczności Actifit https://discord.gg/BFk3NV, gdzie codziennie w nieregularnych porach organizowane są konkursy, które polegają na poświadczeniu zakupu w czasie trwania konkursu (zwykle około 20 min) 200 tokenów AFIT oraz posiadania co najmniej 2 AFITX, gdy spełni się te dwa warunki, pod postem o konkursie umieszcza się screeny poświadczające i link do ostatniego swojego postu z aplikacji Actifit. Jeżeli warunki zostały spełnione to post ten zostanie 'podbity' 100% głosu z konta actifit.reward.

@costanza poświęcił swój cenny czas do stworzenia kolekcji darmowych obrazów, które mogą być wykorzystane przez każdego, aby ich raporty actifit wyglądały dużo lepiej przy minimalnym nakładzie pracy. Polecam skorzystać, gdy nie macie własnych ciekawych grafik.
Don't stop me now! Keep going!


17554