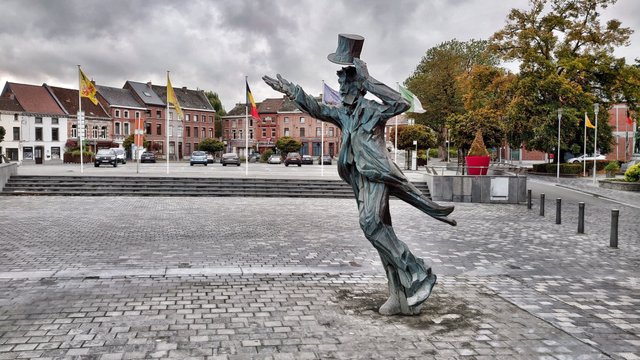 Jesień przyszła bardzo szybko i najgorsze, że się rozgościła na dobre. Od kilku dni mocno wieje i często pada. Jak widać powyżej nawet pomniki mają problem z utrzymaniem równowagi.
Korzystając że na chwilę przestało padać wyszedłem zrobić trening biegowy, ale powiem szczerze, że było to bez przekonania, może dopadła mnie jesienna chandra? Sam trening pobiegłem według planu i w założonym tempie, musiałem tylko nakombinować się trochę z trasą, bo nigdy wcześniej wokół domu nie biegłem dystansu powyżej 11 km, a chciałem, żeby to była jedna pętla, a nie dwie, bo moja słaba wola mogłaby przegrać gdybym przebiegał obok domu :)
Kiedy później odwoziliśmy córkę na pociąg to spotkała nas śmieszna przygoda, kiedy przejeżdżaliśmy przez jedną z miejscowości to nagle wybiegł na drogę człowiek i zatrzymał samochody jadące w obu kierunkach. Na początku nie bardzo rozumiałem o co chodzi, ale za chwilę wszystko się wyjaśniło, gdy jego synowie również wybiegli na drogę goniąc... królika, który chował się przed nimi pod zaparkowanymi samochodami. Gdy królik był już w miarę bezpieczny poza jezdnią mogliśmy dalej jechać.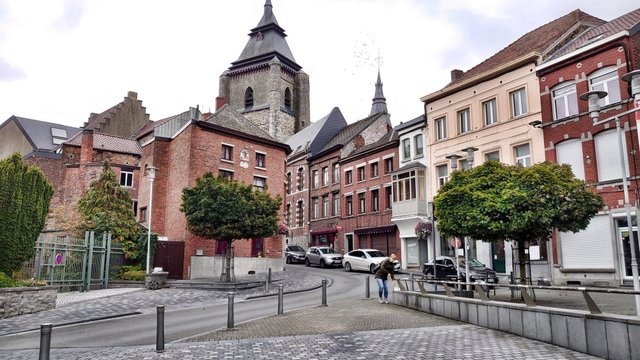 My 2019 stats: total distance 4943,26 km (+ 15,63 km)
Sport
Distance
Difference
Walking
2014,09 km
(+ 4,36 km)
Cycling
2228,60 km
Running
648,89 km
(+ 11,27 km)
Rowing
30,72 km
Elliptical
20,96 km
***
| Current Actifit User Rank: | 55.00 (+1.01) |
| --- | --- |
| | |
| Current AFIT Balance: | 67637,489 |
| Current AFITX Balance: | 10,1 |
| | |
Porady:
Link do postu "Actifit dla Bystrzaków" w którym opisuję krok po kroku jak zacząć aktywne życie z aplikacją @actifit, polecam lekturę zainteresowanym.

Polecam korzystanie z Discorda społeczności Actifit https://discord.gg/BFk3NV, gdzie codziennie w nieregularnych porach organizowane są konkursy, które polegają na poświadczeniu zakupu w czasie trwania konkursu (zwykle około 20 min) 200 tokenów AFIT oraz posiadania co najmniej 2 AFITX, gdy spełni się te dwa warunki, pod postem o konkursie umieszcza się screeny poświadczające i link do ostatniego swojego postu z aplikacji Actifit. Jeżeli warunki zostały spełnione to post ten zostanie 'podbity' 100% głosu z konta actifit.reward.

@costanza poświęcił swój cenny czas do stworzenia kolekcji darmowych obrazów, które mogą być wykorzystane przez każdego, aby ich raporty actifit wyglądały dużo lepiej przy minimalnym nakładzie pracy. Polecam skorzystać, gdy nie macie własnych ciekawych grafik.
Don't stop me now! Keep going!


18716

Daily Activity, Jogging, Running, Walking