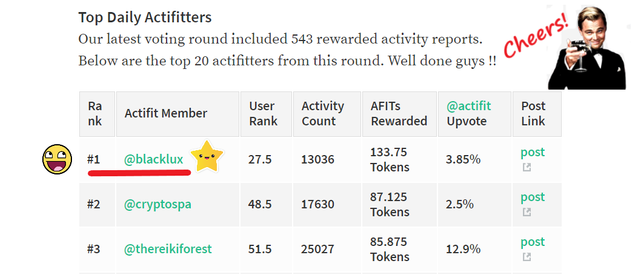 Source
The day has come! I've been using @actifit and working my butt off everyday for the past 3 months and had the satisfaction to be in the daily top 20 like 3 times and every time I saw my name on that list I felt happy, it gave me the extra motivation to keep moving forward to my fitness goal. Today I got the surprise I made it to the 1st spot! Me!! The first spot!! Yaaay!!
To be sincere I never thought I was gonna be able to reach the top 10 but now that I see that with hard work... literally hard work cause I sweat like piggy in oven and end up destroyed after finishing my workout... I can achieve getting to the top! Maybe for some of you that's nonsense, something without any importance but for me, someone who's been struggling with my weight for years, trying to be healthier... for me it's important, it's motivating, it's happy cause someone is patting my back and saying "Good job! Keep working towards your goals, YOU CAN DO IT! I'M PROUD OF YOU!" That's exactly what I get everyday from my actifit pals! Every day... EVERY SINGLE DAY! And that my dear steemians is priceless!
Thanks to the @actifit team! You guys are amazing! You managed to make an app that motivate its users to keep working to be healthy and in the way we make friends and earn money! You guys rock!
Today's workout:
100 abs
50 side crunches
5 pushups
walk
50 side jumping jacks



11098

Daily Activity, House Chores, Walking