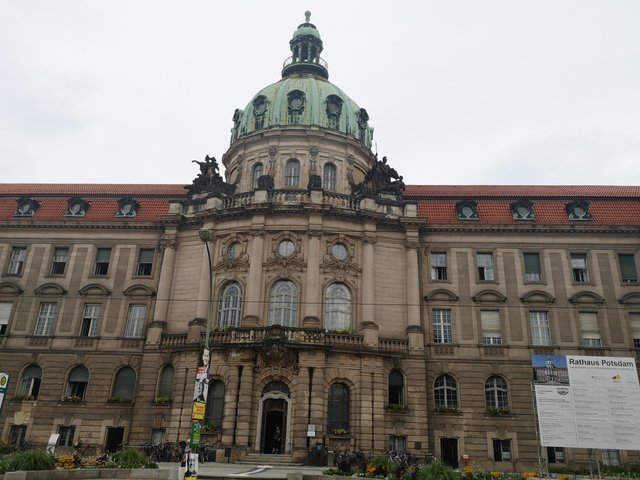 [EN]
Today I started my day with a walk with my daughter and my dog. We also had a playground (obligatory 😉). Later, my wife and I went to Potsdam. There we went for a walk to the city centre. Today we were able to take more than 8,000 steps. It's not so bad for a walk with a child. I hope that soon I will cross the 10,000 steps limit and it will remain that way. In general, I also plan to run in the evening. How will it go? We will see, all the time I'm getting ready for it and I think it's slow time to act.
Incidentally, I can say that I bought more Sportstalk and I will continue to buy them, but about this I want to record a short movie, which will be available soon 😉
The photograph shows the Town Hall in Potsdam.
---
[PL]
Dzisiaj dzień rozpocząłem od spaceru z córką i psem. Zaliczyliśmy też plac zabaw (obowiązkowo😉). Później wraz z żoną pojechaliśmy do Poczdamu. Tam spacerkiem również zwiedziliśmy centrum miasta. Udało się dzisiaj zrobić ponad 8 tysięcy kroków. Jak na spacer z dzieckiem nie jest najgorzej. Mam nadzieję, że niedługo przekroczę granicę 10 tysięcy kroków i tak już pozostanie. Ogólnie w planach mam również wieczorne bieganie. Jak to wyjedzie? Zobaczymy, cały czas się zbieram do tego i chyba powoli czas działać.
Nawiasem mogę powiedzieć, że dokupiłem więcej sportstalków i nadal będę je kupował, ale o tym chcę nagrać krótki film, który udostępnię już niebawem😉
Fotografia przedstawia Ratusz w Poczdamie.



8679