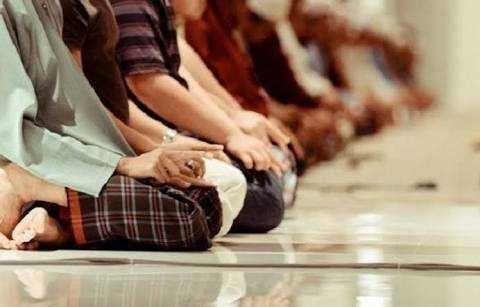 Ada kejadian menarik saat Kiai Kholil Bangkalan masih menjadi santri di Pesantren Langitan Tuban. Seperti biasanya Kholil muda selalu berjamaah, yang merupakan keharusan para santri. Suatu ketika di tengah shalat Isya tiba-tiba Kholil tertawa terbahak-bahak. Karuan saja, hal ini membuat santri lain marah. Demikian juga dengan Kiai Muhammad Noer yang menjadi imam saat itu. Seusai shalat berjamaah, Kholil dipanggil ke ndalem kiai untuk diinterogasi.
Dengan berkerut kening kiai bertanya, "Kholil, kenapa waktu shalat tadi kamu tertawa terbahak-bahak. Lupakah kamu bahwa hal itu mengganggu kekhusyukan shalat orang lain. Dan shalatmu tidak sah." ucap Kiai Noer sambil menatap Kholil. "Maaf kiai, waktu shalat tadi saya tidak dapat menahan tawa. Saya melihat kiai sedang mengaduk-aduk nasi di bakul (tempat nasi). Karena itu saya tertawa. Salahkah yang saya lihat itu kiai?" jawab Kholil muda dengan tenang, mantap dan sangat sopan.
Kiai Noer terkejut, Kholil benar. Santri baru itu dapat membaca apa yang terlintas di benaknya. Kiai Noer duduk dengan tenang sambil menarik nafas. Sementara matanya menerawang lurus ke depan, lalu serta merta berbicara kepada Kholil. "Kau benar anakku. Saat mengimami shalat tadi perut saya memang sudah sangat lapar. Yang terbayang dalam fikiran saya memang hanya nasi." ucap Kiai Noer secara jujur.
Maka sejak kejadian itu kelebihan Kholil menjadi buah bibir. Tidak saja di Pesantren Langitan, tetapi juga di sekitarnya.
---
Kiai Kholil muda tidak sedang meremehkan gurunya. Beliau sangat ta'dzim dengan semua gurunya. Beliau hanya perantara kehendak Allah. Di balik peristiwa itu ada suatu hikmah yang dalam. Allah bermaksud menyempurnakan iman sang guru.
Dikutip dari buku biografi Kiai Kholil, Surat Kepada Anjing Hitam.
---
The Story of Laughing Santri When Worshipers Pray, Kyai Reprimand Himself Even Shame, Next
There was an interesting incident when Kiai Kholil Bangkalan was still a student at the Pesantren Langitan Tuban.
As usual young Kholil always congregate, which is a must for santri. Once in the midst of Isha prayers suddenly Kholil burst out laughing.
It's just a matter of course, this makes other students angry. Likewise with Kiai Muhammad Noer who became a priest at that time.
After praying in congregation, Kholil was summoned to the palace of the kiai to be interrogated. With the frown of the kiai asking, "Kholil, why did you pray out loud when the prayer time. Do you forget that it disturbs the prayers of others. And your prayers are invalid. "Said Kiai Noer, staring at Kholil. "Sorry, kiai, when I prayed, I couldn't help laughing. I saw the cleric stirring up the rice in a basket (a place of rice). Because of that I laughed. Is it wrong that I see it as a kiai? "Answered young Kholil calmly, steadily and very politely. Kiai Noer was surprised, Kholil was right. The new santri can read what comes to mind.
Kiai Noer sat quietly while sighing. While his eyes were staring straight ahead, then he immediately spoke to Kholil. "You are my child. When I prayed, my stomach was already very hungry. What I imagine in my mind is only rice. "Said Kiai Noer honestly. So since the incident Kholil has become a byword. Not only in Pesantren Langitan, but also in the vicinity.
---
The young Kholil Kiai is not underestimating his teacher. He is very ta'dzim with all his teachers. He only mediates God's will. Behind the event there is a deep wisdom. God intends to perfect the teacher's faith.
Quoted from the biography book Kiai Kholil, Letter to the Black Dog.