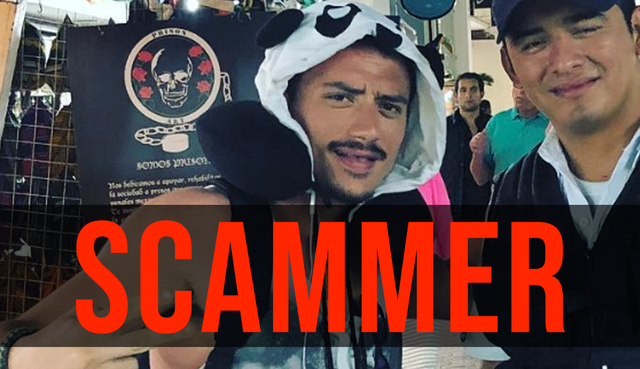 In this post, I'm going to share with you important information regarding a dangerous and manipulative Scammer:
Ben Schwartz aka @getslothyy aka @fatpandadesign aka @unmentionable who has scammed his way to over 10k USD from different steem users - including myself with over 6000 USD
@neoxian has created a post as well. I urge everyone to read it: Scam warning: @fatpandadesign = @getslothyy = Ben Schwartz
Ben Schwartz has also stolen over 3500 USD from a woman named Mariza Monteiro - who made a video explaining her story:
God only knows how many more people he has scammed who are not known yet.
What happened?
To make a long story shorter:
I got in contact with @getslothyy (Ben Schwartz) a few months back, who seemed like a trustworthy and hard working guy - in addition with his engagement to his group, @gamersunited.
We talked, laughed and slowly he gained some of my trust.
After a while, he told me about his buddy who was trading sucessfully for a year+ and asked me for some SBD to finance his own trading based on his calls.
Everything started somewhat small with a loan of about 100 SBD, where I should get back roughly 120 SBD.
And I actually got it back - so he asked for more and also insured me that in the case of loss while trading - the money would be backed by his own Fiat.
Phase 1: Persuasion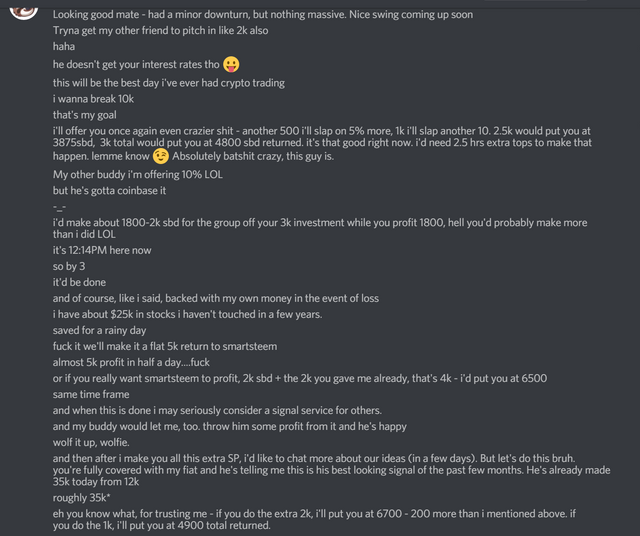 Everything started with 100 SBD and then got step by step higher due to messages as above.
I had an extremely unpleasant feeling when I send him the last 1000 SBD - but I didn't listen to that feelings (shame on me)
Honestly - this is not easy for me to write - since I got manipulated hard. But I've learned my lesson!
Phase 2: Sister got cancer
After a day when I asked how it was going - this happened..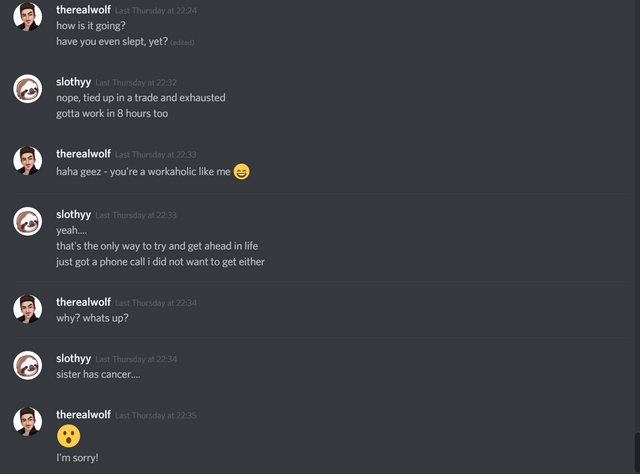 His sister got cancer and he needed to use his FIAT which was supposed to back my investment for her treatment ..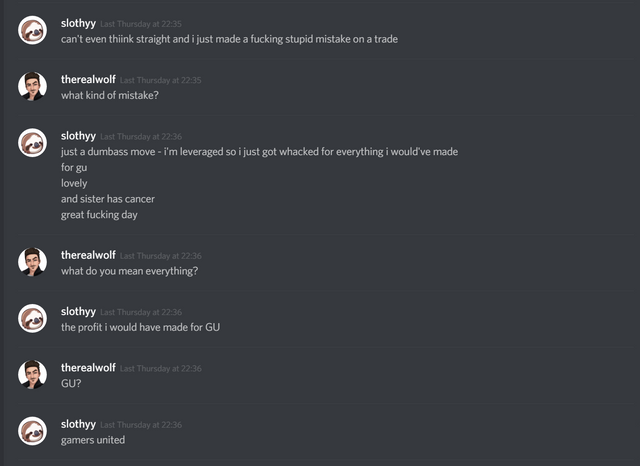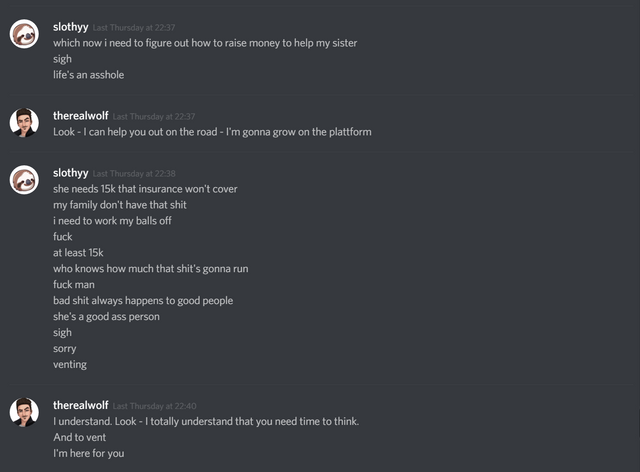 You can probably imagine how nervous I was at that point.
Phase 3: Buddy scammed him - SBD lost
And to top things off - suddenly his buddy, he knew for years and traded with - vanished on him.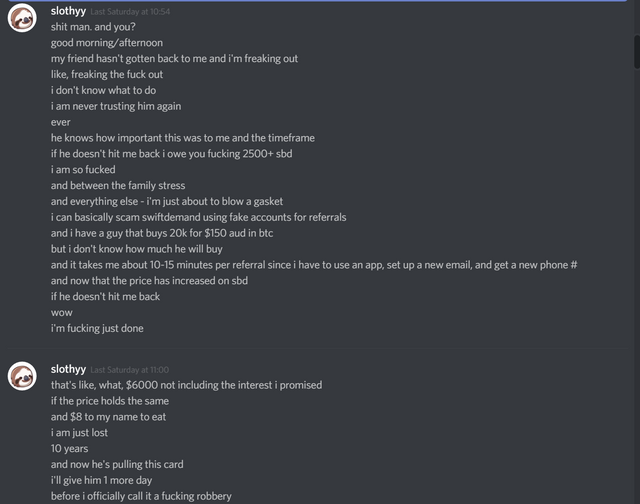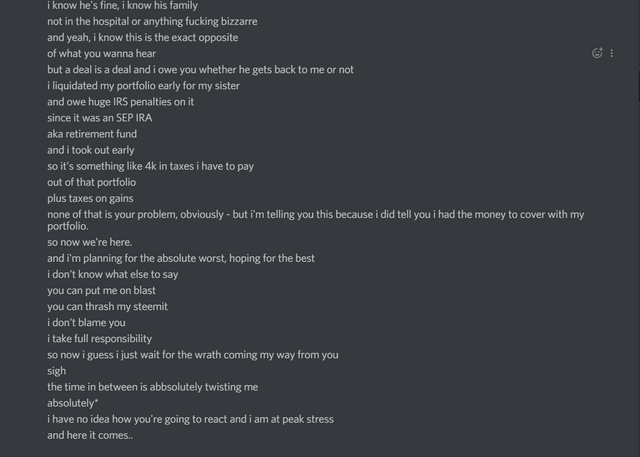 So - at this point the facts were:
1.) Sister got cancer - lost a trade due to that and had to use all available Fiat to send his sister for treatment.
2.) Slothyy traded with his buddy on his buddy account and his buddy then somehow scammed him.
---
I didn't believe it
You know - I might be kind and trustworthy but I'm def. not stupid and those facts above, stank .. of lies.
So I dug deep and researched a bit.
Slothyy said that his buddy had a OKCash Wallet where the funds went.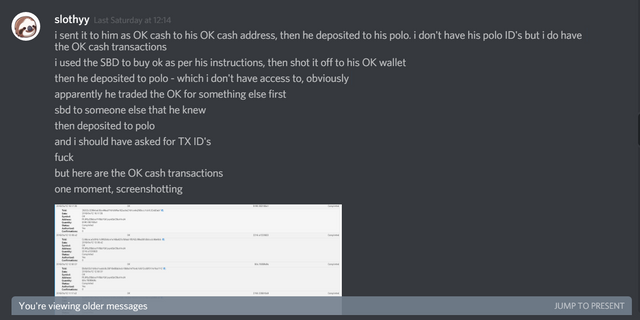 So I looked at that wallet (https://chainz.cryptoid.info/ok/address.dws?PL9Pp258dsoYV68zYGKjvyvkSxC5koVmJH.htm) and something was strange..
I send him another another 100 SBD at that point a day ago - because I still cared for his well being and he lied to me about having no food and no money to push his posts with. Now - the strange thing was the following:
Right after slothyy send the 100 SBD to Bitrex - a very similar amount converted to OkCash was suddenly on the OkCash Wallet.

After a day thinking - this was enough proof for me, that the wallet didn't belong to his buddy - but to slothyy!
So I confronted him ..
Gambled the money away
And it turns out that he gambled the money away with a discord bot called @OkBets - the OkCash Wallet was that of the bot.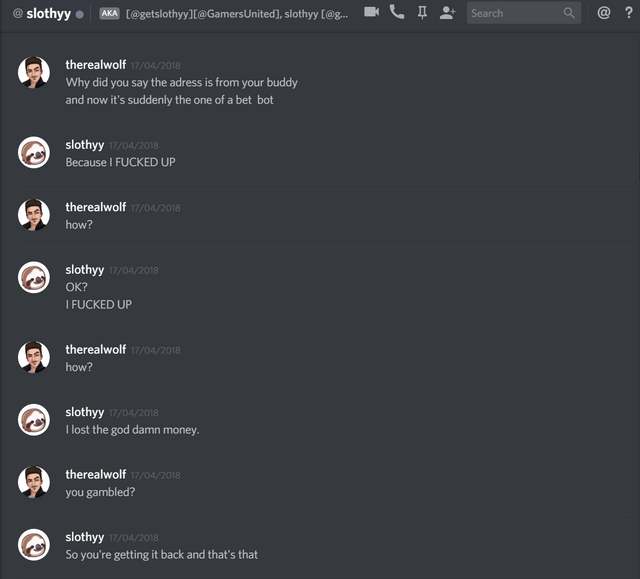 So at that point I was pretty upset.
For once that I lost a huge amount of money - a lot more than I ever cashed out from Steem (I'm still hodling strong) but even worse was the fact that my humanity got played.
I didn't lend him money for the sake of myself earning more money (it was a nice sideeffect tho'), but because I wanted to help him earn a bit of money with which he could boost his community ... and the only thing I got were lies over lies.
And then?
After I confronted him and told @neoxian and @reggaemuffin about it - who were both scammed as well; slothyys owner key was then changed by @neoxian as he made a loan contract with him and as colateral slothyy gave his owner key.
After talking with slothyy, neoxian made a deal with slothyy that he could keep posting so he could pay us back in the future.
Now - this also worked for about a day or two, but then his posts stopped and quickly afterwards - he tried to regain access to his account by using the account recovery function through @anonsteem.
Luckily, I already contacted @anonsteem and told about the fact that @getslothyy scammed people and shouldn't regain access.
Now
I initially wrote this post few weeks ago, but didn't release it as we had a Meditation about getslothyy with a few high-ranking Steemians.
The outcome of the Meditation was that Ben Schwartz (getslothyy) would pay Neoxian, Reggeamuffin and me 10$ back every week until amounts were all paid up.
But as you might have guessed already:
He rather scams more money from other people and sends it to bittrex instead of paying back people he owns a lot of money.

And honestly:
I don't believe that he gambled all the money away.
At this point, everything he says has to be treated as lies.
Goals for this Post
The most important goal with this post is to bring awareness to Ben Schwartz so others aren't making the mistake of trusting him.
Ben Schwartz is an manipluative liar who can not (under any circumstances) be trusted!
But this post is also a way to help scammed users.
So far - the scammed users are as follow:
Chance is high that there are more Steemians (or even outside users) that got scammed.
In that case: please comment under this post and we will try to help you to regain some (or hopefully all) of your lost funds.
Additionally, I will contact Mariza Monteiro to confirm that she actually got scammed (and that this is not just a stunt) and if everything is as she says it is - help her to recover some of her 3500 USD (4.5 Ethereum).
You can help!
To help us with these goals, please upvote and resteem the post.
The Author-Rewards are getting used to cover the losses.
Thank you!