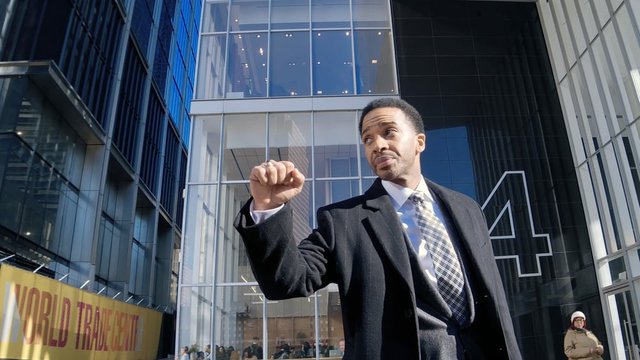 Source.
---
High Flying Bird appears to be quite a controversial movie, the movie is majorly about a sport agent (Ray Burke) who seeked more interest in promoting a growing basketballer from the neighborhood.
---

---
As an agent, it was expected of Ray at his working place by his bosses and colleagues to be a cunning agent. Having to convince sportsmen to sign with the agency and get promoted, Ray refuse to put his client (Erick Scott) on the same track, he wanted to have him signed but not be used my the agency company.
---

Having to be fair on a sportsman by Ray Burke was a step to making corrections on a tragic past. He tried to make his client (Scott) to understand that his career isn't about the money alone but more of the passion and the ability gain ground, be able to project oneself to the public and the chance to be tagged the best but in the real sense, the agency is just about making the money.
---
Personal Observation.
There won't have been much to talk about but the sencerity in the role Ray played, though, why he was acting that way many don't know but seeing the movie actually would have intellectual viewers to understand the reflection and the true concept and threats in signing contracts with agencies.
---
Automatically, the movie isn't meant for all viewers but for those that understand or have or show interest in sport and it monetary policy or aspect. Aside the fact that it's possible for some not to understand the movie, it has this heavy touch of reality and that's a good one.
---
Movie URL - https://www.themoviedb.org/movie/510498-high-flying-bird?language=en-US
Critic Ratings - 6/10.....(AA).
---
Nucleus Writes.📝