Rumble Fish is a 1983 movie based on a novel by American writer, S.E. Hinton of the same name and directed by Francis Ford Coppola. It's a stylish drama with an all-star 'Brat-Pack' cast. A cool, moody movie shot entirely in monochrome except for the two fish in the pet shop; the Siamese fighting fish to which the title refers, which are neon shades of blue and orange and stand out in stark contrast to the rest of the movie's darkened hues.
NO SPOILERS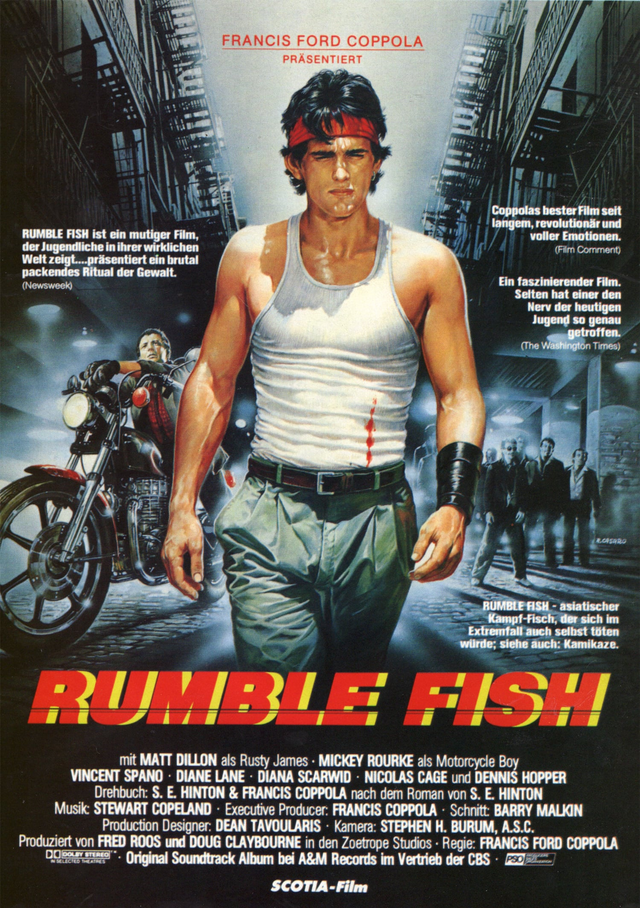 The Plot
Rusty Egan, played by a young Matt Dillon is the leader of a small Oklahoma, suburban gang. With an alcoholic father (Dennis Hopper) and an absent mother, Rusty worships his brother, 'Motorcycle Boy' (Mickey Rourke) but who is away touring California on his bike.
Rusty is an atypical disaffected minor hoodlum. Directionless and unsure, and along with his girlfriend (Diane Lane) and his merry band of misfit friends, they hang out at diners where a challenge to a fight is issued to them from a rival gang.
'Motorcycle Boy', was a former gang leader and who is revered by everyone in town had issued an edict that the days of gangs and rumbles were over but in his extended absence, the rumble goes ahead, only to be interrupted almost at its conclusion by the reappearance of Motorcycle Boy.........
The events following his return begin to finally shape Rusty's future.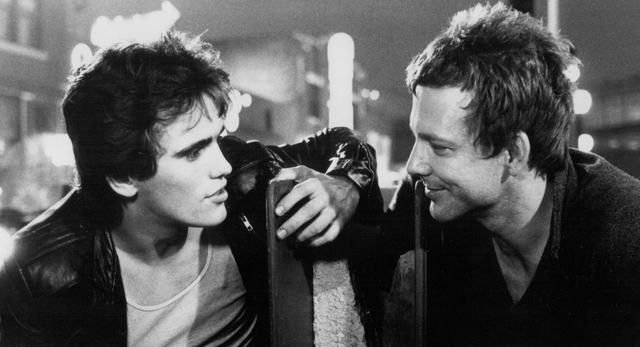 It would be very easy to write this movie off as style over substance but that would be doing a great disservice to some superb acting performances and some experimental cinematography. The movie is almost film-noir, some may say avant-garde and certainly the highly contrasted black and white footage, some of which was shot on a hand-held camera was totally different to any of the 1980's 'coming-of-age' movies that I'd seen until that point.
I'd come to the movie after seeing Mickey Rourke in 'Angel Heart' and hunting out his back catalogue and watched it for the first time on VHS in about 1988.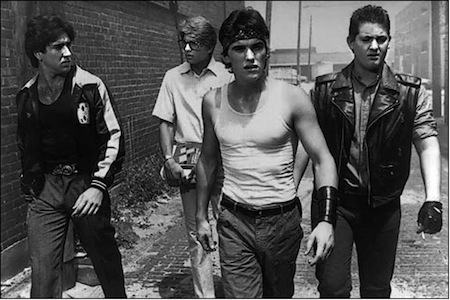 Motorcycle Boy is 21 years old in the movie and the casting of Rourke and his smouldering, slightly uninterested, but at the same time, a little sinister interpretation of his character is mesmerising. He is cool to the point of freezing but this contrasts with his younger brother who although in charge of his gang, seems to lack the intelligence and respect of his crew. It's the weaker of the two principal characters and Matt Dillon is simply Matt Dillion. Somewhat of a one-trick acting pony in my opinion.
The plot isn't deep, but this is almost made up for by the fascination with the characters and the situations as the timeline progresses. The movie cleverly deadens the soundtrack to represent Motorcycle Boy's deafness and the black and white, his colour blindness.
The Official Theatrical Trailer
If you're not impressed whilst watching the movie, you can always play 'spot the young actor' with a very young Nicolas Cage and Lawrence Fishbourne both turning in excellent supporting roles although Cage seems to be setting his rather fixed persona ready for his future movies. Another actor who seems one dimensional and formulaic in every movie he stars in.
Is It Worth Watching?
In my opinion, yes. It's different and original, especially in the context of the time it was made. In some ways, it's a piece of art thats moulded cleverly by Coppola into a teenage gang-movie but doesn't bring out the passion or emotion of West Side Story. The movie can be dark and the stylised sequences can distract from the story and if I'm being honest, the characters just don't elicit much empathy towards themselves. Despite its unique design and screenplay, it is perhaps a little too clichéd at times.
It's Francis Ford Coppola creating the movies that the rest of Hollywood are afraid to make but it's up to you to watch it and decide whether he was right or not.
Movie URL: https://www.themoviedb.org/movie/232-rumble-fish?language=en-US
Critic: AA