Retro Film Review: Il postino (The Postman, 1994)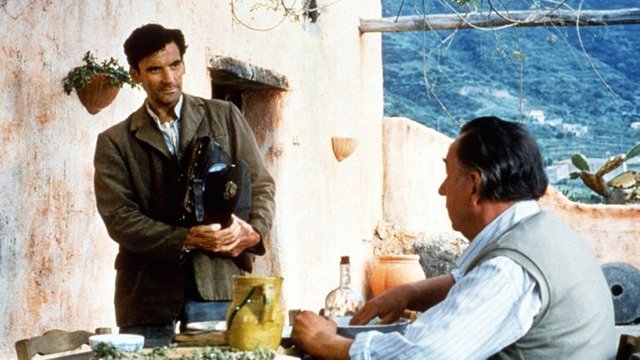 The author of this review, faced with the sheer awfulness of many of the films he had seen in past decade, often wonders about whether the people involved in production of those films really care about quality of their products. Too many times films seem to be made by people without any concern for what the audience would get in the end. Films in which people behind and in front of cameras show real interest or genuine passion for what they are doing are quite rare. So, films for which one of the participants gave willing and ultimate sacrifice must be humbling experience for any reviewer. One such occasion was learning about Il postino a.k.a. The Postman, 1994 drama directed by Michael Radford. Massimo Troisi, popular Italian comedian, main star and co-writer of this film, had serious heart condition during the production. He was scheduled to have heart surgery, but he was postponing it, fearing that he would never finish this film. In the end, he died only twelve hours after the last shot of the film and day before the life saving surgery.
The plot of the film is based on the novel by Antonio Skarmeta, itself being based on real-life anecdote about famous Pablo Neruda, famous Chilean poet. In 1950s Neruda, known for his Communist beliefs, was exiled by government into small mountainous village where he befriended local postman. The film switched the setting to small island near Italian coast. Mario Ruoppolo (played by Massimo Troisi) is the last in the long line of local fishermen; since he always gets cold at sea, he is unable to continue family tradition. Rescue from unemployment comes in the form of Pablo Neruda (played by Philippe Noiret), who was given asylum by Italian government and receives tons of fan mail, mostly from women enchanted by his poetry. This overwhelmed local post office and Mario is hired as another postman. Since most of the islanders happen to be illiterate, Neruda is only man Mario to whom Mario delivers mail. Gradually, Mario befriends Neruda and becomes fascinated by his poetry. The poet becomes a mentor to the postman, helping Mario to develop poetic skills of his own, overcome shyness and seduce local beauty Beatrice Russo (played by Maria Grazia Cuccinota).
Michael Radford, British director hand-picked by Troisi for this project, handles Il postino very well and the linguistic diversity (the dialogues are in Italian and Spanish) was hardly a problem. The pace of the film is slow, but that allows the audience to meet characters, start to like them and care about their fate. Philippe Noiret, one of the most recognisable and the most reliable French character actors, portrays Neruda with great confidence, while Maria Grazia Cuccinota overcomes stereotypes of local beauty from Italian populist comedies. The script perfectly balances intimate story of local postman with the social and political realities of 1950s Italy, suggesting that the backwater, impoverished Italian "Mezzogiorno" could find new potentials just like the film's protagonist. Unfortunately, the ending of the film is slightly mishandled, with couple of unnecessary scenes. Yet that very ending is the most moving, because it eerily corresponds with the real life tragedy behind cameras. Equally sad is to see Massimo Troisi's face perfectly fitting the character while in the same time displaying signs of serious illness. However, the audience moved by the events of Il postino would be comforted by seeing that even in our cynical materialistic world there are still things like love, beauty, poetry - worth not only living for, but also dying for.
RATING: 7/10 (+++)
(Note: The text in its original form was posted in Usenet newsgroup rec.arts.films.reviews on January 21st 2004)