Retro Film Review: Cool Runnings (1993)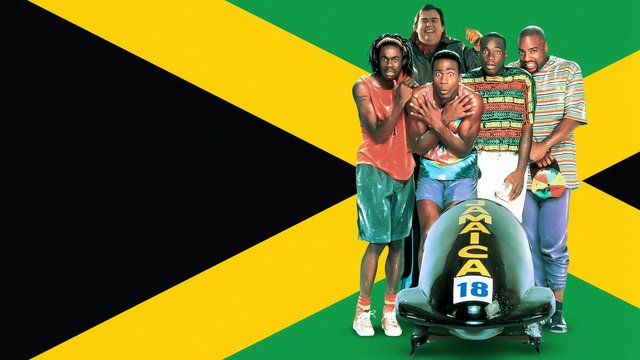 "Life imitates art" is a phrase used to describe those rare instances when random set of circumstances recreates events that look like they belonged to the work of, usually bad, fiction. When those works of fiction become omnipresent in popular media and continue to be made for decades, sooner or later they will be recreated in real life, either by inspiring people or by pure chance. Good example could be found in Disney's sports films in which underdogs triumph against all odds and all reason. In 1988 something looking like the plot of Disney's sport film actually happened in real life and later become subject of Disney's sport film. The events in question were covered in
Cool Runnings, 1993 sports drama directed by Jon Turtletaub.
The plot starts in November 1987 when the freak accident prevents Derrick Bannock (played by Leon), Jamaican 100 metres sprint runner, from qualifying for 1988 Olympic Games in Seoul. Bannock later gets idea to become Olympic athlete, but in completely different sport - he remembers that Irv Blitzer (played by John Candy), former
bobsleigh champion from USA, thought that Jamaican sprinters could make a great bobsleigh team. Blitzer, who just happens to live in Jamaica, reluctantly agrees to coach Bannock and his teammates. Their plan has many obstacles - Jamaicans lack any experience in winter sport while Jamaican and international Olympic officials don't take them seriously. But their perseverance pays off after they land in Calgary, where they would show that they are ready for great things.
Story of Jamaican bobsleigh team in Calgary 1988 looks like it was made in Hollywood, but, as it was case with many real-life stories, it wasn't Hollywood-like enough for Disney. Scriptwriters took many liberties with historical truth in order to provide extra drama, but in the end it didn't hurt the film. On the contrary, it provided film with some fine roles, of which the best known and most moving is John Candy's. Great comedian has passed away shortly after the film's premiere and watching Cool Runnings is going to be bittersweet experience for all of his fans, especially considering that his role blends drama with comedy. While the film, in order to be as accessible to children to possible, carefully evades all "heavy" issues like poverty in Jamaica, cultural clash, racism and Olympic politics, director Jon Turtleaub handles the story sufficiently well to make this film entertaining and uplifting experience even for the adult audience. Hollywood should handle these stories more often, and the author of this review can dream of the movie dealing with Goran Ivanišević and Wimbledon 2001.
RATING: 6/10 (++)
(Note: The text in its original form was posted in Usenet newsgroup rec.arts.films.reviews on January 21st 2004)