Film Review: Wild Orchid (1989)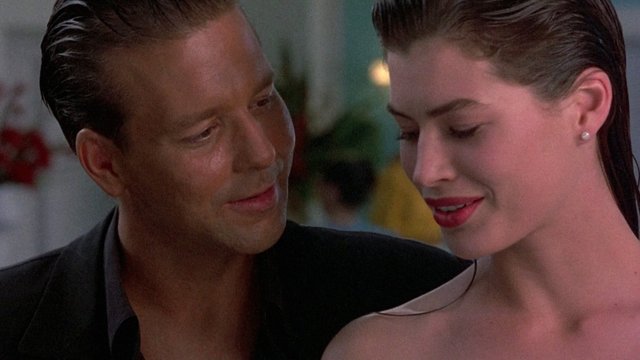 If controversy is to be used for promotion of a film, it must be properly dosed. If it is too big, it would lead to bans and boycotts. If is too little, it will fail to titillate imagination of targetted audience. One of properly dosed controversies was related to true nature of final scene in Wild Orchid, 1989 erotic drama directed by Zalman King.
The protagonist, played by Careé Otis, is Emily Reed, young and relatively inexperienced lawyer from Midwest who, on the account of her language skills, gets hired by New York law firm to help with business deal in Brazil. She is immediately sent to Rio De Janeiro where she meets Claudia Dennis (played by Jacqueline Bisset), one of firm's executives. Claudia is to make a social visit in Argentina and asks Emily to take care of her prospective date, mysterious and eccentric tycoon James Wheeler (played by Mickey Rourke). While James appears to be genuinely attracted to Emily, his behaviour suggests that he is unable to act on his desires. Instead he sets up Emily to witness other people having sex or being seduced by other men. As those bizarre games intertwine with business negotiations, Emily realises that she feels attracted to James.
Zalman King, who directed film and co-wrote script with his wife Patricia Louisiana Kopp, became one of the last persons in Hollywood to make name on the basis on mainstream erotica in his work. He had already worked with Mickey Rourke as co-writer and co-producer of major hit 9 ½ Weeks and had major success on video market with his directorial debut Two Moon Junction. His aim in Wild Orchid was simply to deliver erotic content to the audience within the limits of increasingly puritan late 1980s Hollywood. He did create couple of somewhat attractive scene through use of MTV-style editing, "cool" music background as well as exotic Brazil locations captured by British cinematographer Gale Tatterstall. What King failed to do was to frame those scenes within strong, sensible or simply coherent plot. Characters are poorly written and unconvincing and even otherwise talented cast that includes veterans like Bisset, Spanish actress Assumpta Serna, Russian actor Oleg Vidov and Canadian actor Bruce Greenwood has little to work with. But the worst thing appears to be casting of supermodel Careé Otis who, while pleasing to the eye, lacks proper acting ability. Mickey Rourke fares little better, playing some sort of variation of his character from 9 ½ Weeks, although his physical look suggests that actor saw better days. Film is also overlong, but King decides to reward viewers' patience by delivering relatively brief but quite steamy sex scene between James and Emily at the end. Although it isn't outside of norms what viewers could see at cable television today, there were rumours about Rourke and Otis, who were real life couple during production (and who would later marry), actually having sex instead of acting in front of camera. While Otis denied those claims, King was apparently more ambiguous, creating just enough curiosity among audience for this film that successfully deal with poor reviews and even get pseudo-sequel Wild Orchid II: Two Shades of Blue two years later. For future historians, however, this film might get interesting for being first major Hollywood production to depict Chinese as shrewd international investors, small detail that would become commonplace in our increasingly multi-polar world.
RATING: 5/10 (+)