Film Review: Who Is Killing the Great Chefs of Europe? (1978)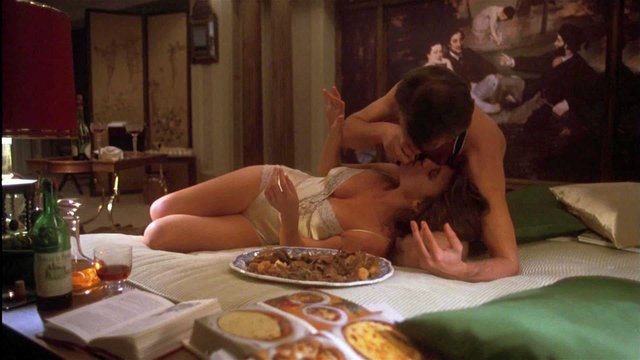 Special kind of films you aren't supposed to watch on an empty stomach are those that feature good food, characters that enjoy good food and made by people who obviously appreciate good food. Who Is Killing the Great Chefs of Europe?, 1978 crime comedy directed by Ted Kotcheff, is one such film.
Protagonist, played by Jacqueline Bisset, is a Natasha "Nat" O'Brian, celebrated pastry chef who is brought to London by her good friend, influential food critic Maximilian "Max" Vandeveer (played by Robert Morley) and given prestigious honour of preparing official banquet for British queen. Soon afterwards famous chefs in Britain, Italy and France start getting murdered in gruesome fashion, inspired by the methods of preparing their best known dishes. Nat starts fearing that she might be next, especially after she learns that the murder victims were featured in article by Max's magazine and Nat is the only one left alive. Nat gets help from her ex-husband Robert Ross (played by Boris Segal), American entrepreneur who originally arrived to Europe to start fast food chain and hoped that Nat might promote it.
Film is based on the best-selling novel by Nan and Ivan Lyons, which was known for its eroticism and featured real food recipes for its readers. Peter Stone, screenwriter known for its celebrated black comedy Charade puts more emphasis on combination of black humour, Classic Hollywood "comedy of remarriage" and old-fashioned whodunnit mystery, but director Kotcheff keeps some of the eroticism of the original novel and displays his appreciation of quality food with scenes shot in top European restaurants and showing preparation of dishes by famous French chef Paul Bocuse. Jacqueline Bisset as female chef is very good in her role, especially in scenes that feature top French actors like Jean-Pierre Cassel and Philippe Noiret as her character's colleagues. Boris Segal, on the other hand, is often irritating and lacks chemistry with Bisset. The best acting performance belongs to Robert Morley, English character actor whose prolific career often brought him roles of pompous British aristocrats; in this film his obesity actually serves as an important element of the plot and Morley manages to create sympathies for this character. Not everything works in this film, though, especially scenes in Italy which feature ethnic stereotypes someone might find insulting or behaviour which is unacceptable in our "woke" times. However, Kotcheff directs his film very well and the finale at television station triumphantly mixes comedy and satire with thriller. Despite its flaws, Who Is Killing the Great Chefs of Europe? is cinematic meal most audience would enjoy.
RATING: 7/10 (++)
Blog in Croatian https://draxblog.com
Blog in English https://draxreview.wordpress.com/
Leofinance blog https://leofinance.io/@drax.leo
Cent profile https://beta.cent.co/@drax
Minds profile https://www.minds.com/drax_rp_nc
Uptrennd profile https://www.uptrennd.com/user/MTYzNA
Hiveonboard: https://hiveonboard.com?ref=drax
Rising Star game: https://www.risingstargame.com?referrer=drax
1Inch: https://1inch.exchange/#/r/0x83823d8CCB74F828148258BB4457642124b1328e
BTC donations: 1EWxiMiP6iiG9rger3NuUSd6HByaxQWafG
ETH donations: 0xB305F144323b99e6f8b1d66f5D7DE78B498C32A7
Movie URL: https://www.themoviedb.org/movie/42216-who-is-killing-the-great-chefs-of-europe
Critic: AA