Film Review: The Greek Tycoon (1978)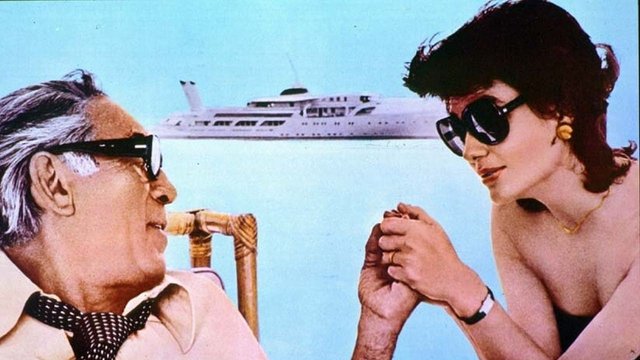 Solzhenitsyn's alleged words "they lie to us, we know they are lying and they know we know that they are lying" is usually applied to world of politics and situations like mainstream media trying to convince the world that Joe Biden actually runs US government. But similar examples could be found in the world of the cinema, like in the way in which producers of The Greek Tycoon, 1978 melodrama directed by J. Lee Thompson, vehemently claimed that it content was purely fiction and hadn't got any relation to real events and personalities.
Protagonist, played by Anthony Quinn, is Theo Thomassis, is a Greek shipowner who, despite humble origins and lack of formal education, built business empire that includes oil tankers and airlines. He gained enormous wealth that allows him to own entire islands, but his private life is far from perfect – son Nico (played by Edward Albert) is more interested in piloting than family business while wife Simi (played by Camilla Sparv) wants to divorce him, which isn't that surprising since Theo is having widely publicised affair with Italian singer Sophia Matalas (played by Marilù Tono). During one of the lavish parties held on his yacht he meets James Cassidy (played by James Franciscus), ambitious and promising US senator and his beautiful wife Liz (played by Jacqueline Bisset). He befriends the couple, which proves to be useful when Cassidy becomes US President. When Liz loses a baby she is sent to emotionally recuperate in Greece which is opportunity that Theo will use to woo her. President Cassidy gets assassinated and Liz after few years gets tired of being grieving widow and ultimately decides to marry Theo.
Unlike younger audience, Baby Boomers and older generations of viewers won't have any problem to recognise two main characters of The Greek Tycoon as stand-ins for Aristoteles Onassis and Jacqueline Bouvier-Kennedy, two personalities whose lives in late 1960s and early 1970s represented real life equivalent of soap opera set in the world of rich, famous and powerful. Scriptwriters went even further, and almost any character and any event was based on its real life equivalent, which might explain why critics greeted this film with deep hostility, branding it as "exploitative". For the audience dislike was even greater, because many of them were reminded of fairytale world of JFK's Camelot being brutally extinguished a decade and half ago only to receive humiliating epilogue in the form of martyred president's widow ending in arms of old, ugly and filthy rich Greek tycoon.
From today's perspective, less burdened with fresh historical traumas, The Greek Tycoon is not that bad. While those who know history might find retelling of real events mildly entertaining, script, which meanders between "soapish" melodrama and blandness similar to US television biopics, is uninspiring but it serves its purpose. J. Lee Thompson tries to compensate script's flaws with high production values that reflect in many scenes featuring yachts, luxurious mansions and as many attractive Greek locations as possible. Thompson, who had put some of such locations to good use in war classic Guns of Navarone, uses every opportunity to fill those scenes with attractive young women wearing bikinis, and there is also a relative long scene featuring nudity. It is ultimately Quinn in the title role who carries film over the water, working his best to portray Onassis/Thomassis as a man whose crassness (manifested in unusually strong language) hides both strong passion for life and deep personal vulnerabilities. Quinn succeeds not only in making his character sympathetic but also creates some sort of chemistry with Bisset in her thankless role. Because of that, The Greek Tycoon is much better than its bad reputation might indicate.
RATING: 5/10 (++)