Film Review: The Count of Monte Cristo (1975)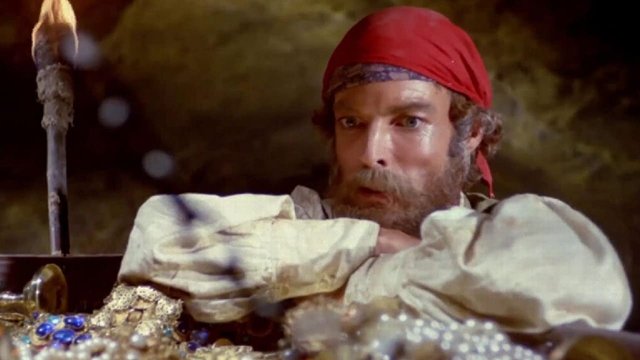 Every paranoiac's worst nightmare – conspiracy of various characters who take common cause in taking him down – sparks the plot of The Count of Monte Cristo, classic adventure novel by French author Alexandre Dumas, also known as one of the best known revenge tales in world literature. The novel has been adapted for screen many times, and one of successful adaptation was 1975 television version directed by David Greene. The plot begins in early 1815 Marseille, shortly before Napoleon's return from Elba. Protagonist is Edmond Dantès (played by Richard Chamberlain), first officer of a cargo ship whose future looks bright after return from successful voyage – he is about to be promoted to captain and marry beautiful fiancée Mércedès (played by Kate Nelligan). This promotion is against the wishes of his jealous subordinate Danglars (played by Donald Plesaance), just as jealous Lieutenant Mondego (played by Tony Curtis) wants Mércedès. In order to get rid of Dantès, they write letter to prosecutor Villefort (played by Louis Jourdan), denouncing Dantès as Bonapartist sympathiser. When Villefort learns about this whole affair, he feels threatened because his father (played by Anthony Dawson) is secret Bonapartist, so he arranges Dantès to be quietly dispatched to infamous island prison Chateau d'If. Dantès spends years in despair until he meets Abbé Faria (played by Trevor Faria), imprisoned Catholic priest who was digging the tunnel through the wall only to end up in his cell. In next few years Faria teaches Dantès everything he knows, including location of lost treasure at island of Monte Cristo. When Faria dies, Dantès uses this as an opportunity for daring escape after which gets in possession of treasure. Years later, under new identity of mysterious but extremely wealthy and influential "Count of Monte Cristo" he return to Paris where the conspirators are now the pillars of French society. Dantès carefully plots elaborate revenge and his resolve won't be shaken even with chance of harming Mércedès, now married to Mondego with whom he has a son.
Richard Chamberlain became famous on television, but his attempts to expand his stardom on big screen were less than satisfactory. He tried to compensate it by starring in number of expensive and prestigious TV films and miniseries, and The Count of Monte Cristo might serve as good example of such efforts. Made with decent budget, shot on Italian locations and famous Cinecitta studios, this film (who was also shown in European cinema theatres) benefits most from the script by Sidney Carroll, who did relatively good job of compressing content of Dumas epic novel into standard feature format. Adaptation is mostly faithful to the source, although at times some scenes make proper sense only with knowledge of French and European history in first decades of 19th Century. Chamberlain plays his role well, and is helped by diverse and talented cast, most notably Trevor Howard who is almost unrecognisable under heavy makeup. Tony Curtis, on the other hand, sleepwalks in the role of one of main villains, while Canadian actress Kate Nelligan in her feature film debut is decent, although burdened by not so convincing makeup. The Count of Monte Cristo is, despite its flaws, good retelling of classic Dumas' story (and much better than latest Hollywood adaptation with Jim Caviezel in title role) and it could still be recommended to all those who want to watch simple but effective revenge tale.
RATING: 6/10 (++)