Film Review: Days of Heaven (1978)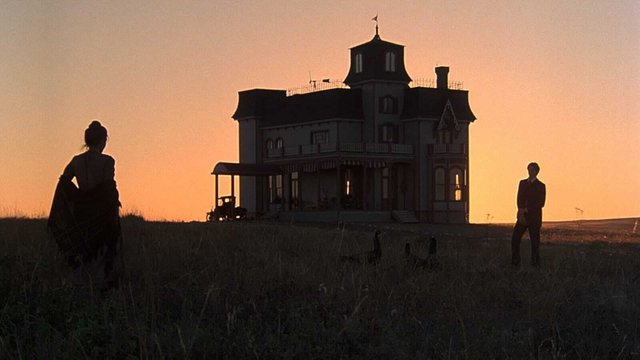 Film productions that go smoothly, within budget, according to schedule and with cast and crew having good time on a set are usually those that end up as disappointment on screen. Consequently, when the production is burdened with constant delays, financial, technical and logistical problems or quarrels between people involved, it is more likely to result in film that many would call "great". Second film in the career of celebrated New Hollywood author Terrence Malick, 1978 period drama Days of Heaven , could easily epitomise the phenomenon.
Film begins with a series of black and white photographs that show the setting as 1916 America, country of opportunity, but also with incredibly sharp division between those who have everything and those who have nothing. The main character Bill (played by Richard Gere) belongs to the latter category and must earn his living as steelworker in Chicago. After a quarrel with his arrogant foreman (played by Stuart Margolin) ends with a killing, Bill is forced to leave the city together with his little sister Linda (played by Linda Manz) and girlfriend Abby (played by Brooke Adams). Bill likes to present Abby as his sister and that would prove beneficial after the trio finds shelter as farm hands at large wheat field in Texas Panhandle, owned by unnamed and wealthy farmer (played by Sam Sheppard). Bill overhears doctor telling Farmer that he has short time to live and also notices that Farmer takes an interest in Abby. Bill develops plan to solve his existential problems and tells Abby to seduce and later marry her employer; this would allow her to quickly inherit his wealth and share it with Bill and Linda. Abby does so, but plan starts to go wrong after it turns out that marriage has surprisingly beneficial effects on Farmer's health, while Abby develops genuine love for her husband. This situation makes Bill impatient and is destined to lead to jealousy, violence and tragedy.
Willingness of studio executives to indulge New Hollywood directors was brought to extreme in case of Days of Heaven. Malick was exploiting this large creative freedom by shooting only during "golden hour", resulting in unusually prolonged production during which his cinematographer Nestor Almendros began to go blind and had to be replaced by Haskell Wexler. Malick also refused to use conventional script, relying more on improvisation and different moods, leading to all kinds of conflicts with cast and crew. After years of tumultuous production Malick wasn't satisfied with the lack of plot clarity and had to spend extra year in editing room before finding solution through narration by Linda Manz. When the film finally appeared on screen, it won some awards but audience ignored it, while most critics were unenthusiastic. This frustrating result led Malick to abandon film career for almost two decades. In the meantime, Days of Heaven was re-appraised and getting cult status, guaranteeing that his next film The Tin Red Line would be greeted by critics and cinephiles as unquestionable masterpiece.
It would be unfair to say that Malick's hard work and determination didn't pay off and that Days of Heaven isn't remarkable piece of cinema. This film can pride itself with great look, especially in the scenes that display life on the farm, when the beautiful nature embodied in endless fields of wheat represents sharp contrast to invasive humanity embodied in masses of impoverished farm workers, railroad that brings them and steam engine tractors and other machinery they must employ. Great images are accompanied by great sounds, mostly thanks to Ennio Morricone, prolific composer who delivers an original and memorable score that stands among its work. Even acting looks great, with young Richard Gere being quite subdued in the role of energetic, hot-tempered and morally questionable character. Sam Shepard, a renowned playwright, is also very good in his film acting debut, while Brooke Adams plays very realistic role of a woman torn between practical experience, common sense and conflicting emotions. Linda Manz also leaves good impression, but more as a narrator than actress on a screen. Robert Wilke, character actor best known for role of villains in westerns, gives impressive performance in supporting role of farmer's foreman.
Malick made very good, but not a perfect film. The plot, even with Manz' narration, isn't clear at times. Malick also at times spends too much time at shots of plants and animals, something that would plague his next effort in The Thin Red Line. The epilogue also seems like unnecessary afterthought. Although Days of Heaven at times looks much longer than its hour and half of running time and although represents a triumph of style over content, it is still a very rewarding experience for fans of 1970s quality cinema.
RATING: 8/10 (+++)