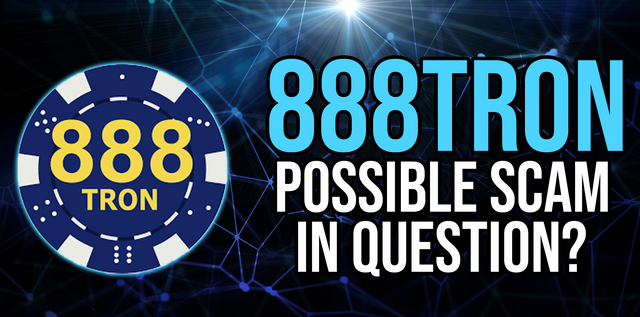 888Tron Is Planning a Possible Exit Scam?
Not too long ago i started exploring the world of Crypto Gambling during this time i found lot of interesting Dividend models and ways to make extra income with referral programs, i reviewed things like
BetDice
and
Trondice
on the website already, but during the last week ive been trying out 888Tron.
My experience has been rather good so far, however the lack of information on the website bugged me and i proceeded to go to Telegram channel and ask for information regarding things. Few minutes later i was accused of FUD and other bad straw-man arguments which eventually led me to be banned from telegram channel for exposing some issues with the website. Majority of the telegram members were claiming the project being decentralized but everything on the whitepaper suggests otherwise
After this i started dig into more into their Whitepaper and investigate more on the issues on the website. Following things were disturbing about the whitepaper overall
Some of the intro texts and overall speeches about the project felt extremely basic and could've been copy pasted from any other Tron Project basically
The Whitepaper had graphics that seemed to be also taken from another project or website
Roadmap was majorly lacking and didn't expand further than 2019 Q2, which is basically around the corner
No team members or even nicknames were mentioned, whose the team? How many people working on this dapp? Where is team based? Zero Information
No transparency on the official TRX address for the project, what are the addresses of the team members?
Nothing about the scripts actually proven being fair or legit overall
Claim of being able to release a new game every month to the platform? Seems far fetched
Top of these issues the website is not actually explaining slot machine winnings, which are pretty mandatory for any reels/Slots type of site that operates in crypto space or in the real physical world. Also i find it very odd that they are asking for money to create referral link for their website? When this service is free for everyone else.
Another person who was convicted on Bitconnect scam Trevon James is also hyping out the website on his youtube channel, not sure is this an endorsement and is he bed with these guys, that i don't know so far.
The issues don't stop here, the website whois data is private and it was commissioned by a company that was already shutdown prior to creating 888Tron which makes me question what the fuck going there? Basically the team whose working on the site don't want to be known, they don't want to tell you what are the dev and team accounts. Basically it could be a centralized project already where the dev team owes majority of the tokens on this project.

---
Posted from my blog with SteemPress : https://sugikingdom.com/888tron-is-planning-a-possible-exit-scam/
---